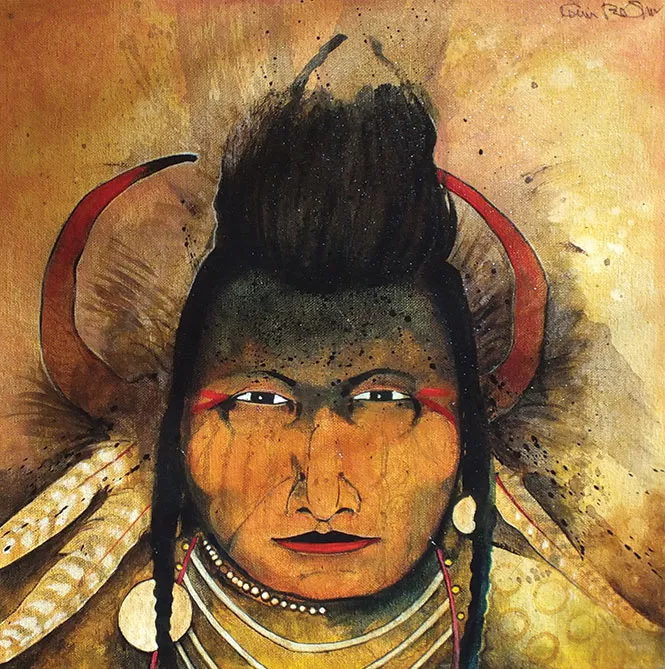 American Indians have been marginalized in American society almost from the beginning, by reservations and more direct forms of violence. So it's no surprise that their art and culture have been marginalized, too.
But Kevin Red Star was among a group of artists whose work broke into the modern-art world during the revolutionary period of the 1960s, when stylistic experiments were shaking up everything. He used these artistic explorations to depict his culture and is known as one of the earliest artists to bring Native American art into the mainstream. Modern West Fine Art is featuring his work in a solo show, opening Feb. 19 for Gallery Stroll night.
His journey started some 72 years ago on the Crow Indian Reservation in Lodge Grass, Mont. From an early age, the third of nine children had a love of art that was nurtured by his parents. His culture didn't have the same sometimes self-focused concept of artistic expression that we have, but the arts were rather part of communal activities. "I always had an interest in art, but didn't know that's what it was called," he says. "My mom and dad made traditional arts and crafts for ceremonial and social occasions."
His understanding of what it meant to grow up on the reservation also changed over time. "For the Crows, it was suitable because we were able to be in the land that we cherished; we weren't moved to Arizona or back East. So it was good." But he adds, "As a child, I didn't realize until I got older that we were confined to those places." Venturing into neighboring towns was still somewhat risky due to racism, so he mostly stayed on "the rez" where his family was forced to reside.
His already-evident talent got him recruited into the newly founded Institute of American Indian Arts in Santa Fe, N.M., a college preparatory school for Native Americans, in 1962. "It was a place where we were given the opportunity to study arts and music and culture from around the world, and I was influenced greatly by those things," he says. "We came from very different tribal groups, from across the country."
It was there that he learned what it meant to be an "artist," and he began studying his Crow heritage in depth. "I went to their library and studied up on the Crow traditions, culture and designs," he says, "how they were nomadic, horse people. We covered the Plains from Canada to Oklahoma. It was really quite fascinating." He started to apply the techniques of modern art, including assemblage and expressionism, to depictions of his culture. The enrollment of only 150 students made for a tight-knit group that still keeps in touch.
He then won a scholarship to the San Francisco Art Institute, and with the explosion of styles in the art world at the time, found his eyes opened even further. He met a number of noteworthy artists and absorbed the influences that were dominant at the time. "I was really enjoying doing assemblages," he says. "I used found objects to create things like a Crow Indian saddle or bag, or a buffalo robe, using collage and found objects, and it was exciting. We got to see the people who were doing that—Jasper Johns, Robert Rauschenberg. They were having a grand time, so we took that, but we used our backgrounds for the imagery."
His own work isn't dominated by any one influence but demonstrates a masterful, dramatic use of color, and a sense of cultural narrative that is profound. His website, KevinRedStar.com, quotes Rauschenberg: "There should be no barriers in art." Red Star maintains that his American Indian cohorts were following that all along, crossing boundaries, using traditional artistic techniques in which they became fluent in order to express their own artistic sensibilities. These artworks, by helping foster an understanding of his culture, might help erase barriers in society.
His two-dimensional works in acrylic, mixed media and oil balance dramatic colors with subtle textures and effective compositions, always tied very closely to nature. He's considered a master, having mounted more than 100 exhibitions, collected in places like The Smithsonian Institution, but his description of his own work is self-effacing: "I wanted to just depict the lifestyle that we had here: the warrior figures, men on horseback or our lodges, stylistic teepees, representing the Crow Indian culture. I think it's a friendly, fun group of works that I'm presenting here."
The nomadism and endless searching of the characters in his paintings could also be interpreted beyond a portrait of his people: as a metaphor for one sense of what it means to be an artist, constantly searching for a vision of something larger than yourself. What he has captured along the way is breathtaking.