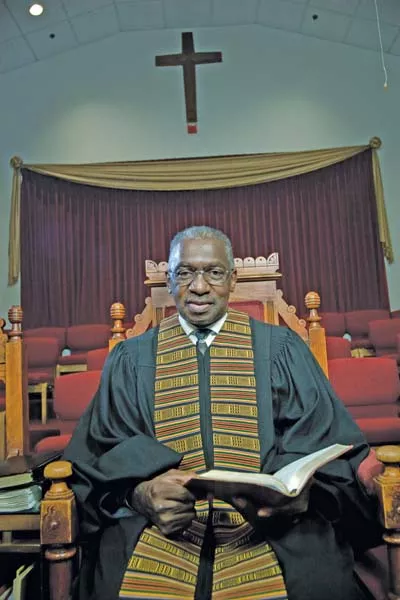 There are many ways to measure the three-and-a-half decades France Davis has spent as pastor of Calvary Baptist Church in Salt Lake City. At three services per week, he's delivered more than 5,000 sermons to his congregation.
That congregation, which numbered about 150 when he took over in 1974, has expanded to around 900 in 2009 and is still growing. The small church building at 532 E. 700 South has been replaced by a large state-of-the-art facility on State Street that runs programs from morning until evening every day. His parishioners might remember Davis' 35 years in terms of the number of times he stayed up all night by the bedside of an ailing member.
Beyond the pulpit, Davis' tenure can be counted in the number of courses he has taught at the University of Utah, the laws he helped change, the results of his work in the larger community, the books he has written, the five scholarships that bear his name, the awards he has received or the numerous boards he has served on. On a more personal level, Davis and his wife Willene can chart the time in having successfully raised three children in Salt Lake City. Or perhaps consider how Salt Lake City itself has evolved in response to his constant advocacy: Two stories from Davis' life, which at first blush may not seem to be related, illustrate just what sort of change Davis himself helped create.
When Davis first learned he would be moving to Salt Lake City, he called ahead to arrange an apartment rental. When he actually showed up at the apartment, the landlord looked at him and told him she no longer had anything for rent. More than 25 years later, Davis ran into a top official of the LDS Church he knew and mentioned he was looking for a place to build a new church. Given the reputation Davis had established in the community over the years, the official told Davis he'd have the LDS Church's property department call him the next day. The church helped Davis locate a property it owned, sold it to Calvary Baptist, and even worked with Davis on the sale. So another way to view Davis' impact in Utah is to see he went from there being "no room at the inn" to becoming such a trusted member of the community that the most powerful organization in town was willing to go out of its way to help him. However the 35 years are counted, Calvary Baptist Church will celebrate the service of Pastor France Davis and his wife, Sister Willene Davis, this coming weekend with a Friday night banquet and a special service on Sunday afternoon. (See info box.)
That '70s Show: The Utah Version
To get a sense of what Davis has achieved and how much Salt Lake City has changed over the years, it helps to understand what things were like when he took over at Calvary Baptist in 1974. When a landlord refused to rent to him, he had no recourse because there was no fair-housing law in the state. (Davis helped get that changed.) Davis remembers the local Boy Scout organization had a rule that one had to hold a priesthood position in the LDS Church to be a scout leader.

(He helped get that changed, too.)
He also found Calvary Baptist was paying property taxes, something the larger, more well-connected churches in town weren't required to do. (Once again, he helped get that changed.) It would have been inconceivable at that time that the city would one day name a street after Martin Luther King Jr.—much less have the state set aside a day to honor him. (Davis would eventually work on those campaigns as well.) And even if he'd wanted to, as an African-American, Davis wouldn't have been allowed to hold the priesthood in the state's predominant religious denomination in 1974. (Davis didn't get that changed, but the LDS Church did amend its doctrine in 1978.) "I had to be crazy," he says with a laugh as he looks back on it. "In those days, there were a lot of issues to be worked on. Coming to Salt Lake, first of all, was a sacrifice. Deciding to stay was a sacrifice."

Nevertheless, Davis was concerned that there seemed to be what he calls a "brain drain" of black talent at the time, with people in the community leaving to pursue educational and professional opportunities elsewhere.

"When we got here, we discovered Utah needed as much help as it could get," he says. He and his wife decided to stay and he set out to build a congregation he hoped would become, "a light in the midst of Zion" (a mission that would become the title of his book), with a focus on both spiritual and educational development.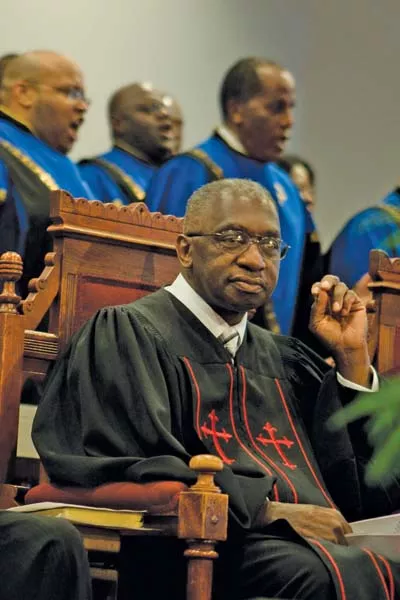 Calvary Baptist Church
celebrates the 35th anniversary of the Rev. France and Sis. Willene Davis serving the church with a special service on Sunday, April 26, at 3:30 p.m. The church also hosts guest speakers for the 8 and 11 a.m. services.
A celebration banquet is planned for Friday, April 24, at the West Valley City Cultural Celebration Center.
The dinner is a pre-paid ticketed event with a cost of $30 for adults, $15 for children. Contact Emma Houston of Brighter Day Productions at 801-557-0867 for tickets or information.
From both inside and outside of the state, the concept of a preacher trying to build an African-American congregation in the heart of Mormon-dominated Utah in the mid-'70s seemed far-fetched.

When Davis attended national Baptist conventions, he would introduce himself, tell people where he was from, and inevitably get three questions: "Are you a Mormon?" followed by, "What's the weather like?" and finally, "How can you stand to live in that community?"
"Late to bed; early to rise"
Up against all of that, Davis did the one thing he had learned to do throughout the different phases of his life— work relentlessly. Davis was born in 1946 in the small town of Cooper's Town, Ga., the eighth of the nine children his parents raised on an 83-acre farm. Much of the farm had been inherited from Davis' Grandmama Lula, who had started as a sharecropper and gradually saved up enough money to buy her own land. Davis was raised in the Jim Crow South and remembers in his autobiography France Davis: An American Story Told his father's reticence to speak on certain subjects because, "He knew that a word misplaced, an incautious disclosure, could prove fatal."

However, change was coming, and Davis became part of it. In 1964, with $27 from his parents, he set out for Tuskegee University in Alabama.

It was there he met Martin Luther King Jr., Malcolm X, Stokely Carmichael and other notable activists and ended up joining the civil-rights movement. His journey would later include a military tour of duty in Southeast Asia as well as a degree in rhetoric from University of California, Berkeley.

(Davis holds six degrees in all, including two master's degrees.) Things changed drastically when Davis went from Berkeley in the late'60s to Utah in the early '70s, arriving in Salt Lake City in 1972 as a teaching fellow and graduate student. In 1973, he became interim pastor for Calvary Baptist until the church could find a full-time pastor, and he even sat in on some interviews to help find a new pastor. However, several months later, Calvary recognized the best candidate was already at the church, and Davis took over in 1974. From the beginning, Davis set an ambitious schedule for himself. Besides doing the regular work of a preacher, he has taught communications and ethnic-studies courses at the University of Utah and advocated for change in the larger community.

"He's on every conceivable board throughout the state," jokes the Rev. Tom Goldsmith of the First Unitarian Church of Salt Lake City, who also marvels at Davis' ability to keep track of all of the different people he interacts with. "He must have a Rolodex in his brain of mammoth proportions."

W hile Davis' activities and achievements in the greater community have been justly noted, for his parishioners, it has been his quiet, steady presence in their times of need that has been most impressive.

"The pastor was always there," says Deacon Robb T. Benns Sr. "On the worst day of my life, I looked up in the hospital, and he was there. Whenever I'd ask him about all of the things he did for me, he'd say, 'You'd do it for me wouldn't you?'" Sister Lula Henry, who has been a member of Calvary Baptist for 62 years, says, "I have never heard Pastor Davis say he was tired. There are times when he's stayed by the bedside of a member all night. No starting time. No quitting time. It's just as long as it takes."

The Rev. Harold O. Fields Sr. of Salt Lake City's Unity Baptist Church has known Davis for decades. He says the one lesson he learned from Davis in tending to his own flock is, "To make sure that I stay sensitive to the people and be compassionate."

Davis says he gets by with five hours of sleep a night and jokes, "My wife says I live at the church." His wife Willene Davis, who works in Calvary's ministry for the elderly, underscores his penchant for hard work. "He's late to bed and early to rise," she says. "I wish he'd take some time for himself, but I don't think he knows how. I've learned that, because he's been called by God, my responsibility is to make sure he has the opportunity to do what God called him to do."
Changing Salt Lake City

As France Davis continued to work year after year, things began to change, not only at Calvary Baptist but around Utah as well.

In terms of the LDS Church, Davis notes the "official change in policy" in 1978 was an important first step, and over the years, "I've seen a change that they (the LDS Church) have become more accepting of other people and other church groups."

He particularly notes that the leadership of President Gordon B. Hinckley "represented a new perspective. Hinckley was much more willing to sit down with others and talk. He wasn't as hard-line."

As for the celebration of Davis' 35th anniversary, Scott Trotter, spokesman for The Church of Jesus Christ of Latter-day Saints, wrote, "We congratulate Pastor France Davis on his many years of service at Calvary Baptist Church. His sincerity and determined support of the community is a significant asset to all who live here." In the political arena, what had once seemed implausible suddenly became reality as Davis worked with other ministers and community leaders to change laws, policies and attitudes. Along the way, he earned the respect of some of the most powerful people in Utah. Statements from Utah's highest ranking politicians honoring Davis' years of service have come rolling in. "It is nearly impossible to quantify the difference the great Utah icon, France Davis, has made in our community," Gov. Jon Hunstman Jr. says. "France gives us all a reason to consider what it is we are doing to contribute to those around us. U.S. Sen. Orrin Hatch, R-Utah, writes, "Reverend France Davis is a true Utah treasure. The contributions he has made … cannot be overstated."

And from U.S. Sen. Robert Bennett, R-Utah, "I'm not a member of his congregation, but I've had occasion to go to him for some counsel and have appreciated his friendship and support."

Changing Calvary Baptist

Calvary Baptist was founded in 1892, and for most of its 117 years, was a predominantly black church. For many of the members, it was an important refuge in a largely white society. Sister Leslie Henderson, who grew up in the church, remembers that when her family moved from downtown Salt Lake City to the suburbs, "Suddenly, the faces were not the same. The church was very important to us because that's where you congregated with the African-American community for purposes of fellowship."

While the church continues to provide that experience for its members, Davis notes, "This congregation has always been an inner-city, downtown kind of church," and the demographics of downtown have changed over the years. Davis responded by actively welcoming those beyond the African-American community into the church. "People erroneously think Calvary Baptist is a black church, but it's not true," Goldsmith notes. "France has deliberately tried to grow a diverse religious community." A f r i c a n - Americans still make up a distinct majority of the Calvary congregation, but there is a notable presence of other races. At a recent Sunday service, about half of the new convert baptisms were people of Caucasian or Hispanic descent.

"We believe in the inclusion of all God's children," Willene Davis says, "because that's what God expects his children to do."

"This is a Place We've Enjoyed"
Even though Utah has presented its challenges for Davis, he has a response to those outside the state who have asked him, "How can you stand to live in that community?" "I tell them the distance from Georgia to Salt Lake is the same as from Salt Lake to Georgia," he says. "It's no different. There's good and bad in every community. Racism is just as alive in Salt Lake as it is in Georgia."


Davis regularly receives visits from African-Americans considering moving to Utah. When they ask him about this place, "We tell them, 'Life is good. There are lots of opportunities here. Problems are no worse here than any other place.'"

Community advocate Pamela Atkinson, who helped coordinate services for Hurricane Katrina evacuees who were brought from New Orleans to Utah, recalls that it was Davis who "made people from Louisiana aware Salt Lake can be a friendly and inviting place."

In summing up his 35 years here, Davis says, "This is a place we've enjoyed. It's been good to us." When asked about what the future holds for him, Davis, age 62, says, "I'm not old enough to retire. I still have a lot to do to make a difference wherever I can. I made a commitment to be faithful to my calling. I still sense He has more He wants me to do. I expect I've got a few more years to go." If the reverend isn't ready for retirement, then, as Goldsmith says, "Let's hope for another 35 years."