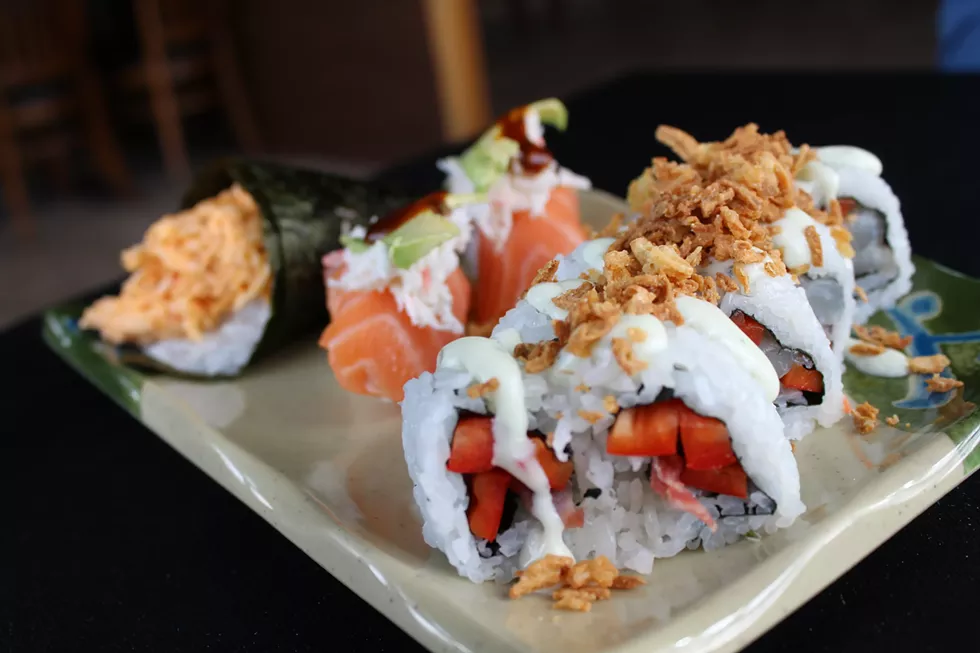 The term "all you can eat" doesn't have the same air of reckless gastronomic abandon as it once did. We're living in a climate where waste and excess are serious cultural problems, and places that tout bottomless meals are often seen as a symbol of unchecked consumerism. As such, the "all you can eat" concept implies something rather gauche about its respective eatery and it's become the tip of a rather complicated iceberg. Although Simply Sushi (multiple locations, simplysushi.us) is cut from the all-you-can-eat cloth—they've repackaged the term as "endless"—their set of dining ground rules helps hold diners accountable for any potential waste issues.
Yes, for a mere $15.95 for lunch or $23.95 for dinner, endless sushi—including thinly sliced nigiri and bulky hand rolls—can be yours at Simply Sushi, but the experience comes with a few caveats. The first rule is that you must eat all the rice that comes with your sushi. I don't understand why anyone would want to just pick the tuna, salmon and eel out of their rolls and eat them separately, but like most rules, I have to surmise that it exists because some jackass tried it and it pissed people off. Rice is, of course, also filling. The second rule is that the whole party must either select the lunch or dinner price for their endless sushi experience, which makes it easier for the staff to prepare the table's rolls. The third rule makes a social pariah out of anyone who orders à la carte—endless sushi buyers can share with one another, but they may not share with à la carte buyers. The fourth rule is all about waste prevention: If there is more than one roll left on the table, they will be boxed up for you and charged the à la carte price. Finally, the fifth rule applies to groups of eight or more—groups of this size or more need to order either only à la carte, or only endless. Got it?
I know that some people have strong opinions about an all-you-can-eat sushi place that makes customers stick to its house rules, but wouldn't you be a bit more leery of eating endless sushi at a place that didn't have some kind of guidelines? Adding rules to an all-you-can-eat party shows respect for their ingredients and their chefs, which in turn translates into a quality product—something you don't want to screw with when eating sushi.
My last visit to Simply Sushi nearly found me at the mercy of rule No. 4. I wanted to at least try every menu item that had a little thumbs-up icon next to it, since that indicated it's a house favorite, but I thought my empty stomach could handle a few more as well. Once you commit to the endless menu, your server will bring over a checklist that features their whole sushi menu, and diners just need to mark the boxes of those they want. After filling mine out to the satisfaction of my grumbling guts, it didn't take long for the sushi to start rolling in.
There's nothing quite as glee-inducing as watching these lovely long rolls show up when you're feeling hungry enough to eat your shoe. Playboy rolls packed with tempura shrimp, crisp cucumber, smooth avocado and tuna topped with tobiko eggs and spicy mayo arrived alongside caterpillar rolls of crab and fresh-tasting eel. I put away my first two rolls with no problem, but it wasn't long until I realized my empty stomach was a terrible judge of sushi logistics.
I was keeping it together until a deep-fried nuke humiliated my stomach for its poor judgment. It's known as the coconut shrimp tempura roll, it's dense as hell and it almost did me in. Under other circumstances, I could be friends with this guy—the crispy outer shell offers a nice textural addition to the crystal shrimp and coconut within. In my current situation, however, the sheer thickness of this roll paired with the cloying sweetness of the sauce on top was a bit overwhelming.
Although I managed to consume everything I ordered, the fact that I was facing an actual consequence for being wasteful made the meal all the more memorable. It also made me painfully aware that I'm not the sushi-destroying young buck I used to be. There's something unique about going into an endless sushi situation without the wasteful safety net that other all-you-can-eat options offer. It calls your critical thinking skills into play—a nice change from look, point, eat—and it's also nice to hold yourself accountable for having eyes that are bigger than your stomach.
AT A GLANCE
Open:
Monday-Thursday, 11:30 a.m.-8 p.m.;
Friday-Saturday, 11:30 a.m.-9 p.m.; Sunday, 12:30-7 p.m.
Best bet:
Endless sushi with a dash of personal accountability
Can't miss:
The playboy and rainbow rolls are a great combo