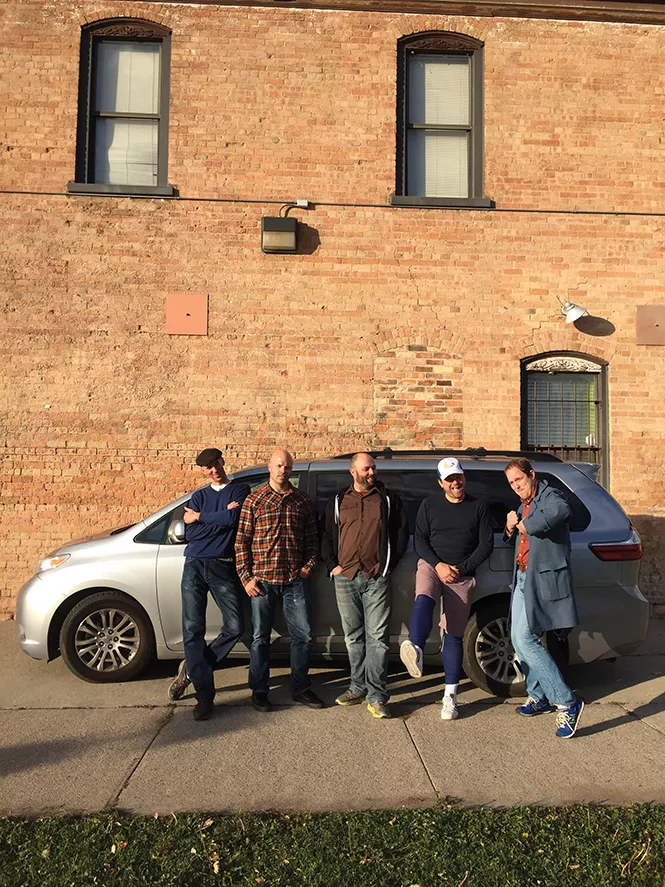 Inside keyboardist Ben Warren's house, the set list for The Rodeo Boys' upcoming show—their first since 2006—plays quietly, like mood music. It works, mainly because of the dulcet tones of Warren's Fender Rhodes. The instrument complements another endearing, noteworthy TRB trait: their intertwined voices, intoning goofy lyrics like, "White-hot Bruce/ he's a triskaidekaphobe/ and his white-hot moves/ go straight to your dome."
You'd be forgiven for missing the poetry in those words, inspired (perhaps obviously) by cold beer and bottle shots of ancient age. Superficially, they're bereft of depth and (sometimes) sense. Their beauty is revealed only when the music, voices and words swirl together, and you realize that these guys love each other. They're brothers.
This was immediately clear 15 years ago on drummer Clayton Scrivner's back patio, where TRB grilled steaks and guzzled beer while discussing their debut album, Same as Cash. They were all around 25 years old, a time when we're supposed to be weaning off of parties and contemplating adult things like careers, families and graduate school. So it makes sense that The Rodeo Boys' music dwelled in this limbo between adolescence and maturity.
It's a little different now. We're drinking beer in Warren's kitchen, but only he and bassist Greg Midgley (who replaced original member Brett Ludemann prior to TRB's 2006 sophomore joint, Flex) are physically present. George Elliott, now living in St. George, joins via Warren's smartphone speaker. Scrivner and Ludemann are busy, but we'll connect later via telephone. Without everyone in the same room, I wonder briefly if the original magic will manifest.
And then it does. Jokes and stories pepper the chat, many illustrative of the band's enduring bond. "Greg has helped me so much," says Warren, who suffered a traumatic brain injury in 2009. "He's been sort of the savior, with helping me remember how to play the songs." Warren could still recall how to play piano and read music, but relearning TRB songs by ear was tough. Ludemann, so far removed from the band, also needed help. Midgley kindly transcribed all 15 songs for them.
Now that The Rodeo Boys are all 40-ish, they reflect on the music with the expected perspective. When Scrivner reached out recently about the reunion show, he joked that they'd all become "Ecstasy Dads," referring to their popular song about former Zions Bank CFO Dale Gibbons, who in 2001 was busted for hosting drug- and sex-crazed house parties. The only similarity is that some of the band members have children, and Elliott has enough to need a minivan. But Scrivner's point is that there's a certain irony in grown, responsible men singing about "Easy Bake Lovin'," being Scott Baio's best friend, and the joys of combining condom-less sex with appetizers. "Our songs were Rorschach inkblots of inside jokes," he says, "but there was a lot of emotion in them."
The Rodeo Boys have the spunk of a smart-alecky but genuinely intelligent college-rock band like Too Much Joy. They also share Steely Dan's affinity for antiheroes and for the Rhodes piano, with the tendency of both acts to favor detail and temper their humor with real sensitivity. You hear it in songs like "Pancakes, Pancakes," where TRB talks about jumping on trampolines with friends under cobalt skies. In "Epic," they revel reverently in their brew-fueled creative connection: "I guess I'll have a tall one to help speed things on their way/ Heavenly muse/ we call upon you/ again/ tonight."
Warren explains that the mood music is exactly that. He's been basking in TRB's tunes, and the feeling they evoke, in preparation for the show. "I really like our music," he says. So did a lot of us. Listening to The Rodeo Boys, and watching them onstage, experiencing their bond through their music, you feel a pang of desire to be part of the band—and then you realize your presence makes you one.
Elliott and the band are excited to rekindle this connection. "We never did have a farewell; we just kind of fizzled out," he says, referring to the band post-Flex. Although they did send CDs to a few labels, they never pushed too hard to get signed—it wasn't about that, Scrivner says. "The vibe of the band was very organic. We played because we wanted to be with our friends and laugh."
Ludemann seconds this. "It's just an excuse to get together with your friends, drink some beers and have some laughs." Midgley marvels at how easy it's been: "I'm always amazed that some members of our group can remember the entire lyrics to songs that we haven't played for 12 years."
Warren is especially pumped. He leans over the phone, speaking directly into it. "Practicing, George, with you guys has been fantastic. When we're down in that room... I love it so much. Our songs are so cool."
Will this become a full-fledged reunion? The older-wiser Rodeo Boys hesitate to say, beyond the possibility of issuing some unreleased material. What matters is that, for what might be one night only, they and their fans will once again commune with their heavenly muse.