As Donna Steele walks down State Street, she keeps her head lowered and her gaze fixed on the ground as her flip-flops hammer the sun-baked sidewalk. A driver honks his horn, but the 55-year-old ignores it. He's probably a cop looking to see if she's "dating," street parlance for selling or paying for sex.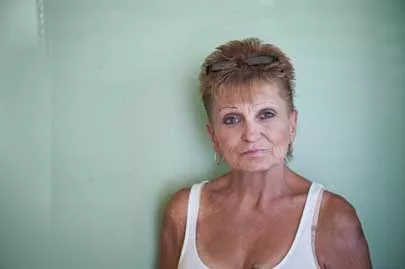 Despite her determined stride that mid-July afternoon, her tired, floral-print dress fluttering around her ankles, Steele is acutely aware of every car that passes her. "He's dating," she says about a man sitting in a truck on a side street. "He dates, too," she says, as a late-middle-age man drives by, his bare upper body displaying a mass of white chest hair.
"He's a cop," she says, as a gold compact car turns the corner. All the while, she seemingly hasn't lifted her gaze past her purple-nail-polished toes as she hurries down the street toward the corner of 1300 South and State Street in downtown Salt Lake City.
She's earned $35 that morning toward the $55 she needs for the daily rent of a room in a State Street motel. If she doesn't get that $20, then she and her two suitcases—which she keeps in a corner of her room, always packed, in case she has to leave—will be out on the street that night, with nowhere to go. Along with the rent money, she needs another $10 or $20 for the heroin to help her get through the day. Anything else goes to food, cigarettes and money to send to her incarcerated youngest son.
Her earnings come from providing oral sex in parked cars for between $20 and $40, even though she has mouth ulcers. "10 minutes and it's done," she says. She doesn't do intercourse. It's too intimate, she says, and "I don't want to be with my legs up in the air."
"There is this perspective that prostitution is a victimless crime," says Sgt. Mike Burbank, head of the Salt Lake City Police Department's Organized Crime Unit, which is tasked with, among other things, policing prostitutes and their clients. "But that's because people don't appreciate there's a bigger picture."
Many sex workers grew up with abusive childhoods, Burbank says. A 2004 Psychiatric Times article, "Prostitution Is Sexual Violence," cites clinical findings that 65 percent to 95 percent of those in prostitution were sexually assaulted as children. While 85 percent to 95 percent want to escape sex work, they "have no other options for survival," whether that's sex for money or drugs, or sex exchanged for shelter, survival or safety.
Arrests of prostitutes in Salt Lake City plummeted after SLCPD Chief Chris Burbank disbanded his vice squad in early 2012. Sex-solicitation busts dropped from 326 in 2011 to 25 in 2012. In the past eight months, SLCPD has been taking a different tack, focusing more on the "johns," as prostitutes call their clients, and trying to direct the "working girls" to other lifestyles.
But, Sgt. Mike Burbank admits, "I don't have the resources to do that," so instead, he hands out cards for the Fourth Street Clinic's medical-outreach team, Joel Hunt and Leticia Vasquez.
While Hunt and Vasquez have worked with an ever-growing number of sex workers over the past 18 months, their primary focus is outreach for the city's homeless and mentally-ill street population, leaving them with limited resources to tackle sex workers' extensive and complex needs.
Steele, as well as Candyss, 44, and her partner, 39-year-old Tina (Candyss and Tina are pseudonyms), who also sell sex, agreed to tell their stories to City Weekly to underscore the need for committed resources for street sex workers.
Candyss and Tina live together in a small motel on State Street that's frequented by prostitutes, drug dealers and users. In June and July of this year, Steele resided two doors down. Each room has a bed, a dresser, a TV, a small en-suite shower and toilet. The motel is a squat, single-story row of rooms, where drug busts and police stings of prostitutes occasionally suppress the feverish illegal activity. Chaos and drama is never farther away than a knock at the door, as a dealer hawks "black" (heroin), someone wants a cigarette or money, or a client wants sex. It's the same microcosm of dealing and using, robbing, snitching and sex work that you can find in numerous motels on State Street and North Temple.
"We have to get out of this motel, and we have to get off heroin," Candyss says. "If we don't get off the black now, we're fucked. We're fucked as it is."
While a five-year "regular" of Candyss' named Bill pays the rent for her and Tina, all Steele has is the gnawing anxiety building inside her each day as she struggles to find the money to keep her room.
Steele says she used to get up at 4 a.m. for the early-morning rush hour, and by 6 a.m., would've earned enough from men going to work to meet that day's financial needs. But now, because of her age, and because she is far more cautious about jumping into strangers' cars than other "girls" on State Street, Steele faces slim pickings.
And she desperately wants to quit prostitution. "It's killing me," she says, in tears. "I just want it to be over with. I don't know what I did wrong. I don't deserve to live like this."
The three are among an estimated 60 street sex workers in Salt Lake City who, along with younger, more expensive prostitutes who advertise as escorts on Backpage.com and Craigslist and meet clients in hotels in downtown Salt Lake City and by the airport, remain a largely invisible community in Utah.
"It's not like Las Vegas," Candyss says, where prostitutes wear the high heels and hot pants that correspond to the movie stereotype of a street walker. Along Salt Lake City's State Street and North Temple—or "ho-stroll," as prostitutes call the blocks they work—it's more a case of blending in, of not wanting to draw attention from law enforcement. Prostitutes look like other street people who are hustling for loose change, a roof for the night or a $10 shot of heroin.
That seeming invisibility, combined with having no one to advocate for them and an inability to break out of the cycle of addiction, homelessness and prostitution, essentially leaves street sex workers feeling that they have nowhere to go.
That said, help is available, at least in theory. Sex work inevitably carries with it emotional and psychological trauma from violence, both physical and sexual. Burbank says most sex workers have suffered sexual assault but don't report it. The indigent are eligible for 10 state-mandated services if they have mental-health needs, including case management to get them housing, health and mental-health care and other programs.
But few if any prostitutes know that they have such rights. When told of the state-mandated services, Steele is furious. "Then why haven't they had someone tell us?" she asks, in tears. "If I had known that, I'd have been out of this life years ago."
Street sex workers often "don't know they can get any funding," says Susan Mitchell, Valley Mental Health's director of substance-abuse services. Another barrier, she says, is the reality of their day-to-day lives. "I think in that world, living moment to moment, you're not paying a lot of attention to what resources are out there. You're just trying to survive."

"I Have Hated Every Single Minute Of It"
"The natural progression for the addict male is to fight, steal and deal," Fourth Street Clinic's Hunt says. "That's the path of least resistance." Women addicts often follow the path of retail theft, forgery and then sex solicitation, he says.
Steele's lengthy criminal history, under a multitude of different names from four marriages, reflects that pattern.
She says she grew up in an upper-middle-class family in Salt Lake City before unsuccessful marriages, homelessness and escalating drug addiction led her to street prostitution in the late 1990s, when she left her third husband.
"What are we going to do?" her youngest son, Nathaniel, then 8, asked his mother on a street corner in Salt Lake City. They were standing outside an Albertson's on North Temple, Steele holding a handwritten sign that read, "Please help, I'm homeless."
After she took Nathaniel to a nearby boxing class, she says, she walked along the street, and was given a ride by a man who then offered her $20 for oral sex. They drove to Payless to purchase condoms, but in the parking lot, he pulled out his police badge.
"I never once thought about [prostitution] until that cop solicited me," she says.
Steele did three days in jail for solicitation. After that, she says, she began to turn to street prostitution at times of economic desperation, depression and homelessness. "Truly, in my heart, I have hated every single minute of it."
Nathaniel, now 24, is finishing a five-year sentence in prison in central Utah for aggravated burglary. When Steele wasn't on drugs, Nathaniel says during a prison interview, "she was like a suburban mom," taking him to soccer games and making sure cooked meals were on the table. "Everybody has the perception that prostitutes are worthless pieces of shit, but they did have a life before all this started," he says.
In 2006, Steele was run over on State Street, breaking both of her shoulders, an eye socket and multiple other bones. She was in such pain she was put into a medical coma. Shortly after she was released, her fourth husband left her, and she returned to prostitution, so many bone-setting screws jutting out of her, she says, that she resembled something out of Hellraiser.
Medical issues continue to dog Steele. She has battled Behcet's syndrome, a painful condition involving inflammation of the blood vessels, has had breast cancer for years, and may also have lymph-node cancer. "I'm not sure," she says, of her current list of illnesses. "I don't have the time to deal with it."
Heroin, she says, gives her the energy to get up in the morning, and then helps her relax on the nights when she isn't pounding the streets till midnight in search of a client.
A third of her clients, she says, are LDS, evident either by their church-required undergarments, or, as in the case of a clean-shaven 53-year-old man in a truck who took her to nearby "hot tubs," their attitude. He paid her $40 to watch as he masturbated, but wouldn't allow her to touch him. "You could tell he was good LDS," she says dryly. Most of the men are married and complain that their wives won't give them oral sex.
Nathaniel says his mother has been trapped in a circle of addiction, homelessness and prostitution for years. "It's not Hollywood. She doesn't make $3,000 a blowjob. She does it to survive. That's what she knows; she doesn't have any skills."
Steele says she yearns for simple things—a cooked meal, a Christmas tree. "Once upon a time, I had all that."
But what she needs most, Nathaniel says, is for someone to extend a hand. "If somebody would pull her up, build her confidence, if she wouldn't have to worry about paying for a hotel room," then, he believes, she could turn her life around.

Easy Money
While Steele is alone, Candyss and Tina have each other, though the tensions of life in a small room, struggling to move from drug addiction and prostitution to a life of normalcy, isn't simple.
"Dealing with all these issues, of course we are each other's favorite person to let off steam on," Tina says in an early August interview in the couple's motel room. That venting has occasionally deteriorated into physical fights or tear-stained departures.
Tall, wiry and intense, Candyss, 44, is fast-spoken with a shy laugh and a dark, angry gaze. She was adopted at six months and raised by a well-off Mormon family in Bountiful. Her biological parents found her when she was 8, resulting in her shuttling back and forth between Rhode Island and Utah.
She says that before crack cocaine consumed her life, she worked at Market Street Grill in Cottonwood Heights as a sous chef. Her only cooking in recent years was an annual Thanksgiving dinner for prostitutes and addicts paid for by a well-known pimp, whom, she says, was murdered by two sex workers in late November 2012.
She gave up everything for crack cocaine. "I'm a mom. I couldn't even put crack down for my own kids." Her 21-year-old daughter told her four years ago she wanted nothing more to do with her. She hasn't seen her 12-year-old son, whose photos adorn the dresser in the motel, in four years.
Her descent from addiction into prostitution began after she was released from jail at 3 a.m. in September 2009, after serving time for a probation violation on a possession conviction. She had no family to go to, no home to return to, no friends to call. She was walking down 900 West when a man in a minivan, child car seats in the back, stopped to give her ride.
"He pulled a gun out and raped me with the barrel rectally," she says, before he pushed her out into the street to wander naked and bleeding. She needed 135 stitches.
The only visitor she had in the hospital for the month it took her to recover was her estranged adoptive mother, she says, her voice dropping. "She just shook her head and cried and asked me what I was going to do." Candyss says she felt worthless, "like a throwaway."
When she got out, Candyss walked from LDS Hospital to Pioneer Park to find crack. She weaved through the dealers and runners, muttering "sex for drugs, sex for drugs." For six weeks, she says, she was a pass-around, having sex in ditches, then being tossed bits of crack. "I never wanted to die so bad."
Then a prostitute called Marnie took her hand, told her to keep walking as men called out to her to stop, and took her to her apartment by North Temple. She told Candyss, "You can make money yourself." All the advice she gave was about pricing: oral sex was $30, intercourse $60. Three hours later, Candyss had made $350. "It was so easy."
Candyss says she was "a popular item" on North Temple, partly because she was new "and fresh," partly because "I cornered the market for not ripping people off." Through word of mouth, she garnered several well-off clients in the Avenues, a doctor and a lawyer, whom she charged between $1,000 and $3,000. "They were so thrilled with me. I didn't rob them and I was as close to a normal person as they were going to get."
There were other "sweet deals" along the way, she says. One came from a 23-year-old Honduran crack dealer, Pedro, whom she met on the street. "I walked home with him and did him and his partner, his uncle and cousin, and then had dinner with them and Grandma."
Pedro offered her $2,000 to spend several days in Park City during Christmas. In exchange, she would have sex with nine Latinos, twice, with a half-hour break after each three, then do another nine the following day.
Those were things, Tina, says, that when Candyss told her about them, "made me feel weird inside. It was like watching a bad movie."

"My Whole Life Didn't Go the Way I Wanted It To"
When Tina saw Candyss in a Davis County halfway house, she thought "she was beautiful, exotic-looking, a fox. But I could tell she was scared."
Tina is plump and laughs easily, displaying teeth damaged by meth and crank. She hopes to get her "smile back" next year, when a dental clinic for the indigent opens. She says she was "raised from a barstool" by two alcoholics. She met the youth with whom she would later have a daughter when she was 13 or 14, and started drinking beer and doing weed, acid and mushrooms.
She had her daughter when she was 19. An escalating meth addiction led her, age 23, to the streets. "Everybody was on meth, it took over the world," she recalls. Her skin betrays her former meth habit, bearing the scars of "picking," while her neck has long parallel "tracks," scars from needle use that are usually hidden by her brown hair.
Tina still has a relationship with her daughter, who's now 20 and was raised by her father. When Tina told her daughter that she's an "escort," she says, her daughter replied, "We all have to pay our bills, Mom."
Tina has a small collection of Buddhas in her knapsack, which she takes everywhere. Despite her addiction and the dark places she's been to, she says, "I found a faith, I've never given up. I feel lucky to even be at this point," compared to other addicts on the street. But then her face crumples. "My whole life didn't go the way I wanted it to." Candyss moves behind her on the bed to hug her as she cries.
The first time Tina had sex for money, she and Candyss had just gotten out of jail and were staying at Tina's father's apartment. Candyss "pimped me out right in front of me" to an elderly German, Tina says with a throaty laugh. "I was fine with it. He was pretty quick."
Candyss says she struggled with showing Tina the ropes. "I love this woman. I feel like I let her down. I do have morals, I do have principles—pretty funny things coming from a whore."
Tina says she needed Candyss' teaching skills. "People try to take advantage of me." She would approach strangers on the street to chat, but Candyss would tell her she had to repress her natural friendliness. "So I really can't be myself out here?" Tina asked her. Candyss replied they had to stay under the radar, that there was "always someone with a motive to narc on you."
While Tina works the streets, Candyss, who faces prison time if she gets another solicitation conviction, services regular clients in their room. Oral sex is too much work, Candyss says, so they focus on "straight-up fucking."
But whatever the type of sexual encounter, the emotional impact remains the same. "I hate that we wake up in the morning, the phone goes, a client's coming over, and one of us has to drag her ass into the bathroom," close the door and wait till the "date" in the main room is finished, Candyss says.
Being in a relationship allows them to promote threesomes to clients, for which they charge $120. "We've got it down to an art," Candyss says. The client watches the two of them for 30 minutes, then one of them goes into the bathroom and the client has sex with the other. Tina says sometimes a client will express remorse to his regular "date" for going with her partner. "They don't realize that you're the lucky one if you don't have to," she says.
Candyss talks about finding work as a cook or, if not, as a dominatrix. The latter can pay $300 an hour. Candyss says she hates men, and so inflicting pain and humiliation—both legal, unlike sex—would not be a problem.
Tina wants to work on her art. Her drawing of a labrador takes pride of place above their bed. When the two of them were in jail together, Tina "kept us in commissary," Candyss recalls, doing drawings for other inmates. "I want to nurture that talent."
In the early spring of 2012, Candyss and Tina tried to quit prostitution, living in a stairwell near 2100 South and panhandling. The experiment didn't work. Holding up a sign saying they needed help getting out of the state "was lying," Candyss says, and it didn't sit right with her. "My perspective is I'm trying to take care of myself; I'm not on welfare."

The Will to Leave
Organized crime trafficking in women and children for sex is receiving increasing media attention, in part because those who are forced into sex work and moved from state to state are clearly identifiable as victims. With prostitutes, however, there is a perception that they've simply chosen "the world's oldest profession."
That prostitutes "share the same title" as those forced into sex work "but don't share the same [state and federal] benefits infuriates me," Fourth Street Clinic's Hunt says.
That isn't the only double standard. Men who are arrested by Salt Lake City Police Department for soliciting sex can avoid jail time by taking a 10-week course and paying a fine; it's also possible to have the conviction expunged from their records. Prostitutes, on the other hand, receive neither treatment in lieu of jail nor a clean record. Instead, Candyss says, prostitutes face a life of arrests, warrants, running from the law and jail time. "We don't get it expunged," she says.
Debra Daniels runs the "johns" program for the Salt Lake City Prosecutor's Office. She says the lack of resources for prostitutes has long troubled her. "When the result of all of those traumas in [women's] lives leads them to seeing selling their bodies as an alternative, then we blame them." Prostitutes, she says, "are probably one of the last groups of women we [as a society] want to help."
Hunt says that has to change. "There needs to be a system in place where if a sex worker, male or female, wants help, then it's available, so they have a real chance at getting out."
In 1999, the Salt Lake City Police Department's then-victim advocate Alana Kindness—now executive director of the Utah Coalition Against Sexual Assault—ran a federally funded prostitution- outreach program. Kindness went out with the vice squad, who would introduce her to the working women, and visited jails to meet with women who'd been arrested for prostitution. She also talked with prosecutors about alternative sentencing options to "try to address the reasons why they were involved in prostitution to begin with."
Candyss' regular client Bill argues that many prostitutes don't want to get out of the life. "They want drugs, and the easiest way to do it is the life," he says. "There's a lot of resources available, but so many just don't do it."
Kindness, however, says that while it's "a complicated question if they want to get out of that life or not," she argues that "they only want to get out if they see a better alternative. They don't want to be victimized, exploited, abused. But they also don't want to be hungry, homeless, have their kid going hungry and not have a source of income."
Prostitution, Kindness learned, "was never an end to itself. It was always a means to accomplish goals that anyone else has: safety, stability, security."
Given the complexity of the issues that prostitutes face, she says, "you couldn't take care of just one problem. The array of issues they were facing were all interconnected." Even if Kindness was able to resolve an outstanding warrant, she still had to address where the woman might live and how she would make money. A sex-solicitation conviction would mean limited access to employment. Then there were substance-abuse issues to deal with, and co-occurring mental-health concerns, some stemming from sexual or physical assault experienced either as a child or an adult. On top of all that, "sometimes there was a need for educational or vocational training, child-custody issues."
After 18 months, the federal funding ran out and the program closed.
The johns program, however, rolled on. The johns pay $350 to attend the class. Daniels says the class has, over a decade, worked with several hundred men who took pleas in abeyance and participated in 10 weeks of classes, discussing their crime and their attitude toward women, sex and prostitutes.
The lack of a funding stream of fees and fines for a program for prostitutes frustrates Kindness. "We make pretty harsh determinations about who is deserving of services, as a society," she says.
Mobile case management, Hunt believes, would provide help for the women to navigate the complexities of accessing resources, be it substance-abuse treatment, inpatient services or finding housing. But a lot of those resources, while apparently available, he says, "in actuality are not really there." Valley Mental Health recently refocused its services to only the severely mentally ill, Fourth Street Clinic is "swamped," he says, and the spaces for substance-abuse treatment are limited and typically entail lengthy waiting lists of months, if not years.
"There has to be a way of creating a safe place for these women," Daniels says, along with work, particularly given how strong and resourceful they are. "I think given that full chance, their lives could be something they dreamt of."

Dying on State
While the money may flow in when a prostitute is young, as the years and the trauma of sex work add up, so it becomes harder and harder to survive. There's no retirement plan, no Social Security, and relatives have often long since turned their backs.
Seemingly, the only constant is the danger of violence from pimps, clients and others on the street. In 2010, a man, after an argument with his wife, murdered two prostitutes in Ogden.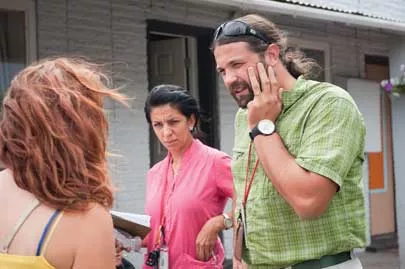 Life on the street quickly becomes frightening, but "I've got to have money every day," Steele says. "You never know when you will run into somebody who will hurt us. I've been held at gunpoint, I've got into a car and someone has pulled a switchblade."
Steele recalls "dating" one police officer who took her to the outskirts of the city and, after oral sex, told her everything she had done wrong. " 'I'll tell you what you fucked up on. You never let them take you where they want to take you. You don't want to go far away from town.' He scared me."
Walking down State, Steele passes a young "working girl," barely 20, seemingly wearing nothing but a black wife beater and flip-flops. Steele expresses sadness at her being on the street.
"Something destroyed them in their younger days, and they're going to get worse," she says. "A lot of them are going to die out here." She looks down the street. "If you really like being a hooker, get out on a ranch in Las Vegas and make some real good money. Get off the street. You'll end up dead or something."
Candyss, Tina and Steele recently started an experimental treatment program at a private clinic to quit heroin. Candyss and Tina say they have been heroin-free for six weeks now, although they're still using other drugs to manage their withdrawals and other needs.
Things did not go well for Steele. "I had my heart set on this," she says, but on the second day, she experienced chronic withdrawal pains. "That's it. I'm not doing it." Now she hopes to get into a detox clinic with Hunt and Vasquez's help.
In a few days, the rent will run out and she will either earn the money on the street to move to a cheaper motel or, lacking clients, be homeless.
"I'm praying that I have housing really soon," she says. "That someone will have compassion."
As winter approaches, she doesn't think she can survive through to the spring. "Maybe young girls can stand it out in the cold, but I can't handle it anymore."
She stands by the blinds in her current motel room, looking out at the parking lot and the passing traffic on State Street. "Who would have thought that my life would be like this?"
Sex workers seeking medical outreach can call the Fourth Street Clinic at 801-599-0284.