Page 3 of 3
"My Whole Life Didn't Go the Way I Wanted It To"
When Tina saw Candyss in a Davis County halfway house, she thought "she was beautiful, exotic-looking, a fox. But I could tell she was scared."
Tina is plump and laughs easily, displaying teeth damaged by meth and crank. She hopes to get her "smile back" next year, when a dental clinic for the indigent opens. She says she was "raised from a barstool" by two alcoholics. She met the youth with whom she would later have a daughter when she was 13 or 14, and started drinking beer and doing weed, acid and mushrooms.
She had her daughter when she was 19. An escalating meth addiction led her, age 23, to the streets. "Everybody was on meth, it took over the world," she recalls. Her skin betrays her former meth habit, bearing the scars of "picking," while her neck has long parallel "tracks," scars from needle use that are usually hidden by her brown hair.
Tina still has a relationship with her daughter, who's now 20 and was raised by her father. When Tina told her daughter that she's an "escort," she says, her daughter replied, "We all have to pay our bills, Mom."
Tina has a small collection of Buddhas in her knapsack, which she takes everywhere. Despite her addiction and the dark places she's been to, she says, "I found a faith, I've never given up. I feel lucky to even be at this point," compared to other addicts on the street. But then her face crumples. "My whole life didn't go the way I wanted it to." Candyss moves behind her on the bed to hug her as she cries.
The first time Tina had sex for money, she and Candyss had just gotten out of jail and were staying at Tina's father's apartment. Candyss "pimped me out right in front of me" to an elderly German, Tina says with a throaty laugh. "I was fine with it. He was pretty quick."
Candyss says she struggled with showing Tina the ropes. "I love this woman. I feel like I let her down. I do have morals, I do have principles—pretty funny things coming from a whore."
Tina says she needed Candyss' teaching skills. "People try to take advantage of me." She would approach strangers on the street to chat, but Candyss would tell her she had to repress her natural friendliness. "So I really can't be myself out here?" Tina asked her. Candyss replied they had to stay under the radar, that there was "always someone with a motive to narc on you."
While Tina works the streets, Candyss, who faces prison time if she gets another solicitation conviction, services regular clients in their room. Oral sex is too much work, Candyss says, so they focus on "straight-up fucking."
But whatever the type of sexual encounter, the emotional impact remains the same. "I hate that we wake up in the morning, the phone goes, a client's coming over, and one of us has to drag her ass into the bathroom," close the door and wait till the "date" in the main room is finished, Candyss says.
Being in a relationship allows them to promote threesomes to clients, for which they charge $120. "We've got it down to an art," Candyss says. The client watches the two of them for 30 minutes, then one of them goes into the bathroom and the client has sex with the other. Tina says sometimes a client will express remorse to his regular "date" for going with her partner. "They don't realize that you're the lucky one if you don't have to," she says.
Candyss talks about finding work as a cook or, if not, as a dominatrix. The latter can pay $300 an hour. Candyss says she hates men, and so inflicting pain and humiliation—both legal, unlike sex—would not be a problem.
Tina wants to work on her art. Her drawing of a labrador takes pride of place above their bed. When the two of them were in jail together, Tina "kept us in commissary," Candyss recalls, doing drawings for other inmates. "I want to nurture that talent."
In the early spring of 2012, Candyss and Tina tried to quit prostitution, living in a stairwell near 2100 South and panhandling. The experiment didn't work. Holding up a sign saying they needed help getting out of the state "was lying," Candyss says, and it didn't sit right with her. "My perspective is I'm trying to take care of myself; I'm not on welfare."

The Will to Leave
Organized crime trafficking in women and children for sex is receiving increasing media attention, in part because those who are forced into sex work and moved from state to state are clearly identifiable as victims. With prostitutes, however, there is a perception that they've simply chosen "the world's oldest profession."
That prostitutes "share the same title" as those forced into sex work "but don't share the same [state and federal] benefits infuriates me," Fourth Street Clinic's Hunt says.
That isn't the only double standard. Men who are arrested by Salt Lake City Police Department for soliciting sex can avoid jail time by taking a 10-week course and paying a fine; it's also possible to have the conviction expunged from their records. Prostitutes, on the other hand, receive neither treatment in lieu of jail nor a clean record. Instead, Candyss says, prostitutes face a life of arrests, warrants, running from the law and jail time. "We don't get it expunged," she says.
Debra Daniels runs the "johns" program for the Salt Lake City Prosecutor's Office. She says the lack of resources for prostitutes has long troubled her. "When the result of all of those traumas in [women's] lives leads them to seeing selling their bodies as an alternative, then we blame them." Prostitutes, she says, "are probably one of the last groups of women we [as a society] want to help."
Hunt says that has to change. "There needs to be a system in place where if a sex worker, male or female, wants help, then it's available, so they have a real chance at getting out."
In 1999, the Salt Lake City Police Department's then-victim advocate Alana Kindness—now executive director of the Utah Coalition Against Sexual Assault—ran a federally funded prostitution- outreach program. Kindness went out with the vice squad, who would introduce her to the working women, and visited jails to meet with women who'd been arrested for prostitution. She also talked with prosecutors about alternative sentencing options to "try to address the reasons why they were involved in prostitution to begin with."
Candyss' regular client Bill argues that many prostitutes don't want to get out of the life. "They want drugs, and the easiest way to do it is the life," he says. "There's a lot of resources available, but so many just don't do it."
Kindness, however, says that while it's "a complicated question if they want to get out of that life or not," she argues that "they only want to get out if they see a better alternative. They don't want to be victimized, exploited, abused. But they also don't want to be hungry, homeless, have their kid going hungry and not have a source of income."
Prostitution, Kindness learned, "was never an end to itself. It was always a means to accomplish goals that anyone else has: safety, stability, security."
Given the complexity of the issues that prostitutes face, she says, "you couldn't take care of just one problem. The array of issues they were facing were all interconnected." Even if Kindness was able to resolve an outstanding warrant, she still had to address where the woman might live and how she would make money. A sex-solicitation conviction would mean limited access to employment. Then there were substance-abuse issues to deal with, and co-occurring mental-health concerns, some stemming from sexual or physical assault experienced either as a child or an adult. On top of all that, "sometimes there was a need for educational or vocational training, child-custody issues."
After 18 months, the federal funding ran out and the program closed.
The johns program, however, rolled on. The johns pay $350 to attend the class. Daniels says the class has, over a decade, worked with several hundred men who took pleas in abeyance and participated in 10 weeks of classes, discussing their crime and their attitude toward women, sex and prostitutes.
The lack of a funding stream of fees and fines for a program for prostitutes frustrates Kindness. "We make pretty harsh determinations about who is deserving of services, as a society," she says.
Mobile case management, Hunt believes, would provide help for the women to navigate the complexities of accessing resources, be it substance-abuse treatment, inpatient services or finding housing. But a lot of those resources, while apparently available, he says, "in actuality are not really there." Valley Mental Health recently refocused its services to only the severely mentally ill, Fourth Street Clinic is "swamped," he says, and the spaces for substance-abuse treatment are limited and typically entail lengthy waiting lists of months, if not years.
"There has to be a way of creating a safe place for these women," Daniels says, along with work, particularly given how strong and resourceful they are. "I think given that full chance, their lives could be something they dreamt of."

Dying on State
While the money may flow in when a prostitute is young, as the years and the trauma of sex work add up, so it becomes harder and harder to survive. There's no retirement plan, no Social Security, and relatives have often long since turned their backs.
Seemingly, the only constant is the danger of violence from pimps, clients and others on the street. In 2010, a man, after an argument with his wife, murdered two prostitutes in Ogden.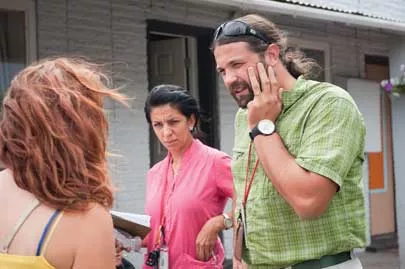 Life on the street quickly becomes frightening, but "I've got to have money every day," Steele says. "You never know when you will run into somebody who will hurt us. I've been held at gunpoint, I've got into a car and someone has pulled a switchblade."
Steele recalls "dating" one police officer who took her to the outskirts of the city and, after oral sex, told her everything she had done wrong. " 'I'll tell you what you fucked up on. You never let them take you where they want to take you. You don't want to go far away from town.' He scared me."
Walking down State, Steele passes a young "working girl," barely 20, seemingly wearing nothing but a black wife beater and flip-flops. Steele expresses sadness at her being on the street.
"Something destroyed them in their younger days, and they're going to get worse," she says. "A lot of them are going to die out here." She looks down the street. "If you really like being a hooker, get out on a ranch in Las Vegas and make some real good money. Get off the street. You'll end up dead or something."
Candyss, Tina and Steele recently started an experimental treatment program at a private clinic to quit heroin. Candyss and Tina say they have been heroin-free for six weeks now, although they're still using other drugs to manage their withdrawals and other needs.
Things did not go well for Steele. "I had my heart set on this," she says, but on the second day, she experienced chronic withdrawal pains. "That's it. I'm not doing it." Now she hopes to get into a detox clinic with Hunt and Vasquez's help.
In a few days, the rent will run out and she will either earn the money on the street to move to a cheaper motel or, lacking clients, be homeless.
"I'm praying that I have housing really soon," she says. "That someone will have compassion."
As winter approaches, she doesn't think she can survive through to the spring. "Maybe young girls can stand it out in the cold, but I can't handle it anymore."
She stands by the blinds in her current motel room, looking out at the parking lot and the passing traffic on State Street. "Who would have thought that my life would be like this?"
Sex workers seeking medical outreach can call the Fourth Street Clinic at 801-599-0284.