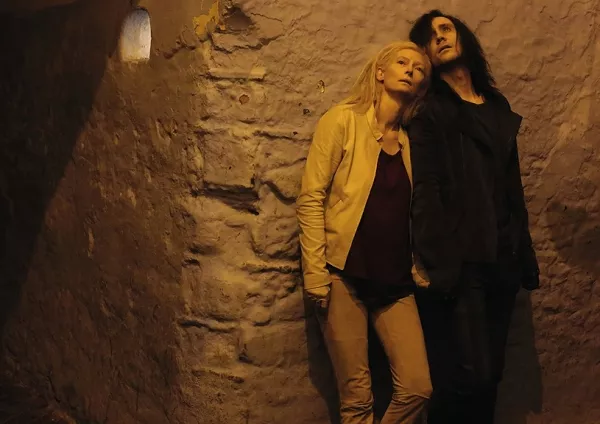 "I don't have heroes," insists Adam (Tom Hiddleston), a centuries-old vampire, to his equally eternal lover, Eve (Tilda Swinton). As Jim Jarmusch's wonderfully sublime Only Lovers Left Alive plays out, however, it becomes clear that he's not being entirely honest. Because once we see Adam's photo wall adorned with legendary musicians, writers and actors, we know that there's one thing that gives his drawn-out existence any jolt of life.

It seems like even that may not be enough as the narrative opens, with Adam living alone in Detroit and Eve similarly so in Tangier. Adam seems at last to be on the verge of existential despair—he even bought a custom-made wooden bullet for his revolver—so when Eve comes to Detroit to be with him, she has some re-energizing to do. And there are even more complications when Eve's impetuous sister Ava (Mia Wasikowska) also arrives.

Jarmusch injects plenty of sly humor into his study of how vampires might exist in the modern world, including seeking out sources for quality blood that don't involve gambling on a human victim who might be "unclean." We get a sense for the way they fill their endless nights when they rattle off the accumulated trivia of dozens of lifetimes, like the Latin name of every living thing they encounter. And the possibility of falling into repetitive cycles is conveyed by introducing Adam and Eve through slow, lingering, revolving overhead shots.

But at its best, Lovers is a lovely, funny meditation on art and immortality—including making Eve's blood-bank hookup in Tangier the 16th-century author Christopher Marlowe (John Hurt). Adam's passion for music—hearing a beautiful new singing voice or a rare instrument are among the few things that can shake his melancholy—becomes part of a suggestion that it's possible to keep finding beauty in new creations that give meaning to being alive. Or, you know, at least not dead.

ONLY LOVERS LEFT ALIVE



Tilda Swinton, Tom Hiddleston, Mia Wasikowska
Rated RÂ 


Twitter: @ScottRenshaw