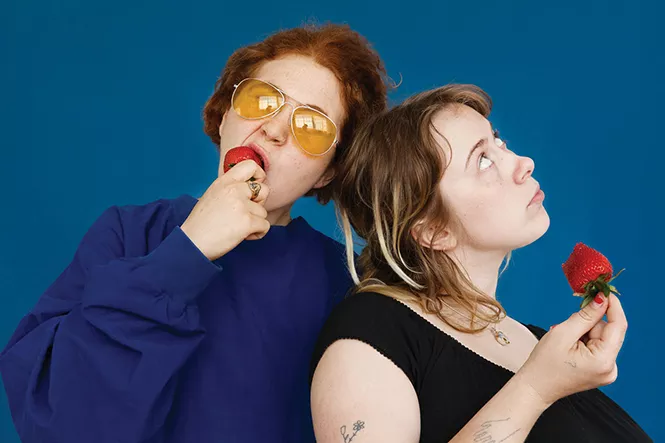 Speaking from her home in Philadelphia after a tour in Europe, Harmony Tividad says life on the road with the indie-pop band Girlpool is a rollercoaster. On one hand, she's traveling the world with her best friend, Cleo Tucker, and drawing inspiration from "incredibly creative people." On the other, touring is a physical grind and she's glad to finally have some down time at home.
The power of human connection has always been at the forefront of Girlpool's music, especially back when the band was just Tividad and Tucker. The natural ebb and flow of the singers in imperfect harmony—feeding off each other's emotions to a sparse backdrop of simple guitar and bass lines—recalls the give-and-take that makes any good relationship work. It's also representative of Girlpool's songwriting process, which usually begins with a single riff or lyrical phrase and builds collaboratively, with each continually compromising on where to take the melody. "We're sensitive to each other but also honest about how we feel," Tividad says. "There's a lot of back-and-forth."
Tividad, 22, was raised in Hollywood, and learned to value the exchange of musical ideas from her father, a jazz bass player from New Orleans. "We'd be driving to school and he'd put on different music in the car," she recalls. "He'd ask me what instruments I could hear and teach me about different beats, like a train beat or a swing or whatever. He taught me to listen to music in a more critical way." She also attended various public music magnet schools, where one choir teacher told her to "listen louder than you sing."
Since she was "pretty bad" at singing harmonies, Tividad took the advice to heart. "I was always singing under the pitch, lying a little flat," she says. But her father devised ways around that, including laying out vocal melodies with the music production program GarageBand for her to sing along with and teaching her to harmonize with songs on the radio. As a guitarist, Tividad began the ongoing process of experimenting with various tunings and listening for something new. Playing guitar doesn't come to her as naturally as singing, but she enjoys the fluidity of the instrument and learning her way around it. "It's like taking a piece of marble and shaping it even though you don't really know what you're doing," she says.
Tividad met Tucker in 2012 when she was working the door for a DIY punk show at The Smell, a venue by Skid Row in Los Angeles. She says she was struck by the precocious energy of Tucker, who was dancing in a group "free and uninhibited." At the time, they were playing in separate punk bands and Tividad was booking shows for both groups. It wasn't long before they started making music together and became best friends.
Their musical connection felt electric, almost telepathic. They easily bounced ideas back and forth and learned the nuances of each other's playing and singing styles inside and out. "It was a natural synchrony," Tividad says.
They played as a duo with no percussion, leading to a stripped-back, lo-fi mix of guitar, bass and Tucker and Tividad's eerily dissonant, interweaving voices. The sound, which was captured perfectly on their debut album, Before the World Was Big (Wichita, 2015) soon earned them a devoted following in L.A.'s DIY punk scene. The barebones, two-chord songs also caught the attention of critics, many of whom praised the raw emotion and mysterious power of Girlpool's creepy nursery rhymes.
Shock might also have been a factor in their quick rise to national relevance, considering the don't-give-a-shit punk-rock attitude apparent in songs like "Slutmouth" and "American Beauty," which is about receiving oral sex while watching American Beauty. But they've proven themselves more than a novelty act with their latest record Powerplant (Anti-). Released in May, it features a full-band sound for the first time, thanks to drummer Miles Wintner. The record sounds bigger and better produced, but doesn't obscure the strange tension between the twin vocals that made the duo distinct in the first place.
Tividad says it was a challenge to invite another person into such an intimate creative space, but ultimately it was a rewarding move. "It was bizarre at first, but also very empowering to find creative solace in other people," she says. It likewise enhances life on the road. "It's really taxing and strange," she says, "but also really powerful. I love the people in the band and I feel really connected to them."