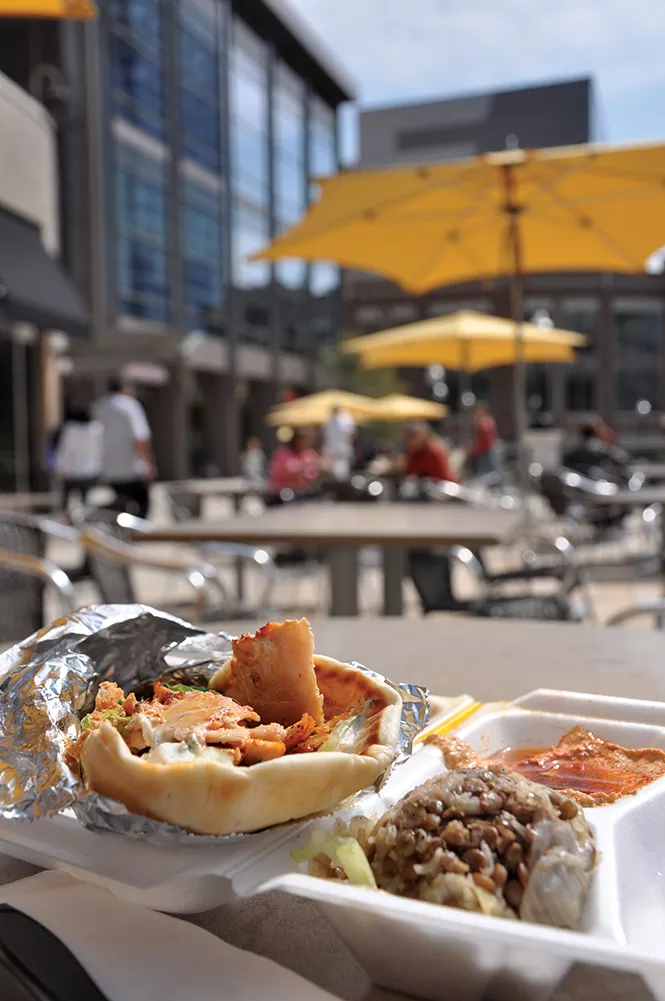 Chock full of posh shops, City Creek Center isn't a place I tend to associate with diversity. However, among the hidden gems of the its food court are a handful of interesting, eclectic eateries that serve as an alternative to your typical Subway, Chick-fil-A or Jimmy John's. I'm thinking of a food court trio that makes an excursion to City Creek worthwhile even if you're not planning to shop.
In the past, I've written about the excellent artisan sandwiches at Bocata, which are made with fresh-baked pizza-style bread, brought to us by the owners of Settebello Pizzeria Napoletana. The Cuban pork, meatball, roasted lamb and Caprese bocatas are well worth seeking out. There's also Taste of Red Iguana, which brings renowned flavors from the award-winning restaurant in fast-food form to the food court. Did you know that you can get migas for breakfast here? Fried corn tortilla strips are tossed with scrambled eggs and salsa española, then garnished with Mexican crema and cotija cheese. Other offerings include signature Red Iguana tacos and burritos, as well as fajitas, enchiladas, flautas and chimichangas. Sorry, no Tecate or Corona here, though.
The newest addition to the City Creek dining scene is Albasha. I was surprised to come across the name here in Salt Lake City, since I knew it first as a Louisiana-based eatery. The Greek and Lebanese group of restaurants is located in Baton Rouge, Metairie and a handful of other Louisiana cities. Well, it turns out that a relative of Louisiana's Albasha founders lives in Utah, and decided to open a Beehive State outpost. Unlike so many of the mall's dining destinations, this one—although technically part of a chain of restaurants—is far from cookie-cutter. No two Albasha eateries are quite the same. Some are full-service restaurants and some serve booze, although certainly not this one.
Portions are plentiful, the food is fresh and first-rate and there are only a couple of menu items that set you back more than $10. The offerings consist mostly of appetizers, sandwiches, salads and plates, plus side dishes. The sandwiches—a choice of fillings wrapped in Arabic pita bread—are especially good bargains that include either french fries or two side dishes. Options include a chicken shawarma ($8.99), a Greek-style gyro ($8.99), a falafel ($8.99) and souvlaki ($10.99). Side dishes ($1.99-$2.99) are hummus, salad, lemon rice mujaddara (lentils and rice) or Grecian sauce. Don't bother with the fries.
Having first enjoyed a large serving of spicy housemade hummus ($4.99), we moved onto the main event. My wife ordered an item brand-new to the Albasha menu: shrimp shish kabob ($13.99). It was a generous portion of medium-to-large shrimp, lightly seasoned, skewered, grilled and served with rice pilaf and spicy hummus. I was impressed at how tender and not overcooked the shrimp were—an unexpected but pleasant surprise for fast-food.
Just as tender and juicy was the scrumptious beef and lamb blend that makes up the gyro meat sandwich, served with tomatoes, onions and a yogurt-based sauce. The accompanying mujaddara was plentiful and delicious, as was a side salad of fresh greens, feta cheese, tomato and red onion that could have passed for a main course.
Other tempting items include a veggie plate ($9.99) consisting of stuffed grape leaves, spinach pie, hummus and falafel, or the moussaka plate ($9.99) with potato and eggplant slices layered with seasoned ground beef and topped with a house béchamel.
My advice for dining at City Creek Center: Skip The Cheesecake Factory and order in the court.