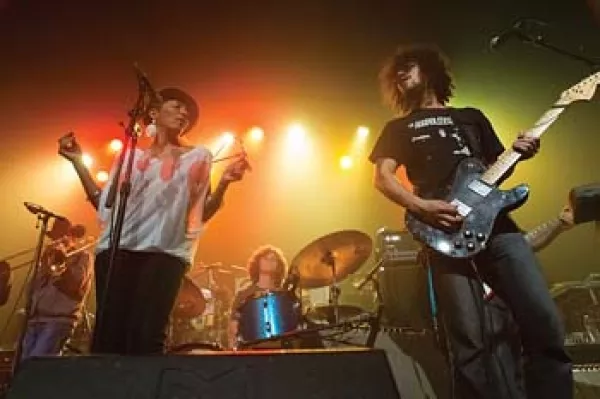 Listen to Orgone for a minute or two, and you'll be transported to the era when the civil-rights movement was underway, and bell-bottoms and paisley were fabulously in style.
The octet could be put into a funk, soul or afrobeat box, but they're more than those labels. The group transcends genres, effortlessly crossing into hip-hop, R&B and even disco territory.
Orgone—rhymes with "ozone"—got its start 13 years ago as a group of five friends who came together through a mutual love of funk and taught themselves how to play music. After establishing themselves as masters of funk and soul, the band got into backing other artists, including Alicia Keys, Cee Lo Green and Anthony Hamilton.
"We are so open to [collaborating with different artists] … and not even just hip-hop artists, but also, like, soul artists and people who haven't been around long," Rios says. "It's a very cool thought to sort of being able to feature them and back the band."
But while Orgone is more than capable of genre-hopping, don't expect it on New You Part 1, the band's latest album. It's pure funk and soul. Rios says that while recording, the group strived to remain true to their roots and get back to center by remembering who inspires them to create music. "Every time we make something, we look to who inspires us, and who we love to listen to," Rios says.
However, Orgone did switch up vocals quite a bit on New You, working with a variety of songstresses. Fanny Franklin, the band's original vocalist, delivers her signature intense style on the track "Say Goodbye." Niki J. Crawford covers "Strike," one of the more aggressive songs on the album, which features shuffling beats and big vocals. Tiffany Austin sings on "Don't Say Stop," which Rios describes as "a roller-skating song, with a dance-floor vibe, which is just a whole lot of fun." Each song on the album has its own groovy beat and detailed horn sections, making for a big sound that fits perfectly with Rios' prominent guitar riffs and the leading ladies' soulful voices.
When Orgone plays live, it's quite the spectacle, no matter which singer takes center stage. "When we play together onstage, we just vibe off each other's energy and that gets us feeling good," Rios says. At the show, expect plenty of groovy beats and vibrant horns that'll get your hips shaking as you hop into the Orgone time machine and take a trip to the '60s and '70s.
ORGONE
w/ What It Is!
The State Room
638 S. State
Thursday, July 18, 8 p.m.
$12