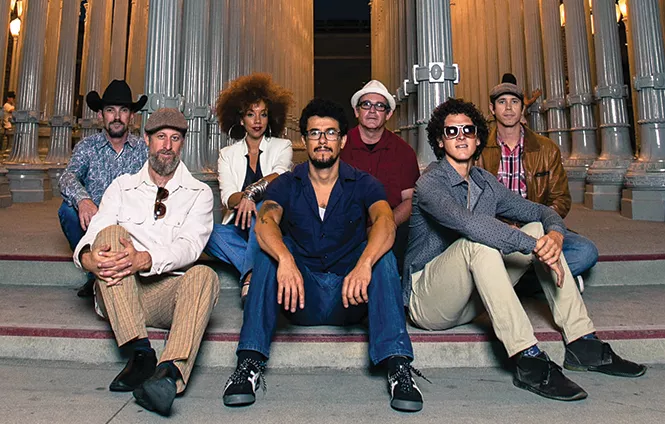 If you're part of the Generation X demographic and had hip older siblings, parents or the occasional stoner uncle, you likely had that sacred, transcendental experience of discovering a stash of old vinyl.
Because they're staples, you immediately accepted the Black Sabbath, Led Zeppelin and Rush albums. If you grew up in Utah, you may have had to cast aside the records whose jackets featured the porcelain-toothed grin of the Osmonds (at least until discovering the cheese-rock goodness of Crazy Horses). If those relatives or friends were really hip, you'd be left with a slick stack of glitzy curiosities from Earth, Wind & Fire or Tower of Power where afros abound—even on some white dudes—and they looked, for the time, cool in platform shoes that peeked from wide silk cuffs tapering up to an impossibly tight constriction. And then there's the titillating, ass-shaped "W" in the Average White Band's logo.
Innocently, you threw one of those funky platters on the turntable. When the needle dropped, a sonic lasso shot out of the speakers' tattered grill-cloth, tightened around your hips, and the rhythms took over. You'd discovered groove—the domain of Los Angeles-based Orgone.
Formed back in 2000 by Sergio Rios (guitar) and Dan Hastie (keys), the octet is rounded out by six additional soul-devoted musicians with impressive resumes. Members of Orgone have performed with Al Green, Gil Scott-Heron, Thievery Corporation and The Roots. Most of the band served as the backing band for Alicia Keys on her watershed album As I Am and on CeeLo Green's Grammy-winning song "Fool for You."
Orgone takes their name from the word meaning a hypothetical cosmic unit of energy. It's an apt name for a band that seems to effortlessly invoke that gritty, humid funk that crackled from the stylus decades ago, but still manages to keep a fresh sparkle over the sound to hook the more modern ear. The band is touring behind their seventh release, Beyond the Sun—their first for esteemed indie label Shanachie Records, and the debut of new vocalist Adryon de León. Like the soul queens of the past, de León easily goes from delicate emotion to ferocious power with charismatic swagger.
"My parents both sang," says de León. "My mom had her own girl group ... but it's that same clichéd story of 'keep your work or your group.' She chose work and family." Like any good, God-fearing mother, de León's mama took her family to a Baptist church every Sunday. De León developed her vocal chops there during the raucous, spirited church services. "We're talking full-on howling in the aisles—everyone has a tambourine in the choir. My cousin would be on the organ, my other cousin would be on drums."
Beyond the Sun is jammed with tracks that have a classic, organic quality—like the pumping disco beat of the first single, "Sweet Feet." Orgone uses vintage instruments to achieve a sound that sits nicely alongside the classics from the late '60s and early '70s, but with a little more clarity from the advancement of modern technology. "[We] have very strong influences from the past," says de León. "When we create the music, we want to keep the integrity of those influences while creating our own sound."
Orgone is known for their relentless touring, and their eighth stop on this current leg will be at The State Room in Salt Lake City, where they've performed a handful of times in the past. With a fresh album and a hard-touring work ethic, what lies ahead for Orgone, and the newest member of their traveling funk circus?
"You're always wanting to look forward," says de León "Personally, for myself, I'm always writing lyrics down and other ideas trying to keep things going ... nothing specific, just keeping those wheels going."