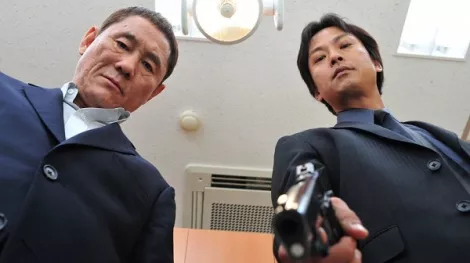 Director/writer/editor/star Takeshi Kitano first made an impact on these shores with a remarkable series of gangster films (most notably 1993's Sonatine and 1997's Fireworks) that melded beautifully unhurried compositions with blistering flickers of cold-blooded carnage. What ultimately makes these movies stick, however, is their creator's beyond-deadpan sense of humor, which cycles from funny ha-ha to funny dark to numbing to a weird sort of transcendence, often in the very same scene. (For a prime example of Kitano's Sideshow Bob vs. Rake tendencies, check out the beginning of Violent Cop, in which the main character slaps a whiny kid suspect into submission. And then just doesn't stop.)

Outrage, Kitano's first yakuza film in nearly a decade, may not quite be the victory lap that fans have been hoping for, unfortunately. While the clean lines and unsentimental survival-of-the-strongest plotline recalls the filmmaker in his prime, there's a by-the-numbers quality to the whole enterprise that keeps it tethered. Set to a Tangerine Dream-y synth score, the story follows a veteran mob enforcer (Kitano) whose boss charges him with keeping a rogue faction in check. One small slight follows another, until the bodies are stacked like cordwood.

There are moments, certainly, that recall the director at his finest, particularly when focusing on the mobsters goofing off between skirmishes. However, what once worked like gangbusters is mostly squelched by a number of uninvolving subplots and some distractingly grody scenes of violence, including a bit in a dentist's office that would make Laurence Olivier in Marathon Man run the other way.

While the filmmaker has never been one to shy away from the red stuff, this is the first time that his bloodletting has ever come off as gratuitous. Still, even if Outrage never quite gets it together, it's worth a look for Kitano's fascinatingly poker-faced presence as an over-pressurized killer who chuckles at the darndest of things. He may be in his 60s now, but when he gets that old gleam in his eyes, duck and cover.

OUTRAGE


Takeshi Kitano
Rated R