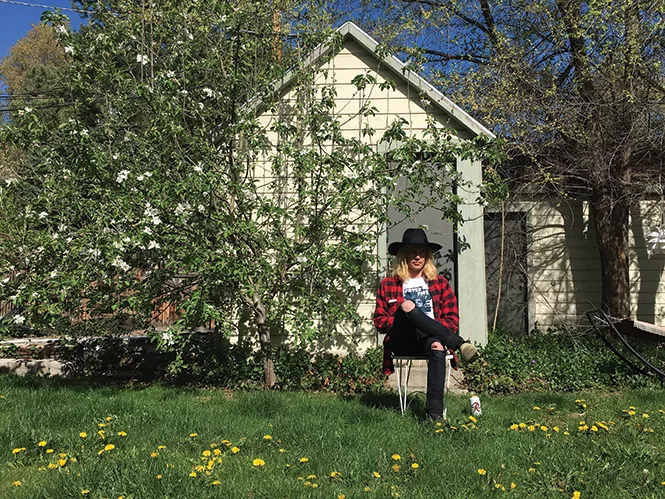 "I moved the band to Nashville, and things weren't really going the way I wanted them to," says Kyle Henderson. In 2015, the Orem-based Desert Noises—Henderson's former band—had reached a local and national peak, spending the previous five years touring incessantly, playing music festivals like Loufest, Oaktopia and Austin City Limits, and cultivating an ever-growing fan base. With two albums (2011's Mountain Sea and 2014's 27 Ways) and two EPs (Desert Noises and I Won't See You, in 2009 and 2012, respectively), Desert Noises was primed to blow up in a big way. But even the best-laid plans ...
When the end of the band seemed imminent, Henderson met an unforgettable someone. "I fell in love with this girl," he says. "I was on tour and she was a bartender at this bar. I chased her down an alleyway, took her phone, stole her number and talked to her for five minutes." This brief and memorable encounter, a taste of euphoria, was enough: "She moved out of the house where she was living with her boyfriend at the time, and we spent every following moment together."
The relationship eventually ended. With Desert Noises and a whirlwind romance behind him, Henderson had a heavy heart. In order to bear and process this raw, honest emotion, he sought stability and returned to Utah: "I wanted to quit music. I felt like I wasn't being myself; my art wasn't coming across like I wanted it to." He cloistered himself, succumbed to a vice or two and began writing, a lot—self-medicating for a deeply rooted heartsickness. Henderson, with guitar in hand, became Bloodhound, a lone troubadour crooning his inescapable past.
He soon learned that there were many so-called bloodhounds in the music world. "Venues started saying that other bloodhounds were hitting them up for shows," he says. So Bloodhound morphed into Hound Mystic: "I still wanted to use the image of a hound, because I think that dogs are so smart but also so dumb," a quality that he finds endearing.
With a new name came an expanded lineup—Henderson (guitar, vocals), Ren Kennedy (guitar), Joey Peterson (drums) and Josh Brown (bass). A fresh batch of emotionally revealing songs in tow, Hound Mystic went up to Portland to record their debut EP at Red Rockets Glare studio. The band, along with producer John Askew (the producer behind many of The Dodos' records), cranked out four songs in 12 hours. "There is a kind of magic that happens when you are with the right people," Henderson muses.
In describing the yet-to-be-named, four-song EP, he says, "It is kinda like a Fleetwood Mac thing: dark but dance-y. It is honest—nothing fake." The songs, though nodding toward his past, aim to reflect the motto, "everything always," which means "don't be afraid of whatever is going on, and don't be afraid of your mistakes or don't look at them as mistakes. The past is what shaped you for now; even if it was bad, it was an experience. You can't really judge yourself by your past."
From the dark and hollow place the musician once occupied, it is plain to see that he has grown with each note, each word and each day. Never letting his past define his future, he has instead used it as personal and artistic motivation, becoming the full embodiment of his positive adage—everything always.
Henderson is looking forward to the EP release show. "We have nothing out, so it is a way to get ourselves [and music] out there," he says. This show is a celebration, both of the hard work Hound Mystic put into their EP, but also of the human condition and our ability to change and grow. A dog's life is indeed charmed.