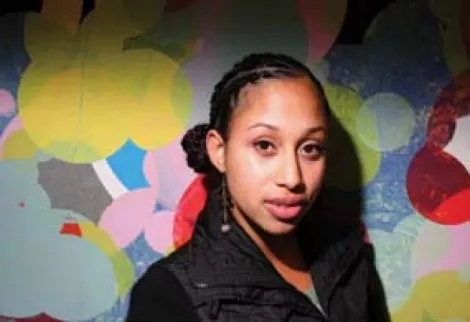 Elisa James doesn't speak patois or discuss Jah when she's performing onstage. n
"I'm not going to try to be someone I'm not," she says.
n
Elisa is not, for example, from Jamaica, nor does she practice Rastafarianism. But the local singer is the centrifuge of Salt Lake City stalwarts Afro Omega, a band whose sound she and her partner Bronte James describe as "Americanized reggae." They also call it "sexy reggae," a label that attempts to relay their perception of the group as neither a spark plug for weed-fueled parties nor a pulpit for religious doctrine.
n
For them, it's always been and will forever be about the music. It might seem like a simple mission statement, but many artists get sidetracked from original intent by dreams of monetary grandeur, social standing and even the basic task of typically shameless self-promotion. Some artists spend more time posting MySpace bulletins than they do practicing songs for an overhyped show.
n
"I always think of music like sports," Bronte says. When he played football, it was all about practice, practice, practice—and putting in the hours for Afro Omega is no different. When Afro Omega lost their keyboardist, for example, Bronte more or less went on lockdown teaching himself enough to take over and add to his duties as the band's mastermind. "He creates most of the music and ideas," says Elisa.
n
But it's Elisa who steals the spotlight. When Afro Omega first started in 2003, she played the part of backup vocalist until she wrote a song that quickly became a crowd favorite. At the time, James had a four-month-old son. Five years later, she's very much the strong female figure she hopes her now four-month-old baby girl will look up to, "and maybe follow in my footsteps."
n
When James got pregnant last year, folks in the scene assumed that was it—Afro Omega was over. Today, she wants people to know that she's as committed to music as ever, maybe even more so. "It's a new chapter for us," she says.
n
Watching and listening to Elisa perform, it's hard to picture anyone in her place. Some naysayers though think she'd be better off at home—in the kitchen, perhaps. People have told Bronte that reggae belongs to male singers. That the band temporarily performed as Miss Omega to better reflect James' significant role indicates how little stock they place in such assertions. Ultimately, the name didn't stick and this week they'll release their long-awaited debut LP Love Emergency as Afro Omega.
n
They recorded the full-length album as they did their 2006 EP, Pick Up the Pieces—in their Salt Lake City home. "We wanted to take our time," Bronte says, so they wisely skipped the professional engineer route. Besides, by following the DIY path, "we learn so much about what we should and shouldn't do."
n
For Love Emergency, Elisa laid down several tracks in one take to capture a raw intensity while Bronte minimized track inputs by recording them all at once. "If I can do it by myself recording, I can do it live," he says. And the live show is such a crucial part of the equation—that, and staying "on point."
n
"It's about having fun, but also being professional," Bronte says. He and Elisa are impressively grounded in their expectations for the band. They are more focused on establishing a solid catalogue than hitting the Top 40 with Love Emergency, keeping in perspective the bigger picture.
n
"I want to play festivals with my kids dancing onstage. I want my kids to see the world," Elisa says.
n
And she'll do it her way.
n
n
AFRO OMEGA CD RELEASE w/ DJ Rebel
nThe Urban Lounge, 241 S. 500 East, Saturday Dec. 6, 10 p.m.
n
Afro Omega
n