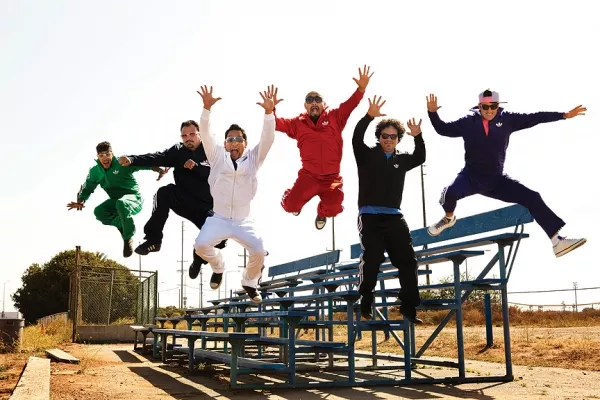 To the untrained eye, Los Angeles-based Ozomatli's multicultural musical soup might look like the kind of dinner you'd make with whatever leftover ingredients you have in the fridge. But the band isn't just throwing random stuff together and dumping in a bunch of Sriracha hot sauce for good measure.
"Music is like food," says vocalist/trumpeter Asdru Sierra. "I mean, mixing beans and coleslaw doesn't really work, but if you get some Spam and put it with a nice whole-grain tortilla, that makes sense!"
There is a recipe (hold the Spam), and the Latin-fusion band has been perfecting it for over a decade. The ingredients look something like this (brace yourself, it's a lengthy list): hip-hop, rock, salsa, dancehall, cumbia, samba, funk, merengue, comparsa, New Orleans second line, reggae and Indian raga.
Originally formed in 1995 to play at a labor protest in Los Angeles, Ozomatli combine not only numerous Latino and urban musical styles, but also social consciousness and a message of positivity to bridge geographical, cultural and generational divides—as heard on the band's many studio albums, including a new one just for kids (and their hip parents), Ozokidz.
If an entire city dedicates a holiday to your band (Ozomatli Day, April 23), it's probably safe to assume that not only do the citizens like-like you, but that that city was integral in the shaping of your identity. For Ozomatli, if Los Angeles is the melting pot, the disparate racial and musical backgrounds of Sierra and the band's other five members—Wil-Dog Abers (bass, vox), Ulises Bella (saxophone, clarinet, requinto jarocho, keys, vox), Raúl "El Bully" Pacheco (guitar, jarana, vox), Justin "El Niño" Porée (percussion, rap vox) and Jiro Yamaguchi (tabla, percussion, vox)—are the tasty ingredients that make up their funky sonic stew.
"It's a miracle that a band like ours is around, because we are so different," Sierra says. "All of us are so different, not just musically, but as people. We're able to meet in the middle just for the sake of humanity and enjoying life."
As official U.S. cultural ambassadors, in 2009, Ozomatli was the first American band in decades to perform in the military-controlled country of Burma. Despite the political nature of some of their lyrics, Ozomatli's message transcends barriers.
"There could be a song talking about something that needs help in a society, but [another] song would be about enjoying life and about a monkey that can dance really good," Sierra says. "I think you lose a lot of people when you start getting dogmatic about issues in songs."
Continuing their tradition of bridging divides, this past September, Ozomatli released Ozokidz—produced by Robert Carranza—a dance party of an album that introduces an entirely new generation of listeners to the band's genre-busting sound.
"As we grew up in our band, as we had our own kids and our fans had kids, there was this growing thing that was happening every time we had gigs on weekdays: A lot of our fans couldn't find somebody to take care of their kids," Sierra says. Mario Calire, who played drums on Ozomatli's past few records, suggested they make a kids album. "We kicked that around and then we started writing some music for it."
Rest assured, music-loving parents. These aren't inane, oh-my-god-this-is-burrowing-into-my-brain songs that might drive you to tell your rugrats that the CD got sent to "live on a farm." Although the songs are absolutely kid-friendly—about topics such as a baby jaguar ("Piraña," featuring the vocals of Sierra's daughter), a camping trip almost gone wrong ("Moose on the Loose") and outer space ("Sun & Moon")—"you can still tell that [Ozokidz is] an Ozomatli album," Sierra says. "It's still our exploration of everything musical, but is geared toward the whole family, not just kids," and is an album that "parents can boogie out to, too."

OZOMATLI
w/ The Chickens
Park City Live
427 Main, Park City
Friday, Dec. 14, 10 p.m.
$20