THURSDAY 6.16
Wasatch Theatre Co. Page to Stage Festival
A city may be full of talented artists, but quite often, talent isn't enough. Artists need ways to get their work out into the world, and even as democratizing technology has made certain kinds of artistic work easier to distribute, others depend on organizations with a mission to showcase that work. It's hard to be a playwright if nobody stages your play.
Wasatch Theatre Co. has been committed to that kind of mission for most of the past 20 years, and this year takes its dedication to artists in a different direction: new work by artists specifically inspired by a completely different kind of art. For this year's incarnation of that annual Page to Stage Festival, local photographers were commissioned to provide images—like the one above, by Ann Davis—that would provide the starting point for writers to create their short plays. Playwrights were then assigned a cast of actors for whom to write, and over the past several months, those original works have been coming together for this weekend's world-premiere performances.
Ryan Noufer, Dave Hansen, Mandy Barfuss, Nicholas Dunn and Lindsey Hall are the writers whose short plays debut, covering topics ranging from gender politics to religious radicalism, and tones from drama to absurdism. The company's own Beth Bruner also premieres her own new play Keep A-Runnin' in a special staged reading on June 18 at 4 p.m. Join the artists for a reception following the Friday performance, and support new art. (Scott Renshaw)
Wasatch Theatre Co. Page to Stage Festival @ Rose Wagner Center, 138 W. 300 South, 801-355-2787, June 16-17, 8 p.m. & June 18, 1 p.m. & 8 p.m., $20 general admission, ArtTix.ArtSaltLake.org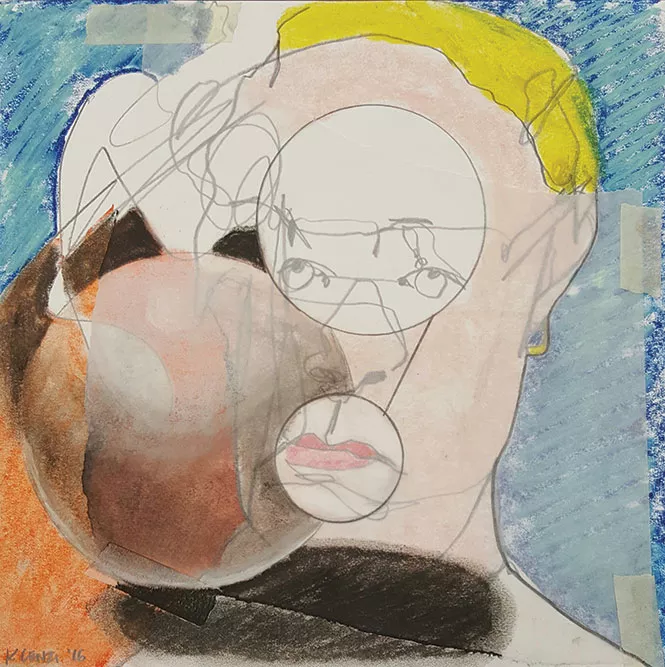 FRIDAY 6.17
Bob Kleinschmidt and Kristina Lenzi
The Green Loft is a cooperative organization purposed, as the name implies, around sustainability and energy efficiency—"green living," as they call it. Their location, on Highland Drive, has also been hosting art exhibits loosely based on green themes, and this month features the works of Bob Kleinschmidt and the loft's art curator, Kristina Lenzi.
Kleinschmidt, a printmaker, came to Salt Lake City in 1969 to teach in the art department at the University of Utah, and in his three decades there made an indelible impression on his students and the local art scene, through various exhibits he participated in, most notably the Springville Museum of Art. As Professor Emeritus, his work still engages with viewers through its use of objects from the world of nature as symbols, highly personal yet immediately accessible. He showed there last year, but this exhibit is a completely different body of work.
Lenzi was a former student of Kleinschmidt; it's fascinating to study the instructor's impact and influence through the lens of her own work. Her drawings are more psychological, using the vehicle of self-portraiture to probe the dimensions of consciousness ("Consciousness 1: Multitudes of Denial" is pictured). His example can be felt in her teaching methods as an adjunct professor in the art departments of the U of U and Weber State University. Though she has broadened the scope of her work into collage, drawing and performance art, it all focuses on the psyche. (Brian Staker)
Bob Kleinschmidt and Kristina Lenzi @ Green Loft Gallery, 2834 S. Highland Drive, through July 1, 9 a.m.-5 p.m. Monday-Friday; artists' reception Friday, June 17, 6-10 p.m. GoGreenLoft.com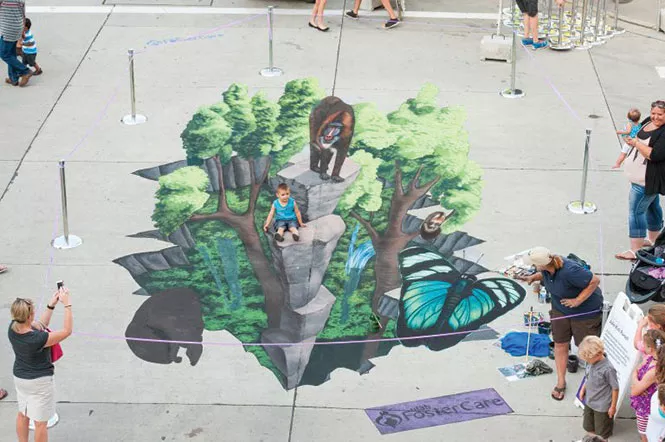 FRIDAY 6.17
Utah Foster Care Chalk Art Festival
If you haven't visited the Utah Foster Care Chalk Art Festival—taking place June 17-19 on nearly every available square of sidewalk running down the middle of The Gateway in downtown SLC—in any of its past 14 incarnations, you have been missing out on not only beautiful artwork created with one of the most impermanent tools in the art world, but also a great cause. The festival is meant to bring awareness to foster care, drawing attention to the needs of kids placed in the foster system to have reliable adults in their lives, as well as the funds to support those adults in their efforts to provide safe families for the foster kids they have stepped up for.
Artists participating in the event are separated based on their year in school—with one group filled by youth in grades 6-12 and the other set aside for anyone post-high school—to vie for the similarly separated awards offered in four categories: best in theme; people's choice; best in show; and a sponsorship competition, given to the artists in each age group who raise the most money for their sponsor.
There are different things to enjoy each day of the festival, as artists will work on their masterpieces both June 17 and 18, producing work in various states of completion. On June 19, however, each finished piece will be primed for optimal gallery strolling. (Casey Koldewyn)
Utah Foster Chalk Art Festival @ The Gateway, 18 N. Rio Grande Street, Salt Lake City, 877-505-5437, June 17, 4-9 p.m., June 18-19, 10 a.m.-9 p.m., free. ChalkArtFestival.org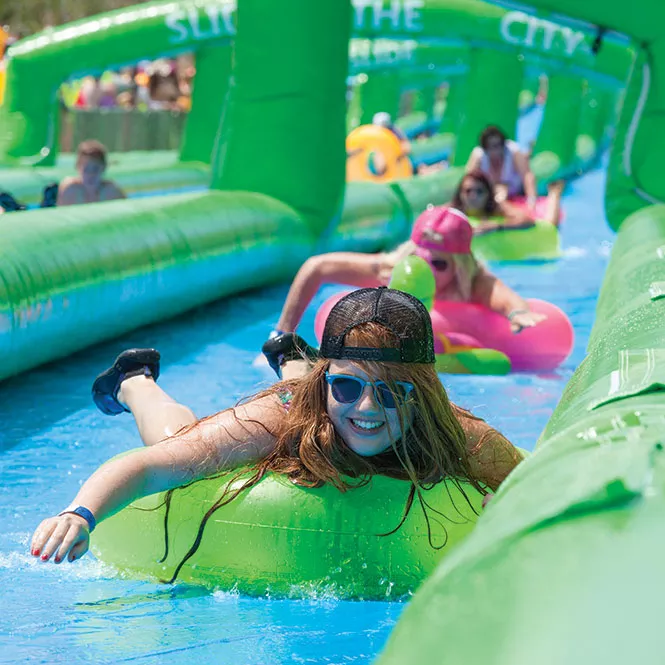 SATURDAY 6.18
Slide the City
Relive childhood summers of Slip'N Slides with the ultimate slide, as a record-breaking 1,000 feet of inflated vinyl returns to Salt Lake City on June 18. Last year, thousands of attendees were able to cool down by cruising down the slide with complimentary inner tubes, and this year should be just as popular.
Slide the City stretches down three blocks of the hill on Main Street above North Temple. The slide pumps more than 6,000 gallons of water down its length, and combined with the steepness of Main, the volume of water can allow sliders to hit some pretty serious speeds.
The slide offers two lanes—one for individuals, and a wider one for families and friends to slide down together. Event organizers recommend making a day of it; for entertainment before and after slide sessions, local vendors will provide food and merchandise, as well as live music. The event's website also recommends that participants bring their own water guns or water buckets to keep cool throughout the day.
Slide the City organizers say that the slide is thrilling, but still safe: The pump system keeps the water clean for everyone using the slide, and as an additional safety measure, each slider receives a mouth guard.
Reserve a time spot by registering on Slide the City's website, and then pick up your wristband and other swag in advance. Doing so on the day of the slide will only mean more waiting in line, and less playing in the water. (Kathleen Stone)
Slide the City @ North Temple and Main Street, Salt Lake City, June 18, 9 a.m., $15-$99. SlideTheCity.com