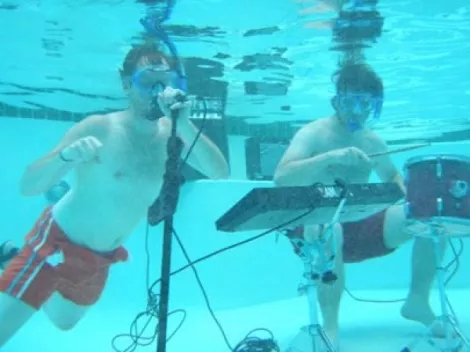 Two years ago, the experimental rock duo Palace of Buddies hit the music scene with an impressive self-titled debut album. It secured their spot in, and garnered respect from, the local music community—a shared dream since back in the day.
Guitarist Tim Myers and drummer Nick Foster became friends in middle school during math class, where they bonded over music and their aspirations of becoming musicians. Since those rock-star daydreams, both have been around the musical block. And now, two years since the Buddies' debut, they're dropping their sophomore release, Summertimes.
The duo's friendship lasted throughout high school and post-graduation, when they formed Pushing Up Daisies. That group split after a couple of years because Foster was focused on finishing his music-composition degree at the University of Utah. Myers continued to play in other local groups, including Airliner. In 2006, the duo reunited and started jamming together in private as a two-piece. Over the next year, they acquired new equipment and began experimenting with song structures to see what could be created without a full ensemble.
They started playing shows in 2008 as Palace of Buddies and quickly began capturing crowds with their catchy three-minute songs and their showmanship as they switched between instruments. In the summer of 2009, they released their DIY debut, which was recorded in Foster's living room and mixed by the band. The album's success and hype produced near sell-out shows.
"It was great to see all the reactions to the record," Myers says. "We were definitely blessed with some good reviews and support. I am not totally sure if we really have any type of fanbase, but many people have been kind towards us, which we appreciate."
Since then, both have been writing material for Buddies while also taking small breaks to work with other groups. Myers had a brief stint in Super Buttery Muffins and currently plays with Birthquake. Foster launched a second duo—It Foot, It Ears—with guitarist Jason Rabb.
When it came time for Palace of Buddies to reconvene and record the second album, rather than take chances on recording in a different environment, the duo returned to Foster's living room to hash out the material.
"This time was really fun because we had a bunch of new equipment to play with," Myers says. "Nick and I have both taken chunks of the record and mixed and edited them. Nick has done a bigger portion, but the process has pretty much been the same: It's all DIY."
As an interesting aside, work for Summertimes started in the spring of 2010, when the duo put together a four-track sampler to take on their summer tour. But somewhere on the way to Tuscon, Ariz., the box of albums was lost, thereby making the recording a rarity.
While building from the same foundation as the first album, and again releasing on Kilby Records, Summertimes is a very different experience in both tone and overall presentation. The album has its share of dance numbers, like "JP Little Baby" and "Super Sunshine," but it feels mostly like a self-exploring soundtrack. Myers' soft vocals—a guide to the emotional tones and eloquently meandering thoughts—seamlessly drift through the keystrokes and beats. Each song finds the sweet spot in your mind and plays with old memories, leaving you smiling by the end.
Palace Of Buddies
CD Release Show
w/ The No-Nation Orchestra EP release show and Tolchock Trio
The Urban Lounge
241 S. 500 East
Friday, Sept. 23, 9 p.m.
$5