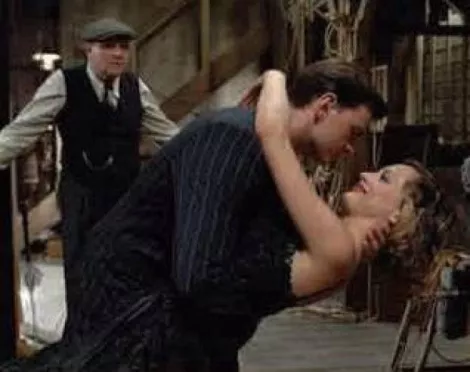 Oh my goodness, I didn't expect this: Paris 36 is The Muppet Show, except, you know, in 1936 Paris. I'm sure that wasn't the intent, and I don't necessarily mean it in a disparaging way, but that's exactly what this charming mess of an overlong movie is.
We have Pigoil (Gérard Jugnot), the Kermit-esque theater hand who helps his fellow greasepaint-monkeys occupy the Chansonia music hall. There's Milou (Clovis Cornillac), the Gonzo-like lighting guy. There's Jacky (Kad Merad), who is Fozzie, who believes his garish jackets are cool and can't do an imitation worth a damn. There is Douce (Nora Arnezeder), the ingénue with the voice of an angel; Douce is Miss Piggy merely because she's the only girl to speak of in the movie, though Piggy wishes she was this beautiful and this talented. They're all trying to save the Chansonia from their fascist landlord Galapiat (Bernard- Pierre Donnadieu), who would be played by either Waldorf or Statler, or else a human-among-Muppets guest star like Michael Caine, or maybe Paul Giamatti.

OK, sure, it's all a bit darker than the Muppets would ever get into. The flick opens with Pigoil being interrogated by the police for murder—murder! Pigoil is precisely as meek and sweet as Kermit, so there's the suspense: Whom did he murder, and why? He tells us the whole story of the occupation of the Chansonia in his interrogation, and it's diverting enough—even if it gets dragged out for too long—that you may actually forget where the whole thing is leading (even though there's a love triangle that also mirrors Moulin Rouge! that you know cannot end well).

This isn't the pretty Paris familiar to tourists; in fact, the French title, Faubourg 36, refers to the term for the city suburbs. So this ain't technically Paris at all, and it's rife with Depressionera grimness. Not much, though, because it's The Muppet Show: melodious and frothy, with exactly the same minor undertones of darkness.
PARIS 36



Gérard Jugnot, Nora Arnezeder, Kad Merad
Rated PG-13