Page 2 of 3
J.R. Ruppel started SLUG in the late '80s. Worked as designer on The Private Eye (early '90s) and sold SLUG in '95. Met singer-songwriter Jerry Joseph same year; toured as full-time bassist for Jerry Joseph & The Jackmormons until 2007, but is now only part-time. Continues to record solo material as DJ El Fabuloso and J.R. Ruppel; spends rest of time "painting houses, drinking and taking as many drugs as I can get my hands on."%uFFFD
Bien Hoang lives in California, where he translates literature and writes original poetry.
Rocky Lindgren works as a graphic designer for ABC4 and does freelance graphics from his home office. He says: "While working at CW, I commuted on a bicycle. I remember one day after arriving a little late around deadline, I put away my bike and John Saltas walks up to me and said he was wondering where I was. He was worried I might have crashed. I said, 'Thanks.' Then he asked, if you'd had crashed and not been able to get here, who would have gotten the paper to the press? I said, 'Well, thanks a lot!' I'm sure John actually knew I was invincible in those years."
Josh Wangrud (pictured at right) is associate art director at JES Publishing and principal creative at 6400 Percent.
Jim Rengstorf is creative director of United Way of Utah.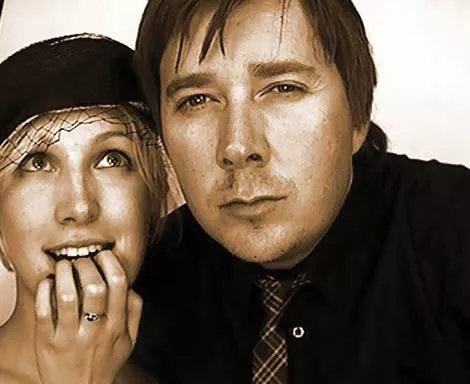 Ryan Jolley is art director for Sail Magazine in Boston. "I moved to Boston after leaving City Weekly and worked as the editorial designer at The Dig, a weekly similar to City Weekly only not as cool, of course. I worked there a couple of years then got a job as senior designer at SAIL Magazine, also located in Boston. I was promoted to design director about two years ago. Personal life, huh? That's pretty personal. I have a great girlfriend and an awesome dog, Boston's an all-right town but I don't know how much longer I want to be here. I miss the office on Main Street—that has been my favorite office of all time. We were always doing stupid things like "Feats of Strength." I did a handstand once and landed against [publisher Jim] Rizzi's wall and shook his whole office. All the feats were pretty funny ... I have a funny story about a chocolate-covered banana, but that's for another time."
Adam Howard is lead-level designer at Smart Bomb Interactive, which just released Snoopy Flying Ace on Xbox Live.
Sarah Pendleton says: "Since my departure from the design staff, I have lived a few different lives. I played the corporate game for a while and started to get intellectual scurvy from it, so I quit and went to live in Europe for a year. Then I gave birth to my beautiful son. Now, I am once again in school, and as always, playing electric violin in the Salt Lake band SubRosa. We have just finished recording our third full-length album, in support of which we will go on tour this summer. We are shopping for a new record label and hope to do another European tour next year. When I'm not busy being in awe of my baby or chasing after him, I design the occasional Website, travel when I can afford it, make all manner of odd crafty objects, and write music. I hope to continue along this vein for a long time, until my sister and I are just about senile, and then we'll drag our significant others to some national park and be campground hosts.
Retail Display Sales

Christa Zaro is a full-time mom to two young sons.
Patti Stith has a successful career in broadcasting media sales.
Kim Gregory is a real estate agent in Salt Lake City. You can see him every morning drinking coffee at Sharon's Cafe.
Bill Lines is a senior account executive at Mills Publishing.
Lon Tibbetts works for American Express.
Nate Levinson (pictured at left) is marketing director for The Mint in Los Angeles and is helping reignite the popularity of Los Angeles' Sunset Strip using social-media networks.
Kristen Burke (pictured at right) works for Umpqua Bank in Portland, Ore., as a top-producing residential loan officer who plays in the mountains whenever possible.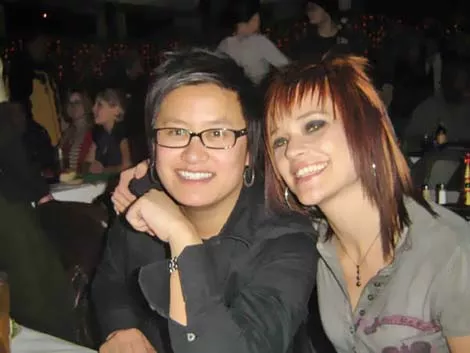 Skye Emerson handles client relations for FreedomZone Inc.
Melisa Hemond works for Lagoon's marketing department.
Sandra Poole Sweetland is a real-estate agent in Salt Lake.
Kylene Stemmons is living on the beach in Southern California doing yoga, hobnobbing with the rich and famous, considering plastic surgery and missing Utah.
Hailey Hodges moved back to her hometown of Twin Falls, Idaho.
Lara Haehle is a project coordinator for GCG Communications in Portland, Ore.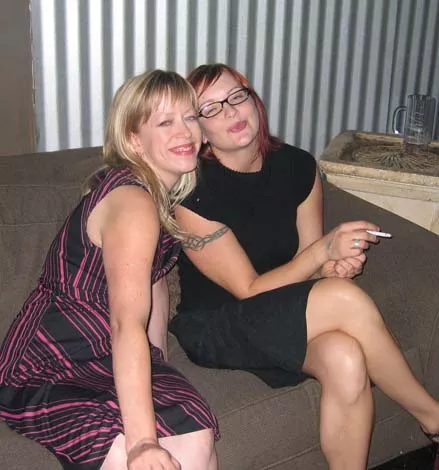 Amber Espanet is co-owner of Q Clothing along with former marketing director Annie Quan, and is a mother of a toddler girl.
Lindsay Larkin is a Facebook phenom.