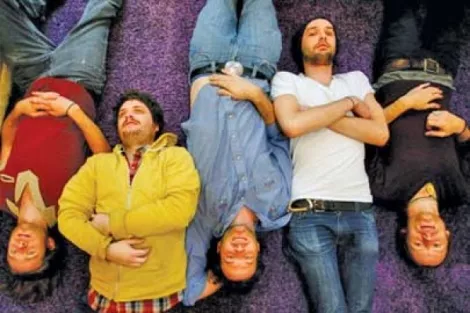 Crown Jewel
Provo is undeniably the place; Utah County has become Utah's musical hotbed. Leading the charge in 2011, the five-piece atmospheric-rock band Fictionist signed a contract with Atlantic Records in September, and will release a five-song EP in 2012. The announcement came just months after their final-four finish in Rolling Stone's "Do You Wanna Be a Rock & Roll Star" contest.
Las-Vegas-by-way-of-Provo rockers Imagine Dragons signed a deal with Interscope Records in the fall.
Desert Noises released their second album, Mountain Sea (Northplatte Records), although it is hard to say when, exactly, because it arrived on several media platforms over about six months. It was one of the finer local albums this year. And, with its original twist on a Fleet Foxes-esque vibe, it has legs—about as much as the four-piece, who consistently toured countrywide this year.

Northplatte Records co-founder Joshua James (pictured) landed "Coal War"—the intro track on his album Build Me This—on the season premiere of Sons of Anarchy on Sept. 6. The roots-rock tune played in its five-minute entirety as the cinematic opening song.

Super Duper
While more and more I think labeling a collective of local musicians as a "supergroup" is ridiculous, there is an unmistakably fresh energy when folks join forces to create something new.

The Stephen Chai-led initiative No-Nation Orchestra is worth noting (see p. 40). And with nearly half the personnel as No-Nation, The Chickens (pictured) are causing music fans to cluck, as well. These seven musicians from local reggae, ska, jazz and country bands have strutted themselves into a whole new bombastic acid-jazz/afro-beat sound, as heard on their self-titled debut, released Dec. 9. Expect big things from these guys in 2012.

Three collectives took stages this year for special events with even more special themes: to cover a classic album. KRCL asked the 10-piece Spiders from Mars (covering David Bowie's The Rise and Fall of Ziggy Stardust and the Spiders From Mars) and The Rubes—with additional guests—(covering the Rolling Stones' Exile on Main Street) to play several different fundraisers. Both took the stage for KRCL's Polar Jubilee on Dec. 9, for a Miracle on 90.9FM Street. And The Abbey Road Show—an assortment of local, mainly Utah County, musicians—covered the classic Beatles album at Provo's Rooftop Concert Series over the summer.
Like the 1980s anime series Voltron, more than 50 musicians from more than 10 bands joined forces as Operation Voltron Christmas for the good of humankind—more specifically, to benefit The Road Home by donating 100 percent of proceeds from a 10-song Christmas album.
Golden Folkies
Local singer-song- writer David Williams' (pictured) video of his song "Sunday Morning," recorded at the 2011 Huichica Music Festival, was featured as the Jan. 4, 2012, video of the day on the indie-music-focused Website Daytrotter.com. More notably—and more 2011—the tour to and from the festival is the focus of a documentary film, Intro, nominated for Best International Documentary in the Torino Film Festival.
After 20 years, the Intermountain Acoustic Music Association held its inaugural IAMMIES—a Grammy-esque award ceremony—in December, with winners in 16 different categories voted on by IAMA's 500 members.
Rolling Stones
As the adage goes, a rolling stone gathers no moss, and local bands Bronco, Marinade and 2011 City Weekly Music Awards winner King Niko can testify to that, as each ventured for their first extended out-of-state tour this year. Speaking of King Niko, lead singer Ransom Wydner had some big-ass shoes to fill when he sang one tune with Panic at the Disco at X96's Big Ass Show, but pulled it off quite well.
Things on the move: The GAM Foundation's JazzSLC Series moved to the plush Capitol Theatre from the downtown Sheraton in the fall. MusicGarage upgraded to new digs; the Ogden all-ages metal venue The Basement also upgraded its space with a move to Wall Avenue.
Things done gone: Local music legends Kristen Merrill and Bob Moss both passed away in late 2012. The online local radio station UtahFM collapsed due to inner turmoil. And the lovely indie record-seller Slowtrain closed its doors for good on Christmas Eve.
Shortly after releasing Teeth, The Devil Whale toured with Sub Pop-signees The Head & the Heart on two separate national rounds, which makes me think the local folk-rockers are destined for big things in 2012. If so, they could be the big bubble to make the Salt Lake City scene boil.