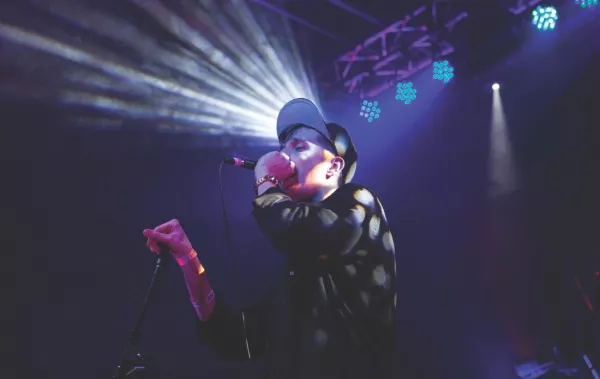 Pat Maine is tied to a chair. Smoke fills the room as a flapper-style temptress whispers in his ear, mouthing the chorus, "You will never be."

In Pat Maine's recently released video for the track "You Will Never Be," from his 2012 album, Doomsday Charades, the SLC-based rapper expresses the self-doubt and torment that typically comes with being an indie rapper. "I've put thought into pressing the button/ bring rest to the stress and the suffering/ every CD pressed is a press of my luck and I'm unconvinced it'll manifest into something."

It is, in a way, a PSA to up-and-coming emcees—the type of artists who max out credit cards and tour the Intermountain West in packed vans to the point of exhaustion. Maybe they'll make it; maybe they won't.
The single is a tidy summarization of the highs and lows of the past year of Maine's career. "It was a very relevant song to make a video to at this point in my life," Maine says. "I think anyone who is an artist ... has that little voice of doubt."

That Maine is talking to me today about that voice of doubt is a good sign, though. When I interviewed him about a year ago, the emcee of local rap collective Alive & Well told me that he was considering giving up a career in music.

"I was going through a lot of personal things on the home front because of the stress of touring," he says now. "And on top of that, I had put a lot of money and time into Doomsday Charades. The album was received well, but it just didn't do as well as I had hoped."

Though Doomsday Charades did reach No. 4 on the CMJ charts (an impressive feat, especially considering it was right below ASAP Rocky and Kendrick Lamar), ultimately, it never equaled real dollars.

Produced by local beatsmith Vividend, Doomsday Charades is one of those rare local hip-hop albums that feels ahead of its time—and perhaps that was its problem. It's a diverse, almost anti-rap project laced with heavy instrumentation, offbeat rhymes and melodic backdrops; it's what would happen if the Anticon crew and The Molemen shared a late-night Swisher. "I thought Doomsday was a masterpiece," Maine says. "But existing outside the box of traditional hip-hop has always been my gift and my downfall."

Now, with the recent drop of "You'll Never Be," Maine is hoping to give Doomsday Charades the breath of fresh air it deserves with a string of new videos produced in collaboration with the local Wild Wasatch Media.

"I'm just trying to have fun and not get to a point again where I hate it," Maine says. "At this point for me, it's all about power moves."
Twitter: @WolfColin