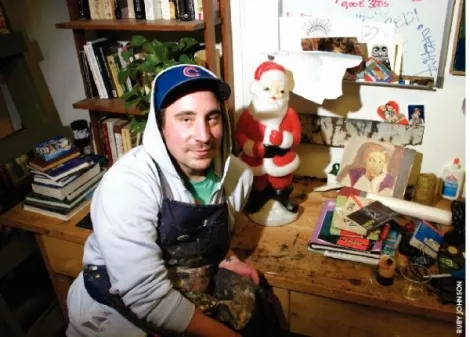 As the west end of downtown Salt Lake City further develops into a home for our ever-expanding art community, longtime residents of the area are ostensibly enjoying the company, the region's continued growth and the inspiration that comes with bright, hungry young minds. Case in point: Captain Captain Studios, home to several popular, experimental Utah artists who are busy putting their stamp on the city—figuratively and literally. Many of the artists participated in the 337 Project's original building, including Trent Call, whose work is available in vending-machine form in select restaurants and coffee shops. His peers deliver equally imaginative work, from Cein Watson's intricate prints to Tessa Lindsey's decorative layouts, Patrick Munger's street graphics and the highly detailed and twisted/manic designs of Sri Whipple.
The collective's relationship is symbiotic, with each individual admiring his/her colleague's creations and encouraging one another to excel and push harder. Captain Captain opens its doors several times a year, including a Nov. 13 party showcasing their latest achievements. Like Salt Lake City's monthly downtown Gallery Stroll, the night will allow the public to meet and speak with the artists in their intimate workspace. Along with selective eats and a unique musical performance slated for evening's end, it makes for an event that would be foolish to miss. One of Captain Captain's residents has not only been recognized as a talented local designer, but has also expanded his and others' art into a successful clothing line.
Munger went from making his brand of colorful shoes out of his kitchen sink to running a successful small business that's gaining a global following. Lake of Salt's (LOS) rainbow line of ninja slippers (OK, sneakers) have become a hot product among hip kids who also dig T-shirts featuring both his own designs and those of fellow Captain Captain peers. Munger never imagined his wares would be such a hit, noting, "The reason I started LOS in the first place was to write more and begin to get back into visual art, which has been what I've always wanted for my life."
Munger is channeling more energy lately into visual designs while exploring new opportunities to showcase the results. "At this point, LOS is secondary to all of my true aspirations for art, and at some point in the next year I hope to only be working on my creative projects," he says.
Munger currently plays with a group of eight musicians, including Matt Dixon, Tolchock Trio's Oliver Lewis and The Rubes' Greg Midgley. The informal band utilizes laptops instead of traditional instruments, playing the same musical compositions in loops to create an aleatoric effect. For their first live performance, they'll gather at Captain Captain to recreate a 1964 Terry Riley composition called "In C." An encore performance has been set for Tuesday, Nov. 24 with music professor Dr. Dravid Cottle at the University of Utah.
Munger's podcast, ZUT, implements the same technology from the "In C" concept to create a weekly piece of instrumental music. Check for updates every Friday. Munger has also taken up reading classic books such as The Neverending Story and Jack London's Sea Wolf. That, in turn, has rekindled his inspiration to write his own novel for NaNoWriMo, where he must write a 50,000-word novel in the course of a month. When asked about the book, Munger commented "I'm at 4,382 words. I'm using Thomas Pynchon's Gravity's Rainbow as my I Ching. So far, so good."
We asked Patrick, in the midst of preparing for the showing and getting another batch of shoes ready, to throw the proverbial dice at his iPod and see what kind of tunes keep him going while creating. And oh my, what a varied palate the artist has.

What's On My iPod by By Patrick Munger
Sole, "Da Baddest Poet," Selling Live Water%u2028
I started listening to Sole when I lived in San Francisco. I heard his track "Bottle Of Humans" on a mix CD of Bay Area rappers. It was the first hip-hop track that affected me in the same way Company Flow had a few years earlier. He's so boisterously grumpy it cracks me up and gets me going while working.

Vincent Gallo, "I Wrote This Song For The Girl Paris Hilton," When
From the liner notes: Vincent Gallo's Sperm: $1,000,000! Price includes all costs related to one attempt at an in-vitro fertilization. (A $50,000 value) If the first attempt at in vitro fertilization is unsuccessful, purchaser of sperm must pay all medical costs related to additional attempts. If the purchaser of the sperm chooses the option of natural insemination there is an additional charge of $500,000.

Bonny Billy & Marquis De Tren, "Lxxi," Get The Fuck On Jolly
This is a live album with Will Oldham on vocals and playing with dudes from The Dirty Three. Will Oldham is the man. My first experience with his music and The Dirty Three was from Brian Pickles and Super Buttery Muffins. He gave me an Oldham tape eight years ago with Arise Therefore on one side and Joya on the other. It was a medical-library tape with a lecture on it that Pickles taped over. It didn't even say Will Oldham on it. It said something like "knee joint repair." I have to say that no music has affected me the same way since.%u2028

The Smiths, "That Joke Isn't Funny Anymore," Meat Is Murder
My babysitter as a kid played The Cure and The Smiths nonstop. I was way into it then and used to put "How Soon Is Now" on mix tapes for girls like nobody's business. Only recently, though, have I thought to listen to Morrissey again. The man is hilarious! He's the reserved version of Jamie Stewart of Xiu Xiu, who I'm listening to right now.

Janis Joplin, "Ball & Chain (live)," The Essential Janis Joplin
When was the last time you listened to a whole bunch of Janis Joplin? It's been real good for me lately. This album was recently given to me by my ex-girlfriend. This is an ironic track Steve Jobs decided to drop on me. Okay, so it's not ironic exactly. But, if we collectively want to use the word ironic incorrectly, which everyone does, I think we are entitled to do so at this point. Coincidence just doesn't do it for me. It has one too many "Cs."