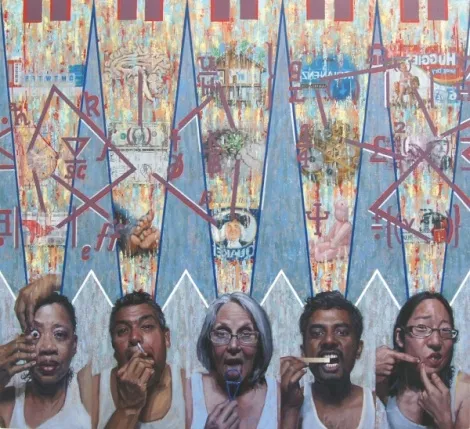 There are a lot of two-artist shows in local galleries, often due to many artists not having enough work to fill an entire gallery. A duo show always has a fascinating dynamic between the two artists' work and their personalities, but a duo show featuring a married couple is especially intriguing. In the case of Blue Critchfield and Erica Houston's Pause, it's one of the most challenging and technically inspired collections on display right now.
Married 4 1/2 years and sharing a studio a little over three years—first at Artspace, where they connected with Art Access—they found the communal life of an artists studio created its own difficulties. "We made a lot of friends at Artspace, so there were opportunities to socialize and get distracted," recalls Critchfield. For the past year, they've worked together out of their home.
Although working at home offers its own distractions, they enjoy giving each other feedback. "We can get on each other's nerves," Houston admits, "but for the most part, it's a balance."
The show presents a fascinating  partnership in the way each artist's work plays off the other's, especially in their lively color palettes and their expressive enigmatic use of the human face. Although most of the work was done for this show, there are a few older pieces, such as Critchfield's oil painting "The Sound of the Voice," with a cloud obscuring the subject's mouth, a literal "defacement" of the work. "Sometimes it rekindles your interest in a piece when you destroy it a little bit," he says half-jokingly. Like many of his works, it's a visual metaphor, in this case for communication.
This is artwork that isn't afraid to take an idea and run with it to explore it in depth. Critchfield's "In Between Your Skin and the Air Which Surrounds You" series of portraits placed in some kind of paper money of indeterminate nationality is, he says, about money as an abstract idea. "It's gotten out of hand," he maintains. "Money abstracts and distorts human life." He notes the eyes are accentuated in these portraits to show the distortion of their awareness.
Awareness—and its lack of clarity in modern culture—is a key theme in his work. In the oversize "Maximizing Happiness" (oil and latex on board, pictured above), which forms a centerpiece to the show, five models—including local artist Trent Alvey—are depicted at the bottom of the canvas as though facing a mirror, in various stages of morning bathroom routines like putting in contacts, popping a pimple and tweezing nostril hairs. Cone-shaped emanations out of their heads catalog the contents of their minds: money, consumer products, mundane elements of life. But they are somehow transformed by the absurd depiction as well as the composition that renders them as iconography—something that's not quite spiritual but that binds them together as human and transcends the purely physical.
The title of the show, Pause, is surprising at first if you are aware of the surreal energy and absurdist nature of Critchfield's work. He says the title was chosen because "both of our work is about awareness on different levels. The moment of awareness is one in which you step back and abstract yourself from the details of the situation and get a fresh look at things."
Houston's works are more introspective, depicting the inner lives of her subjects. The girl portrayed in "String," loosely covered with multi-colored string, covers her head with her hands in a protective gesture. She's not tangled in the string, however, but enmeshed, as though it might be a layer of protection. "Blind," depicting a girl gazing downward into a shattered mirror, is about what she doesn't see, Houston says. "She doesn't see herself clearly, her full potential," the artist offers.
Houston's technique is unusual: Acrylic gel adds a painterly sheen on top of the colored pencil, and the sheer impact of her line and texture work creates an effect that at times is almost photorealistic. "There's a lot of self-reflection, as well," she says of her subjects. "These, in a way, are self-portraits."
This collection is telling of their relationship, too. "I have more tendency to give in to emotions, can have a bit of a temper," Critchfield admits. "I usually contemplate things, and even when upset at something, like a piece I was working on [that] ripped, found a way to fix it." He muses, "Maybe in this show, the truth (of where to take Pause) lies somewhere in between the two of us."

PAUSE: BLUE CRITCHFIELD
& ERICA HOUSTON
Art Access Gallery
230 S. 500 West, No. 125
801-328-0703
Through Oct. 8