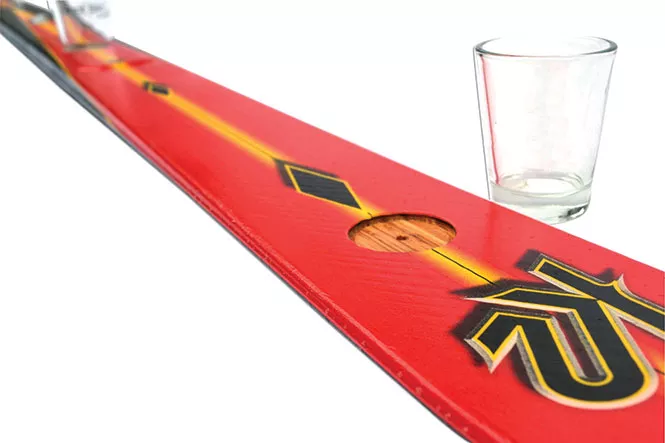 PC Shot Ski
You might have seen shot skis in bars such as O'Shucks in Park City. It's essentially a snow ski with shot glasses affixed to it. A group—typically four or five people—lift the ski up and drink liquor shots simultaneously; it's a sort of bonding thing. Well, in an effort to break a world record currently held by Colorado's Breckenridge Distillery, Park City hosts a shot-ski event on Saturday, Oct. 22 inside the Wasatch Brew Pub's parking lot (250 Main, Park City, 435-649-0900, WasatchBeers.com). The goal is to enlist 1,000 participants to break the record for the longest continuous shot ski, which stands at 881. To get in on the record-breaking action, anyone 21 and over can purchase a $15 ticket, with proceeds to benefit Park City Sunrise Rotary. The event takes place at 2 p.m. with a party and beer garden to follow, and will be in tandem with Wasatch Brewery's 30th anniversary. Live music is provided by the Utah County Swillers. Advance tickets are required and can be purchased at WasatchBeers.com/ShotSki.
Sabor Latino
The third annual Taste of Latin American Festival, presented by the Latino Arts Foundation, takes place at Library Square (300 E. 500 South) on Oct. 21-22, from 2-9 p.m. A tasty celebration of all things Central and South American, the festival features food, arts, crafts, cooking demonstrations and live music—and admission is free. Included in the exotic Latin American food offerings are ceviches, tacos, pupusas, arepas, empanadas, anticuchos, fried plantains, Brazilian sausages and much more.
Rye Returns
Rye Dinner & Drinks (239 S. 500 East, 801-364-4655, RyeSLC.com) co-owner Will Sartain contacted me to announce that, after taking a break to revamp a good portion of the menu, the restaurant is back open for dinner service on Friday and Saturday nights from 6-11 p.m. It's still open seven days a week for breakfast and lunch as well.
Quote of the week: "My heart is a Latin American food stall and your love is a health inspector from Zurich."
—Tom Robbins
Send tips to tscheffler@cityweekly.net