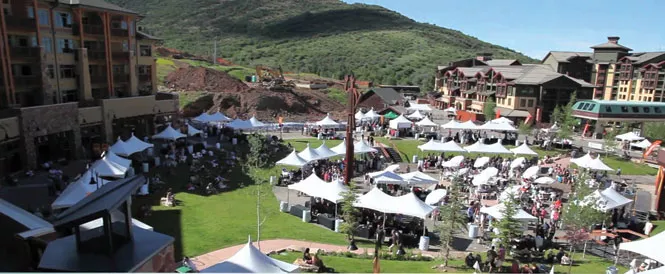 This year's biggest Utah food and wine festival—the 11th annual Park City Food & Wine Classic—will begin July 9 and wrap up July 12. So, why am I writing about it now? Well, even at this early date, some events—such as "Guns & Rosés"—are already sold out. I wanted loyal readers of this column to be able to get in on some of the Food & Wine Classic fun. So, my recommendation is if you see an event, tasting, seminar, adventure, dinner or such that you'd like to attend, order your tickets ASAP at ParkCityFoodAndWineClassic.com. Don't get shut out.
It looks to me like there are more food & wine events at this year's Classic than ever before—with ticket prices ranging from $75 to $225—and hundreds of wines available for tasting, along with dozens of restaurants and chefs represented. Proceeds from ticket sales benefit the People's Health Clinic, a nonprofit that provides health care for uninsured individuals and families in Utah's Summit and Wasatch counties. In 2014, the classic raised more than $30,000 for the clinic. Here are a few highlights of the upcoming 2015 Food & Wine Classic:
An interesting new event for this year is "Vino & Vinyasa" on July 9: a lunch, wine tasting and vinyasa-style flow-yoga session on the Grand Lawn at Montage Deer Valley. Other activity-oriented adventures on July 9 include "Ride & Wine," where participants will explore more than 20 miles of private, scenic single-track mountain biking at Victory Ranch, followed by a lunch prepared by executive chef Adam Price and wines from Cakebread Cellars in the Freestone Lodge at Victory Ranch. The evening of July 9 draws to a close at the brand-new High West Distillery at Blue Sky Ranch with "Wine on the Mountain," featuring an array of domestic and international wines, beers, spirits, a live auction, live entertainment and food prepared by High West's executive chef, James Dumas.
On July 10, my favorite event of the Food & Wine Classic returns: The Stroll of Park City. Patrons will roam up and down Main Street sampling food and beverages from a large number of wineries, distilleries and breweries, along with snacks provided by some of Park City's best restaurants. Because of The Stroll's popularity, the hours have been lengthened—from 3 p.m. to 7 p.m.—so attendees can enjoy the more than 16 stroll stops at their leisure. Other events on July 10 include: "Sup 'n' Suds" (paddleboarding, lunch and craft brews from Wasatch Brewery); "Gallop & Grill" (horseback riding at Canyons Resort, a grilled lunch at Waldorf Astoria Park City and wine pairings); "Moonshine in the Mountains" with David Perkins of High West Distillery at its new location in Blue Sky Ranch; and, in the evening, a "Farm to Table Dinner" at the Waldorf Astoria highlighting local growers, each course expertly paired with wine.
July 11 brings "Meet Your Match," a food & wine matching seminar led by Vine Lore's Gus Magann at Silver with food from executive chef Serge Smith, along with the biggest event of the Classic: "Toast of Park City," which this year, will be hosted at the beautiful Montage Deer Valley.
If you've got anything left in the tank on Sunday (July 12), how about the "Hair of the Dog Road Ride?" It'll combine a 25-mile road bike tour through Park City and Deer Valley with lunch and libations at High West Distillery in Park City.
Looks like I'd better start training for this year's Park City Food & Wine Classic!