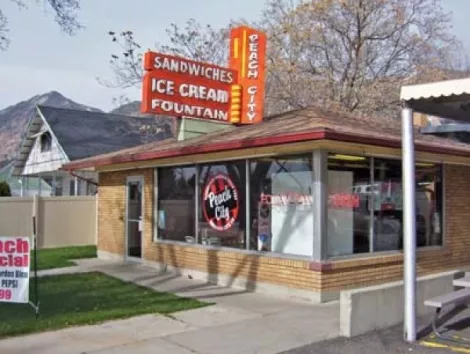 Located along historic Main Street in Brigham City and framed by two marbled beech trees, Peach City has all the earmarks of a true 1940s diner (actually, it's been open since 1937). The parking lot is marked out in numbered stalls, and carhops run to and fro. Inside, there are mini jukeboxes for every booth and a stainless-steel ice cream counter. What makes this all great is that nothing here is a reproduction. All these tables and jukeboxes were here when my dad came as a kid with his brothers and grandpa for fresh Bear Lake raspberry shakes.
On a Monday night, the place is filled with local families enjoying "family home evening" and boys just back from basketball practice. We sit outside on a metal table in the shade and peruse the huge menu covering the outside wall. In addition to burgers, burgers with cheese, burgers with bacon, etc., they have steak sandwiches and Coney Island hot dogs (with or without chili and cheese), turkey burgers, fish & chips and patty melts.
Although their signature "Big Joe" burger is just average, their fries bring a fun twist. You can get thick, housemade hand-cut fries or waffle fries; the latter are oval-shaped, cut like a waffle and dusted with Cajun seasoning. They taste golden and slightly spicy.
Regardless of the menu's offerings, I am positive that most people only come here for the ice cream. That is the next best thing—next to the carhops and jukeboxes—about Peach City: They make their own. Even though they get their mix pre-made from an outside company, they put on all the finishing touches here—locally grown fruit picked down the road in the famous orchards and gardens of Willard and Perry, housemade butter brickle and, of course, when it is that blissful season, Bear Lake raspberries. It's worth a summer drive.

PEACH CITY
306 N. Main, Brigham City
435-723-3923
ThePeachCity.com