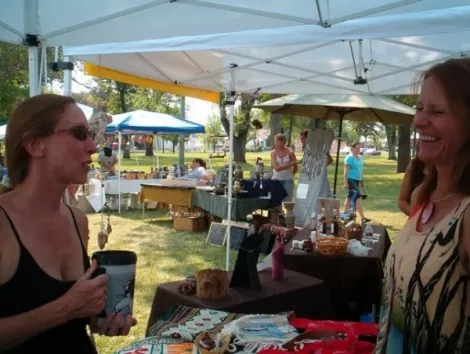 For one dollar, a person can get 370 calories of energy to fuel them through the day by eating a Taco Bell bean burrito. If they choose baby carrots on sale for $1.59 a pound, they get 184 calories. Yes, the carrots are healthier—the burrito also has 10 grams of fat—but those who stuggle to afford enough food may focus on foods with low energy costs and, calorie-for-calorie, the carrots are three times more expensive. With food economics like those, researchers say, America has created a link between poverty and obesity.
Salt Lake City's People's Market is hoping to chip away at the link by matching any food stamps or Horizon card purchases customers make from the market vendors. The west side farmers' market, now entering its fifth year at Jordan Park, was also the first in Utah to accept public food assistance as payment in 2008. 
People's Market's board president Kyle LaMalfa says that, just like the market itself, the food-assistance match program was put together specifically to meet the needs of west side neighborhoods. Twenty-two percent of the market's surrounding neighbors received food assistance in 2009, more than double the state average of 10 percent. Additionally, the neighborhoods are home to 80 percent of Utah's refugee population. 
"We're going to match dollar-for-dollar until the money runs out," LaMalfa said. "But who knows? We might get more." The program is funded by a Signature Event grant from Salt Lake City.
The People's Market was constructed with the economics of humble people in mind. Amateur and backyard farmers can show up without advance notice and setup a selling table for just $5 a day, or $150 for the whole season. Youth pay just $1 per week. LaMalfa estimates that 20 high-yield tomato plants could bring in $750 by the end of the season, so home gardeners can turn their backyards into moneymakers. 
The market also organizes seed, seedling and food swaps during appropriate times of year, bringing bartering back to a cash-obsessed world. At least one regular vendor sells produce on a pay-what-you-can honor system. 
The market's overarching goals are threefold: Foster new entrepreneurs, build community networks, and improve health.
According to a 2004 study published in the American Society for Clinical Nutrition, healthy diets are more expensive than unhealthy diets, and poor and uneducated people are more likely to be overweight and obese than their middle-class and affluent cohorts.
According to the research, the rates of obesity among the poor seem to be related to food insecurity, or the state of not always having as much food as one needs. Like the example of burritos and carrots above, those who can't always afford all the food they need tend to seek out foods with low "energy costs." The researchers from the University of Washington and the U.S. Department of Agriculture (USDA) concluded that foods with low energy costs also tend to be "energy dense," meaning they contain a lot of calories in each bite. 
Lettuce, for example, is among the foods with the highest energy cost over all. But "energy dilute" foods like lettuce are healthy in part due to their low energy load; one has to eat a lot of it to be full, and so many vital nutrients are consumed in the process. 
Data from the Utah Department of Health Indicator-Based Information System demonstrates this as well. Only 25 percent of Utahns in households earning less than $25,000 per year eat three vegetables per day compared to 30 percent of those in households making over $75,000. That may partially explain why 32 of the former group is obese while only 19 percent of the richer group are likewise obese. 
LaMalfa said the market is currently working on a USDA grant application to study the feasibility of the organization—in partnership with Wasatch Community Gardens and Utahns Against Hunger—purchasing a large, glass greenhouse from Salt Lake City. They hope to grow food, setup a commercial kitchen for community use—one can't sell jam, bread or cookies unless they were made in a commercial kitchen—and provide offices for the organizations. That's probably still years away, LaMalfa said. But, "if we can find a Huntsman or an Eccles who wants to have their name on it, we'll break ground tomorrow."