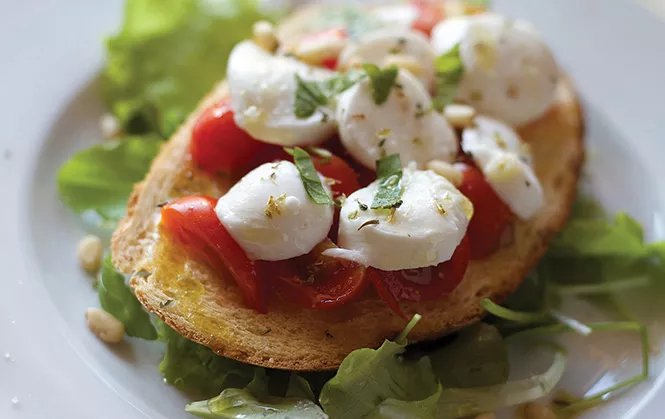 Per Noi Trattoria Relocates
After six years dishing up classic Italian dishes on Stratford Avenue, Per Noi Trattoria has packed up shop and relocated to a new space at 3005 S. Highland Drive. In many ways, this relocation is like a renewal of marriage vows for the popular Sugar House restaurant—the grand opening at their new location takes place on the exact same date that Per Noi opened in 2012. Those who get a spot for Per Noi's grand opening event are lucky enough to sample old favorites as well as some new creations on Feb. 28, which officially kicks off this new leg in Per Noi's culinary journey.
Three-Course Casual at Café Niche
Throughout the month of March, Café Niche (779 E. 300 South, 801-433-3380, cafeniche.com) Executive Chef Andy Morrison is unveiling some creative additions to her menu. For $30, diners can experience a three-course meal that changes every week. In addition to serving up entrées like vegan nachos, lamb burgers, lemon saffron chicken and chicken pot pie, diners get a starter course of either daily soup or salad, and a dessert of espresso-drenched affogato or sorbet. The culinary event officially begins on March 5, which leaves plenty of time to make a reservation. I think the chicken pot pie has my name all over it.
So Long, Sea Salt
When one Italian restaurant reopens its doors, another one closes for good. A visit to Sea Salt (1709 E. 1300 South) revealed that the restaurant has officially shuttered its doors after a seven-year run in the upscale Harvard/Yale area. According to several Yelp reviews, Sea Salt quietly closed shop just before Valentine's Day without informing diners who had made holiday reservations via OpenTable. As of press time, it's still possible to make a reservation—I've got one booked for tomorrow night, as a matter of fact. Online chatter is claiming everything from eviction to a routine absorption by Paris Bistro, Sea Salt's sister restaurant, which remains open. Mangia, I guess?
Quote of the Week: "Life is a combination of magic and pasta." –Frederico Fellini
Food matters tips: comments@cityweekly.net