Page 2 of 3
As soon as Christner and Jensen sold a client on a $4,000 coaching package, for example, they referred the client to Apply Knowledge Institute. From there, Christner says, clients would get upsold on services like tax preparation and additional marketing and mentoring. "Clients were coming back and saying, 'I've paid $15,000, and I haven't made any of my money back,' " Christner says.
He feels coaching companies in the industry, in general, can push clients too hard on upsells. "You got people right now selling $15,000 to $20,000 coaching programs, and their clients are not making a dime," Christner says. "You could buy a Wienerschnitzel [restaurant] for $20,000. You might not like selling hot dogs, but at least you're making money."
The pair tried to team up with a friend in the industry, Josh Reynolds—who was also dialing for Apply Knowledge Institute. Reynolds says that for having a small floor, he couldn't keep up with all the clients calling him upset over the coaching and upsells they had received from Apply Knowledge. "I asked them to stop, and it just got sneakier," Reynolds says. His pleas were basically ignored despite him asking coaches to "be nice to my clients. The money's not going anywhere. Can we make them a little money before we start upselling them?"
The three men say that because sales floors are often customers' first point of contact, when customers are unhappy, they may not realize they are dealing with another company for the coaching services and will blame the sales floors. In 2010, Christner and Jensen parted ways with Apply Knowledge Institute and went back to coaching in-house. The split, they say, was caused by their concerns about the upsells and disagreements over money that they say Apply Knowledge Institute owed them from the time they partnered together.
Apply Knowledge Institute's owner, Ken Sonnenberg—brother of Fortune Learning's Steven Sonnenberg—disagrees. He says he parted ways with Jensen and Christner because of the salesmen's business practices. Ken Sonnenberg says their business repeatedly made earnings claims to customers over the phone—an illegal practice of overpromising how much money can be made by purchasing the program.
"Time after time, I just caught them doing stuff dishonestly," Ken Sonnenberg says. "It hurt me in the long run. They ended up owing me about $30,000"—a charge Christner and Jensen deny.
Christner and Jensen were fined $400,000 in March 2011 for telemarketing without a proper bond for a three-month period in 2010. Francine Giani, the executive director of the Utah Department of Commerce, says the consumer protection division rarely collects judgments that large but also says Christner and Jensen evaded investigators and avoided compliance.
Christner and Jensen, however, feel the division pursued them with a vendetta and that they were especially wary when they heard former business partner Apply Knowledge Institute gave information to regulators about their business in a December 2010 hearing. While a transcript from the hearing notes Ken Sonnenberg discussed Christner and Jensen with Consumer Protection, Sonnenberg says he provided no information to the state about consumer complaints or about their bond status.
The two also struggle to understand how the state's hammer came down on them so hard over a bonding issue. They note another company, JNJ Consulting, misled the division but avoided serious consequences.
Duped
"Ted," a 70-year-old retired Wall Street recruiter living in New York state, who asked that his real name not be used, says that in 2010, he got taken by a slew of Utah companies that worked together like a wolf pack, using high-pressure sales tactics that quickly helped relieve the New Yorker of $9,250.
"I have an MBA, but even I got duped," Ted says.
Ted says that after his own business slowed down in 2010, he decided to try selling musical instruments through an Internet shipping service offered to him after signing up with JNJ Learning, a Utah company that, unbeknownst to Ted, nearly had its telemarketing license revoked in 2010 for failing to disclose the owners' criminal records. Ted says the JNJ telemarketer kept pressuring him, urging him to make a decision by the end of the phone call. If he wanted to prosper, he had to put his money where his mouth was. Ted says he was never told he had three days to cancel and get a full refund—a violation of Utah telemarketing laws.
The company that provided what Ted called "extremely simplistic" coaching was Apply Knowledge Institute, which, since 2009, has contracted with JNJ to sell its products. Owner Ken Sonnenberg says he never talked to Ted and says that his understanding was that Ted received months of coaching and never complained to the company about the service. Apply Knowledge Institute has no record of administrative actions from either Utah or federal regulators.
Terry Waller, a 63-year-old retired truck driver from Florida, got sold on coaching services by JNJ in 2010, and while he can't recall the name of the company that did the coaching for him, he remembers that it was less than helpful.
"I thought they were going to hold my hand a little bit," Waller says. "But they just threw me to the wolves after they got my money." Waller paid roughly $2,000 for the coaching he was sold on and says he was never told about his refund rights, either. For the amount of money he lost, he says, it wasn't worth consulting a lawyer. "I would have to go through all sorts of litigation to get it back, so I didn't even try," Waller says. "I got sucked in, and that's that."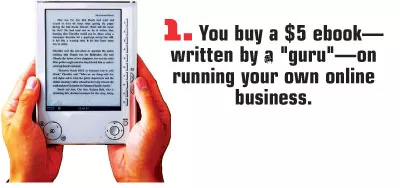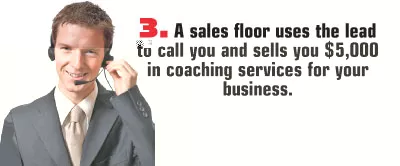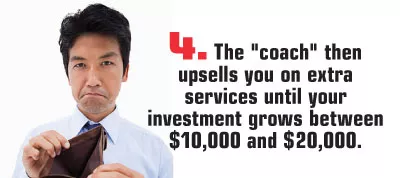 Waller wasn't the only one who got sucked in. You might say the state of Utah also felt duped when it discovered in 2010 that JNJ principals omitted information on their telemarketing application about their criminal histories.

Street Crime Doesn't Pay
The Utah Telephone Fraud Prevention Act of 1993 specifically restricts prison inmates from telephone solicitation. However, at least one Utah OBO coaching company had no qualms about hiring workers with criminal backgrounds—especially since the owners themselves had such backgrounds. Nic Johnson and Jeff Nielson, principals behind the company JNJ Consulting, each have criminal records.
In 2010, Consumer Protection temporarily revoked JNJ's license since the company application stated that none of its owners, managers or key employees had criminal records. Johnson was charged with burglary in 2003. In a February 2003 probable-cause statement, a Midvale City Police detective wrote that a resident came home to find a truck parked in her driveway. When she went in, she found she had been robbed of jewelry, power tools and a computer. Johnson was spotted leaving the scene and quickly apprehended by police. Johnson avoided trial, pleaded guilty and completed probation in 2006. The felony-burglary charge was reduced to a misdemeanor in 2007.
Jeff Nielson, who would later become Johnson's partner in JNJ, has a more checkered history. Between 2004 and 2005, Nielson faced 32 criminal charges, including felony and misdemeanor charges from crimes committed in Fillmore, Provo and Salt Lake City. The allegations ranged from forging an $80,000 check to snatching the purse of a woman loading groceries into her car at a West Jordan Smith's. Nielson was found guilty on 10 felony charges in 2005. He avoided trial by entering court-ordered drug treatment and paying restitution to victims. By 2006, he had completed probation on all charges.
Both men rehabilitated and moved on with their lives … into the OBO industry.