Utah authors have shown us talents that run from stunning poetry to heartbreaking novels to illuminating works of nonfiction. But it's probably no surprise to find, in this most family-centric of states, that there are many appealing local works intended for a ladies, gentlemen and children of all ages. Here's a look at some of the more satisfying works of illustrated literature from local writers published in the last several months.

(Special thanks to Anne Holman at The King's English Bookshop for her curatorial efforts).
The Queen of Style, by Caralyn Buehner & Mark Buehner (2008, Penguin Young Readers)
The Salt Lake City-based husband-and-wife team already made a splash with Snowmen at Night and Snowmen at Christmas.

Their latest joint effort follows a bored far-far-away monarch named Queen Sophie, who attempts to fend off her sense of uselessness by signing up for a correspondence beauty-school course—and forcing all of her subjects to serve as her tonsorial guinea-pigs. It's a lively, entertaining story with a clear message—"making friends is a better road to happiness than being bossy"—but the greatest delights come from Mark's illustrations.

The pictures burst with lively details: the kingdom's clouds take the shape of everything from a Tyrannosaurus rex to an elephant; one subject expresses anger by brandishing an eggbeater. And the elaborate hairstyles created both for Queen Sophie's human subjects and their sheep help make for a colorful, brisk read.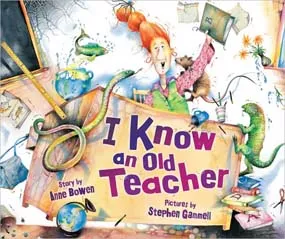 I Know an Old Teacher, story by Anne Bowen and pictures by Stephen Gammell (Carolrhoda Books, 2008)
It's mostly a slightly twisted variation on the classic kids' song about the old woman who keeps swallowing various critters—only here, in the version by retired elementary school teacher Bowen, the old woman is a teacher, and the critters are her class's pets, which the students watch vanish with wide-eyed disbelief. Probably best for the younger crowd, for whom Gammell's wild pictures of the lizard-swallowing teacher would trump the repetitiveness.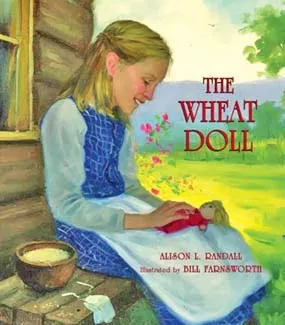 The Wheat Doll, story by Alison L. Randall and pictures by Bill Farnsworth (Peachtree, 2008)
In a word-of-mouth story from pioneer-era 18th-century Utah, a girl named Mary Ann loses her most precious possession and best friend—a stitched doll filled with wheat kernels—in a storm, and discovers an unexpected result in the spring. Beautifully illustrated in warm watercolors by Farnsworth, Randall's story provides a bit of a history lesson for contemporary kids, who might not comprehend a world in which a child had only one toy, or when stuffing rags between logs was required to fend off the weather. The emotions are simple and clear, illuminated by an almost magical respect for the cycles of nature.
Just What Mama Needs, story by Sharlee Glenn and pictures by Amiko Hirao (Harcourt, 2008)
It's a simple little premise: An imaginative puppy named Abby plays dress-up in a variety of costumes (pirate, detective, witch), and her mother responds that whatever role Abby is playing is "just what mama needs." But Pleasant Grove resident Glenn has actually created a wonderful little primer on playful parenting, as Abby's mother manages to incorporate her daughter's flights of fantasy into helping out with the household chores: "swabbing the deck" to mop the kitchen floor, and making lunch as a special potion of the witch. Hirao's illustrations—richly textured paper cutouts—add another layer of charm to a story that's sweet and observant about how to encourage youthful imagination.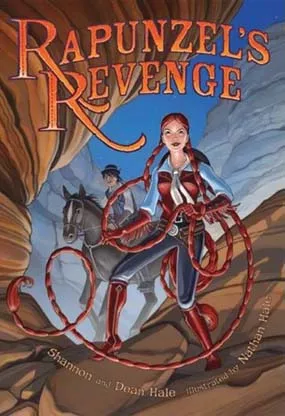 Rapunzel's Revenge, story by Shannon & Dean Hale and art by Nathan Hale (Bloomsbury, 2008)
It's a little bit of a cheat including this work with the others above; it's really more of a graphic novel than it is a conventional picture book. Continuing her fascination with putting a modern twist on oldfashioned fairy tales, Princess Academy author Shannon Hale—along with her husband Dean and no-relation illustrator Nathan Hale—tells of a certain long-haired heroine named Rapunzel. But she's nobody's damsel in distress; she wants to get back at the stepmother who imprisoned her for years, and she's got the ability to use her epic braids as weapons—Indiana Jones bullwhipstyle—on anyone who gets in her way. The Hales mash-up more than a couple of different fairy-tale elements—Rapunzel finds a friend and ally in a lad named Jack who carries around a goose as his most prized possession—but this is no mere Shrek-type goof on happily-ever-after tropes. The characters occupy a fully realized world reduced to a wasteland by the magic of Rapunzel's wicked stepmother, and the narrative finds room both for energetic brawls and a budding romance. And with its smart writing, it delivers one of the most important messages of all: Illustrated literature isn't just kid stuff.