Most successful restaurants spend years trying to perfect the marriage of atmosphere and menu. Indeed, it's the places that nail this combo that become favored destinations. After making a few visits to newly minted The Dispensary (54 W. 1700 South), it's easy to see that creating a completely unique atmosphere is at the top of their priority list. Owned and operated by Dave Heiblim, the mastermind behind Este Pizza and Este Deli, The Dispensary strives to create a dining experience unlike any other.
In a lot of ways, it's already successful. I don't know of any other restaurant that has diners contribute to an ongoing wall collage or play word games on a wall-mounted Scrabble board. Nor do I know of a place that encourages patrons to embrace the communal nature of the dining room and engage with the other customers by telling a joke or singing a song. It's all part of what Heiblim calls "conscious entrepreneurism," and it extends to the back of the house as well. The Dispensary strives to be a zero-landfill restaurant, which means napkins are made of sustainable hemp, plastic utensils are anathema and all end-of-day food waste is donated to feed local livestock.
Essentially, The Dispensary is a restaurant with a mission—one that its patrons help propagate. Paying a little bit more than average for lunch contributes to a wealth of great causes, and diners who are looking for a way to give back to their community will feel right at home. However, divorcing the food from The Dispensary's mission makes for a more mixed experience.
Pot pies are The Dispensary's prime prescription, and they serve 'em up like the old-timey pharmacies for which the restaurant is named. Diners order at one window, pick them up at a second and deliver their dirties to a third, which happens to be right next to a cookie jar to reward this good behavior. The daily stable of pies—chicken, veggie and a seasonal special—run $12 a pop, and they're also collaborating with other local restaurants for a unique pie that runs $15.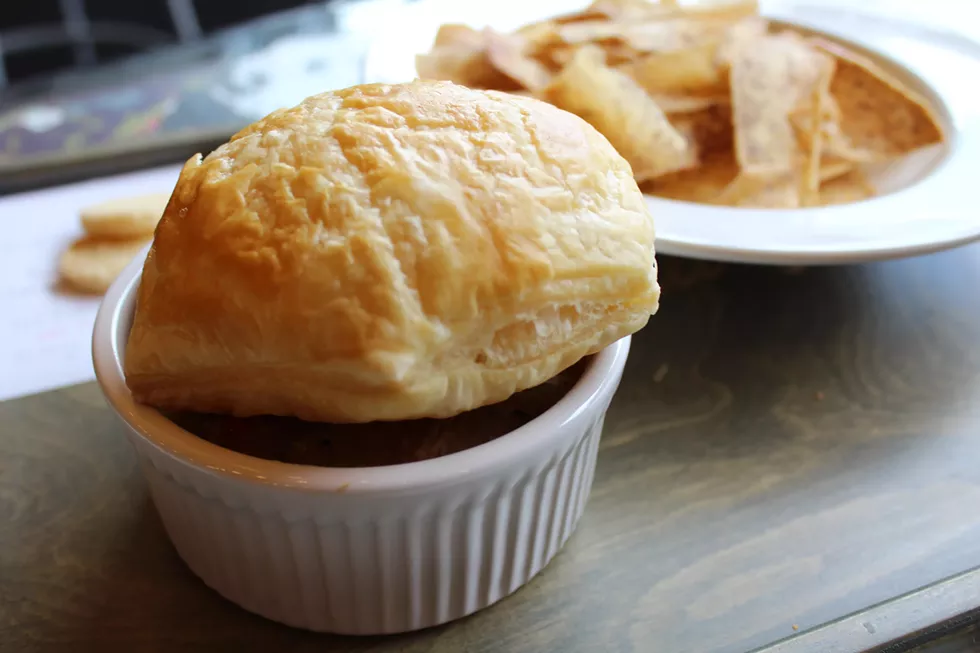 When I hear someone say they're serving pot pies, I expect just that—a buttery pie crust stuffed with savory fillings and baked to perfection. Pies here depart from that tradition, filling ramekins with stewed meat and veggies that are topped with either a bit of puff pastry from local bakery Fillings and Emulsions or a cracker made of cricket flour—yes, ground up insects, and, yep, it tastes like you would expect ground crickets to taste. I've had pot pies prepared this way before, but I can't help but feel a little crestfallen when the plates arrive for pickup.
I could argue semantics all day, but it shouldn't matter what we call them if the flavor is on point, right? My wife and I tried the turkey ragout, the chicken paprikash and the collaborative pie, which was a sweet-meets-spicy mixture of tomatoes, meat and chickpeas made with help from the folks at Finca. They all tasted fine, but, considering the fact that ragout and paprikash are typically big on flavor, each pie had a surprisingly muted profile. While I'm glad to support a sustainable and community-centered establishment, I have to admit that the portion sizes are a bit small considering the asking price—which I'm sure comes as the result of being choosy about ingredients. To quote one staffer: "We don't sell cheap food, we serve good food."
The Dispensary's menu of sides and desserts offers some interesting complements to the main menu. The taro root chips ($4.50) are fried to order, and they're light, crisp and earthy. The dessert hand pie ($3.50) was barely big enough to be considered a filled cookie. Again, good because it was filled with sweet cherries and wrapped with buttery pastry, but it made for little more than a mouthful.
Based on my experience, marriage between The Dispensary's culinary mission and its atmosphere is what will ultimately draw people to the cozy space. Diners who dig the idea of a business that is taking great pains to be thoughtful about its socioeconomic and cultural impact on its community will enjoy their experience, and I'm also guessing they'll like the fact that they can get Mamachari kombucha out of the restaurant's soda fountain. The menu still has a bit of ground to cover before it can round out the space's unique culture, however. Altruism aside, I'm still a bit stunned that my wife and I could drop 40 bucks on an early dinner for two and still find ourselves hungry on the way home.
Despite a few growing pains—the place has only been open for a few weeks and it's working toward a fairly ambitious set of goals—it'll definitely be worth keeping an eye on The Dispensary. It has atmosphere in spades, and I fully expect that its interpretation of community-conscious eateries found in a bygone age will keep it up and running while it irons out its menu bumps.

<!—StartFragment—>
AT A GLANCE
Open: Monday-Friday, 11:30 a.m. till sellout
Best bet: The chicken not quite pot pie
Can't miss: The rotating menu of collaborative pies