Haunted Block: Pierpont Gets Halloween'd
Pierpont Avenue in Salt Lake City gets really wild only a few times a year, and Halloween is one of those times when you can access three clubs,
The Hotel/Elevate
(155 W. 200 South) and the
Sandbar
(122 W. Pierpont Ave.), all weekend long for one price. It's the Pierpont Halloween Block Party, and it's happening Oct. 29 through Oct. 31. Just $25 gets you a wristband good for entry at the clubs all weekend long.
Studio 27: No Longer Trapped
The Trapp Door used to be one of the best places in town to dance the night away, and was dearly missed when it closed. But the party is back on in the same building at the officially re-dubbed Studio 27 (615 W. 100 South). The club is closed Mondays and Tuesdays, but only because the parties from the rest of the week are so exhaustingly fun. The action picks up again Wednesdays and continues with theme nights like Thursday's Reverb featuring Cirkus Pandamonium (aerial silk and ring shows), Friday's En Dragé show hosted by Sheneka Christie, Saturday's Heat featuring the Dream Girls and Sunday's Latin Night, Club Pachanga.
The Trapp: Open Wide
Twenty years ago, The Trapp (102 S. 600 West) opened its welcoming arms to the gay community, and it still serves as a bastion of love in what seems to be an increasingly intolerant state. But nothing feels wrong as you walk into the wood-paneled interior of a bar known for having excellent parties and true camaraderie. All nights of the week are great for revelry here, but stop in on Saturdays for barbecue on the patio and enjoy karaoke on Mondays. If you've never been to a gay-friendly bar for karaoke, you are really missing out. Also, when you order a beer here, make sure to ask for the mason jar—it's a well-loved tradition of the joint.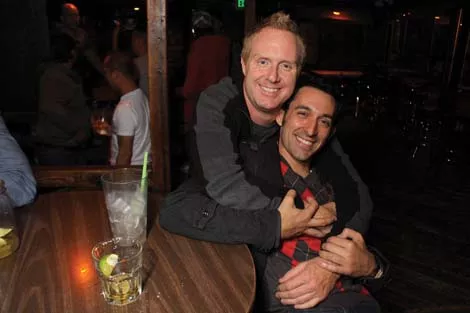 Hot Shots from The Trapp
1. Danny Studio, Superstar DJ Dega, Boom Boom
2. Jabe Hatch
3. Johnny Disco, Stevan Novakovich
We want to keep Utah up to speed on local nightlife. Submit tips about club openings, closures, remodels, special events, drink recipes and noteworthy changes to comments@cityweekly.net.