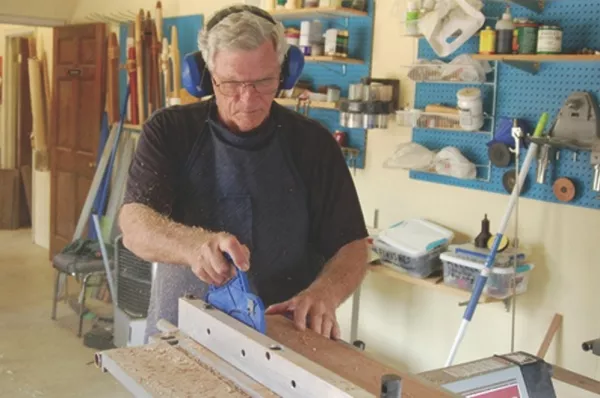 Bill Hughes, a flute-making teacher at Pioneer Craft House
At one point in her life, veteran Anita Cypert had such severe post-traumatic stress disorder that she was what she describes as "fully agoraphobic." Even bringing herself to go outside her front door to collect her mail was difficult. "Thankfully, I'm not there [anymore]," she says. And she credits much of her healing to the therapeutic environment and community at Pioneer Craft House (500 E. 3300 South), a Salt Lake City nonprofit dedicated to art education.
Cypert says that creating art allows her to get in her "Zen zone" and helps rebuild connections that were severed by the traumas she has experienced. It also gives her a built-in social life and sense of community. PCH was so life-changing for Cypert that she decided to give back, and progressed from student to board member and program coordinator. She's committed to keeping the place going. "I'm not going to let it die," Cypert says.
Unfortunately for Cypert and others who have benefited from PCH, there is a chance that it will die, and soon. In July, the day before Pioneer Day, PCH was served with an eviction notice from the city of South Salt Lake.
According to Jeff Hatch, the chairman of PCH's board, the notice came amid disputes over PCH's lease. The Scott School, formerly owned by Granite School District, has been PCH's home for more than 60 years and used to cost just $1 a year to rent, Hatch says. When South Salt Lake became PCH's new landlord, the city agreed to continue the dollar-a-year arrangement as long as PCH provided in-kind donations of services, which PCH fulfills through its low-cost pottery, jewelry-making, painting, glass-art, Native American arts, weaving and flute-making classes, as well as scholarships for students and helping take care of the historic building's facilities.
But according to Hatch, in 2010, PCH began receiving letters from the city attorney stating that the city could no longer afford to operate and maintain the building at the current rent. Hatch says the city claimed that PCH had violated the terms of its 10-year lease and threatened to evict them.
Through negotiation, Hatch says, PCH was able to convince the city to let PCH stay if the nonprofit paid $15,000 for 2012, at the end of which, PCH board members believed, they would be given the opportunity to settle on a new lease.
However, when 2013 arrived, Hatch says, the city refused to issue them a lease at all.
"That left us kind of fighting for our lives," Hatch says.
But like the pioneers themselves, the people at PCH don't give up easily. Board member and attorney Virginia Lee has filed a lawsuit against the city on behalf on PCH for canceling the original lease; she says she expects the case to be heard in court as early as mid-November.
The board's main argument is that the city did not follow proper due process in evicting Pioneer Craft House. Hatch says, for example, that the city changed the locks at the Scott School prior to PCH receiving a notice of eviction, an action not in accordance with legal eviction processes.
The city has a different take on the sequence of events. Kathryn Steffey, an attorney at Smith Hartvigsen law firm, which provides outside counsel for South Salt Lake, says the city disputed the lease because of a Utah law that requires that cities receive fair-market or equivalent value when renting properties. She says the city valued its relationship with PCH and wanted to continue with the rental agreement after it expired in June 2013, but PCH would not cooperate. When asked about allegations that PCH had been denied the opportunity to renew the lease, Steffey said, "to my understanding, that is not true."
Meanwhile, the Craft House is still operating. Hatch and other board members have been looking for alternative spaces to house PCH in case they lose the lawsuit, but fear they won't be able to find a place they can afford while continuing to offer reasonably priced classes.
Hatch says that those most affected if PCH were to shut down would probably be the members of the Veterans Program, like Mike Ferrin, who first heard about PCH through Veterans Assistance.
When Ferrin came to his first class, he'd never touched clay in his life. Now, he practically runs the pottery program, making glazes and clay, working the kiln and even helping teach classes.
"I can do what I love, help others and get them to the point where they love it," Ferrin says.
Since he is disabled and cannot work, PCH gives him a reason to get out of the house, interact with others and learn new skills. "It's just a continuing therapy for me," he says. "It's really become my home."
Hatch notes that PCH has faced obstacles before and found ways to overcome them. When weaving students found that they couldn't afford traditional carpet-making materials, they began making "recession rugs" out of rags and other items that would have otherwise ended up in a landfill. And though the lawsuit with South Salt Lake is probably the most difficult challenge those at PCH have faced yet, they feel PCH is worth the fight.
"I don't want any part of this place to die ... it's valuable not just to veterans; it's valuable to common people," Cypert says.
"It's a place where they can get a life back," Ferrin adds.
To see Pioneer Craft House artists at work, stop by on the third Saturday of the month between 10 a.m. and 2 p.m. for Open Studio Day and Artist Spotlight. For information on classes and special events, visit PioneerCraftHouse.com.