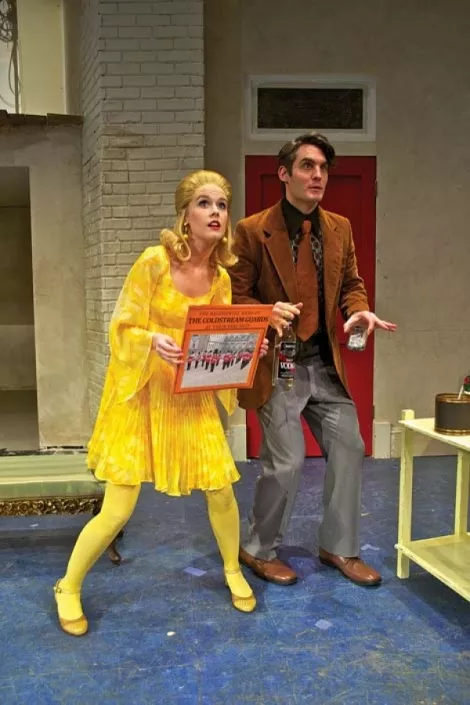 It's a farce built entirely around a gimmick: At the outset, it's pitch black, as aspiring sculptor Brindsley Miller (Michael Brusasco, pictured) and his fiancee, Carol Melkett (Rachel Moulton, pictured), prepare to host—and, they hope, impress—Carol's father, Col Melkett (Greg Thornton), and wealthy art collector Georg Bamberger. Then, suddenly, the stage is flooded with light when their London flat is plunged into a blackout. We see only what the characters
don't
see—and on that premise is hung a uniquely delightful burst of slapstick.
Playwright Peter Shaffer populates his one-act play with the sort of characters who might seem considerably broader in 2011 than they did in 1965: an outwardly prim neighbor (Joyce Cohen) who surreptitiously gets drunker and drunker; Harold (Donald Corren), another neighbor who announces his sexual orientation with a swish and a leering double-entendre or 12; Carol, the squeaky-voiced girl-woman who talks about "sexy-poo." Dissertations will not be written on their complexity.
But director Jeff Steitzer brilliantly choreographs the script's most complex gags, particularly a ballet of near-catastrophes as Brindsley's attempts to return Harold's fancy furniture—which he has "borrowed" to replace his own tackier pieces—across the hall secretly and silently after Harold unexpectedly arrives. And it's nearly as hilarious when Brindsley's most recent ex-girlfriend (Lauren Elise McCord)—or maybe "ex" isn't exactly appropriate—also arrives. The snippets of satire at social climbing are almost beside the point when the guffaws burst out at Black Comedy's clockwork comic timing.
Black Comedy @ Pioneer Theatre Company, 300 S. 1400 East, 801-581-6961, through Jan. 29, $28-$42. PioneerTheatre.org