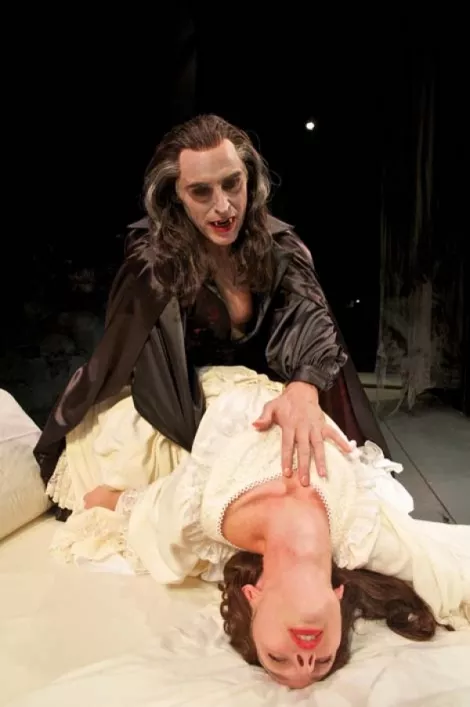 Modern interpretations of Bram Stoker's
Dracula
often focus on its psycho-sexual subtext, or use vampirism as a metaphor for a variety of contemporary social ills. Charles Morey's adaptation for Pioneer Theatre Company provides an even more compelling framework, one the original text shares with another 19th-century gothic horror classic, Mary Shelley's
Frankenstein
: the collision between an era of scientific reason and an era of unquestioning religious faith.
Morey sticks close to the source material, opening with young Jonathan Harker (Christopher Kelly) journeying to Transylvania on behalf of his employer, a real-estate attorney representing Count Dracula (Mark Elliot Wilson, pictured). And while Jonathan finds himself a prisoner of the Count's hospitality, Dracula himself is on his way to London, soon to threaten both Jonathan's fiancee, Mina (Allison McLemore, pictured), and Mina's friend Lucy (Stephanie Fieger).
There's a tremendous amount of purely satisfying stagecraft to Morey's presentation, including gruesome transformations, bursts of flame and the menacing moon that hangs in the background. Wilson's Dracula capitalizes on familiar interpretations of a dark seducer, while adding a truly impressive level of physical menace.
But Dracula proves most fascinating as a duel between the rationality of Dr. Seward (Craig Wroe) and the God-fearing Dr. Van Helsing (Bob Ari, also a standout in the 2009-10 season's Twelve Angry Men). The living dead become a perversion of the Resurrection, and the profoundly Christian horror provides the same disturbing undercurrent as cinematic tales of exorcism. This Dracula is no parody with fangs and an accent; on this stage, he comes to life as a demon incarnate.

Pioneer Theatre Company: Dracula @ Pioneer Memorial Theatre, 300 S. 1400 East, 801-581-6961, through Nov. 6, $24-$42. PioneerTheatre.org