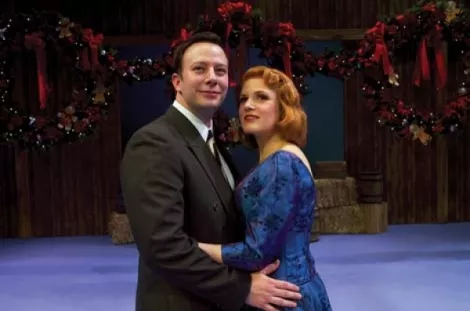 In 1954, Bing Crosby and Danny Kaye teamed up to turn the Irving Berlin song—which Crosby had turned into the best-selling single in history a dozen years earlier—into a lively musical romp. In that tradition of building one pop-culture success on another, that movie musical has now become a stage musical.
The story follows two World War II army buddies, Phil and Bob (Tally Sessions, pictured), who are also successful song-and-dance men. When they woo a pair of sisters (Amy Justman as Betty Haynes is pictured), they wind up headed for a Vermont inn that happens to be run by Phil and Bob's former commander—and the place could be headed for bankruptcy. Unless, of course, a couple of successful song-and-dance men and their lovely new friends can put on a business-saving show.
The title song might be the most famous, but several other Berlin standards fill out the score, including "Sisters" and "Blue Skies." Come to hum along, or just bask in the glow of the holiday spirit.
White Christmas @ Pioneer Theatre Company, 300 S. 1400 East, 801-581-6961, Dec. 3-24, $17-$54. PioneerTheatreCompany.org