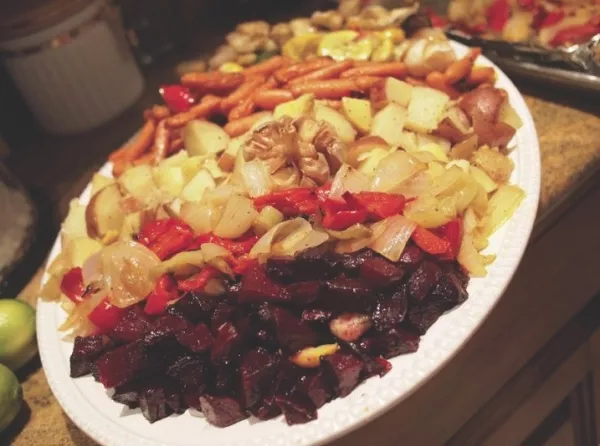 Urban Pioneer Foods' roasted-veggie platter
Next time you find yourself neck-deep in a freezer, teeth chattering, with chilled air billowing around your head as you search for another Stouffer's family-size Lasagna Italiano, do yourself a favor: Shut the door and phone Urban Pioneer Foods.
Brooke Woffinden and Ashley Veenendaal started their culinary venture specifically to cater to those with busy lives who wish to eat healthier. That doesn't mean everything is vegan and low-fat. It just means that the pre-made meals delivered to your doorstep are as locally sourced and organic as possible, and made from scratch—like a wholesome meal is supposed to be.
The concept is simple, and personalized orders are easy to accommodate because everything is prepared fresh. So, if you if prefer things kosher, easy enough. If you avoid gluten, no problemo. Or, if you happen to go meat-free, they'll make you a delightful vegetarian meal. For environmentally conscious folks who might be worried about packaging waste, all meals are provided in returnable glass Pyrex and Mason jars, with simple preparation instructions and a full ingredients list, specifying sources.
The one issue the duo understands all too well is that when reaching for frozen meals, comfort foods are often the main draw. So, while they're happy to whip up the likes of an orange/apricot-glazed salmon with wild rice and quinoa, or a turkey meatloaf with roasted potatoes on top of blanched green beans, they are also just as likely to churn out the chicken potpie and frozen pizza—augmented with homemade breads and Mason jars of soups and salads, of course.
While Urban Pioneer Foods ultimately wants to be your personal chef, they are also more than willing to cater private dinners and small events. The key is that Woffinden and Veenendaal are perfectly poised to keep you out of that freezer with a unique culinary combination of making your daily dining life easier, healthier and considerably more delicious.
URBAN PIONEER FOODS
801-598-7702