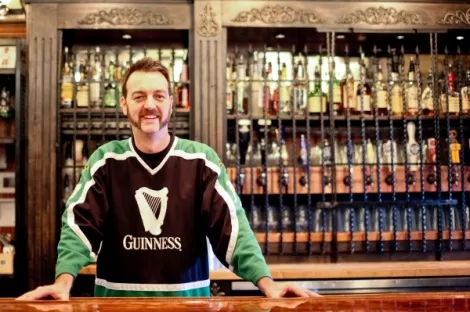 His grandmother made him do it. "Find something you love and turn it into your livelihood" was her sage advice. And Dave Morris loves drinking beer, hanging around bars and socializing (not to mention taking down Utah's more asinine liquor laws).
It's not exactly what Grandma intended, but nine years ago, Morris, 40, opened Irish pub Piper Down: An Olde World Pub and has been fine tuning his Saint Patrick's Day party ever since.
Morris—as much Irish as he is any other European lineage—sits in the recently remodeled back room of his cozy bar. With old-timey paneling, tobacco-colored walls, rustic wooden tables, chairs and bar, and more Guinness paraphernalia than is countable after drinking a couple, it would make a Dubliner nostalgic. However, the nook's quaintness is nothing close to quiet on weekends, or especially when it's in the midst of a raucous celebratory holiday.
When we met Morris at Piper Down, it was "28 days, 10 hours and 14 minutes until St. Patrick's Day," Morris said quickly, without looking at a clock. He is ready.
"If you open a bar, I don't know why you wouldn't open an Irish pub. There's actually a holiday where you have to go there," Morris says. "No one stays home on Saint Patrick's Day, not like New Year's Eve or Halloween."
Some Saint Patrick's Day stalwarts prepare months in advance for the holiday. Piper Down hosts the monthly Kilt Night, which Morris also refers to as "St. Practice Day." Although kilts are typically Scottish, not Irish, it doesn't matter. "Everyone is just looking for an excuse to wear it."
The shindig features two local Irish rock stalwarts: the Heathen Highlanders and Swagger. "The bands play all the old favorites like you'd expect: 'Whiskey in a Jar'—well, just about every song about whiskey—and everything fiddle-driven that you just have to clap your hands and dance to," Morris says. To help motivate drinkers to move, the Crawford Irish Dancers bust a jig on the hardwood every month.
All of this is in anticipation of March 17. "It's for the type of person that would go to New Orleans on Mardi Gras or Times Square for New Year's Eve; it's that level of party. Everyone is in this amazing mood; you just feel this energy," Morris says. "There's no other day like it."
Last year, they handed out songbooks—a Piper Down pub hymnal—so that rowdy heathens could sing along and make merry. Other festivities surrounding the big green day include the March 16 eve party with a performance by the Wailing O'Sheas and a whiskey toast at midnight. On March 17, doors open at 10 a.m. for a "Big Irish Breakfast" served until noon, with Irish fare served throughout the day. An acoustic lunch requires no cover, while the cover is only $5 before 4 p.m. Much like "St. Practice Day," the music lineup will consist of the Heathen Highlanders and Swagger. And, of course, there's enough Guinness, green beer and whiskey to drown in.
Come March 18, Morris says, "No one wants to hear bagpipes ... so we do a karaoke night to get as far away from it as we can." It's called "Professionals Night," and is for restaurant-industry professionals or just professional drinkers.
With such ado about the special day, we wondered what musical preparations Morris takes. His 32-gig iPhone has a little bit of everything—a smattering of tastes. Though without bagpipes or fiddles, the random tunes turned up some rather interesting anecdotes about Morris' eclectic life.
PIPER DOWN: AN OLDE WORLD PUB
1492 S. State
801-468-1492
PiperDownPub.com
The Smiths, "How Soon is Now?" Best of 1
Morrissey got me through high school. I didn't think that anybody could be more depressed than me. His lyrics, Johnny Marr's guitar playing, the hype of alternative music at the time—yeah, that was the pinnacle for me. A few years ago, on my birthday, I brought in Louder Than Bombs—an all-Hispanic, seven-piece Morrissey tribute band—and they were spot on, freakin' rad. Every picture of me that night is with my mouth wide open, singing my heart out.

Jane's Addiction, "Obvious," Ritual de lo Habitual
Not my favorite song, but everything off of Nothing's Shocking was golden. Again, we're back to the '80s and my "club kid" days, which seem to be never-ending. When I was growing up, my grandmother told me to love what you do and make a living out of it. I love drinking and going to clubs. She was religious and that's not what she meant, but that's what happened [laughs].

Johnny Cash, "Home of Blues," Classic Cash
The worst thing that ever happened to Cash was that movie [Walk the Line, 2005] came out and his music went totally mainstream. Way before that movie, I lived in Southern Texas and listened to Cash, Willie and Waylon, and on and on. Classic country was an acquired taste. Cash's passing and that movie brought it all to the mainstream.

Beatles, "Wild Honey Pie," White Album
The Beatles are my all-time favorite band. My dad loved the Beatles—that's what got me started. I forgot all about them through my teen years; they might have been a dirty secret in my tape collection. Then I got mature enough and didn't care about what anyone thought and started listening to them again. They have so much depth. Love songs, or if you just want to trip out, they have that, too—like this one.

Boone Creek, "Drifting Too Far From the Shore," Hand-Picked: 25 Years of Bluegrass on Rounder Records
I love old-school bluegrass because it takes its root from Irish music. They all got off the boat and went to the hills and the songs evolved from songs about whiskey to songs about moonshine. I started listening to it in the last dozen years when I moved to Salt Lake City. The first big bluegrass band that I booked at Piper Down was Hot Buttered Rum. It was this huge night.