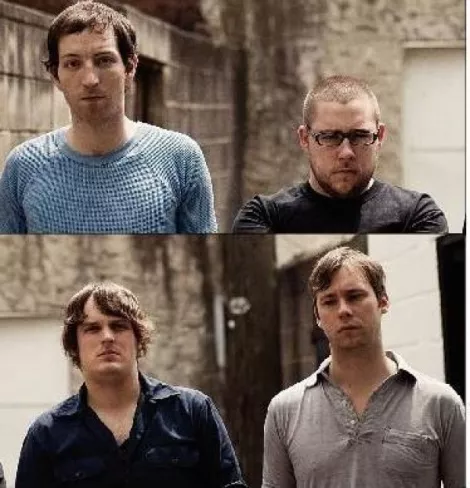 Egon Spengler


Peter Venkman
Winston Zeddemore

Ray Stantz
PISSED JEANS King of Jeans (Sub Pop)
Hope for Men had a hell of a cover. Even though I mostly missed out on Pissed Jeans' Sub Pop debut when it came out in 2007, the album's photo was striking in its eccentricity, especially for a hardcore band. The picture on Hope was a grayscale shot of two shirtless, skinny men hugging each other. Set against a white background, the simple and amusing image was symbolic of their subversive potential.

Pissed have a shtick, and it's a winning one: by juxtaposing a terrifying, lo-fi, '80s-style hardcore/noise rock squall with lyrics about commonplace subjects (scrapbooking, yuppie joggers, boring girls, etc.), they comment on the numbing mediocrity of the suburban world that bred the Allentown, Pennsylvania gang's aging ennui. As I arrived at King of Jeans with this working knowledge, I expected something mighty.

Led by Matt Korvette's lurking, emetic roar, King's gloomy product sounds like it's been boiling since Greg Ginn snapped his first chord. The disc is brawny and indelicate (as hardcore should be) and the vitriol only serves them well when they use it properly. Other times, their venting arrives without direction or memorable songwriting alongside it. The sum is something uneven.

The band's finest portions are pointedly relentless: the uninhibited "False Jesii Part II" gnashes and grinds to Korvette's yells of "I don't bother" and "Human Upskirt" is an overdriven wreck that, as the track progresses, descends into the tortured invective of the freshly insane. Elsewhere, "Dominate Yourself" is distortion without a point, "She Is Science Fiction" forces itself to ruminate on a half-cooked idea (Korvette loses his fire, too, offering a dull caterwaul), and the sludgy seven-minute mess of "Spent" serves as Pissed's piss-break from killing their throats and instruments.

"R-Rated Movie" exists to exemplify the sardonic lyrics that I first heard about on Hope. During a stop at the theater, Korvette falls in love with the stars ("I wanted to hear what they had to say"), gawks at the sex ("But they never quite go all the way"), and savors the excessive explosions ("It was much more exciting than the rest of my day") to hilarious effect. Novelty or not, the tactic is fun.

While King seesaws between the explosive and the droning, if Pissed do some culling and emphasize the chaos, it could turn Hope's hug into an iconic embrace.