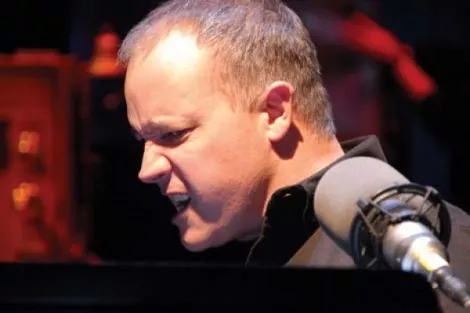 For the past five years, Plan-B Theatre Company has mounted productions devoted to reviving the lost art of radio broadcast drama. This year, as part of the company's 20th anniversary celebration, you can catch up on all of them.
In 2005, Plan-B joined forces with KUER 90.1 FM to create studio productions of Radio Poe, and followed that success with The Hitchhiker and Zero Hour in 2006 and Lavender & Exile in 2007. In 2008, the productions moved into a theater to add a live audience to its production of Frankenstein (with Tobin Atkinson as the monster, pictured), then again in 2009 for Alice, with accompanying broadcast on KUER. The live element gave viewers a chance to see what a creative sound effects technician might use to simulate the sound of bones being crushed (breaking celery stalks).
The five productions will be broadcast back-to-back on Halloween night. You may only be revisiting drama from a few years ago, but it will feel like revisiting another era.
Radio Hour Marathon @ KUER 90.1 FM, Oct. 31, 8 p.m. PlanBTheatreCompany.org.
Listen now: Radio Hour: Alice (2009)