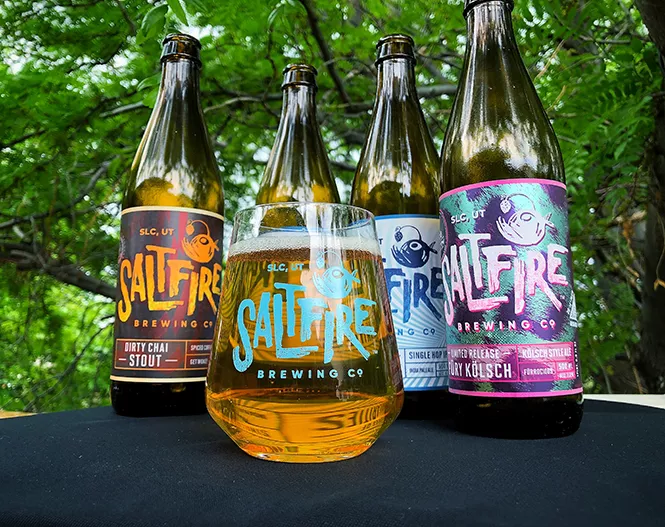 On May 19, after many months of bureaucratic hell, Utah's 26th brewery/brewpub opened its doors, and fresh new beer poured out to waiting customers. Saltfire Brewing Co. started a little backward compared to other breweries. Most startup operations begin with the brewhouse, and end with their packaging gear. Before Saltfire was even a concept, owner Ryan Miller looked to fill a niche with his industry-changing bottle filler. It was so successful, Miller was able to fund his dream brewhouse; the rest is history, and now we all benefit from it. Saltfire debuted with four beers, so here is a preview of their initial offerings.
Füry Kolsch: Poured into a rocks glass, this Kolsch has a brilliantly clear straw-yellow color with a solid two fingers of white foam. The nose is nicely complex with grass, toasted white bread and some floral tones. On the tongue I got more white bread and cracker up front, followed by sweet grassy notes and a subtle citrus peel bitter finish. The beer had medium carbonation, and felt light in the mouth.
Overall: This beer is wonderfully clean tasting at 7.2 percent. It's a collaborative beer made with Utah's Hop Bombshells home brew club and will challenge any Pilsner in the market in its drinkability and flavor.
A Series of Singularities—Vic Secret: This series of IPAs will feature a rotating hop bill that changes with every release. This version features a hop varietal from Australia called Vic Secret. The aroma is subdued citrus, fresh-baked bread and ripe melon. The taste is a citrus burst, with notes of grapefruit and lemon zest. There's a nice biscuit layer to break up the citrus that eventually gets smoothed out by notes of melon and tea. It's got a medium to full body with a creamy mouth feel.
Overall: At 6.8 percent ABV, this beer offers classic IPA flavors with enjoyable fruitiness up front and pleasant bitterness in the back. A tasty offering.
A Series of Singularities—Idaho 7: In this version, Saltfire utilizes a hop from Idaho called Idaho 7. The beer has a very dank and pungent aroma, along with strong lemon notes as well. Once I swirled it in my mouth, I found deep earthy tea leaf and lemon flavors, which transition into vague tropical flavors with notes of grapefruit peel and pine. This IPA has moderate bitterness and a slightly resinous texture with a wet and light-bodied finish.
Overall: This 6.9 percent beer is very noteworthy. It has a lot of earthy tea-like flavor along with strong lemon notes that jump out and challenge the palate.
Dirty Chai Stout: Saltfire's head brewer Patrick Bourque says that this beer was originally slated for release later this year. However, people were so interested in trying a chai beer that he pushed it to the front of the schedule. It looks like your typical stout, with aromas of chai, cola and caramel peeking out. On the tongue, the spicy chai takes over with earthy black tea, honey and a hint of chocolate gingerbread.
Overall: The fresh birch spiciness of the herbal chai tea adds highlights that provide a real coffee house feel. It gives this 6.7 percent stout a high drinkability factor you don't find with many summer stouts.
For now, Saltfire's beers are only available to go from the brewery at 2199 S. West Temple in South Salt Lake. In the coming months, a taproom will be completed. Keep checking back for news of its official opening along with all of the other beers coming to their portfolio. As always, cheers!