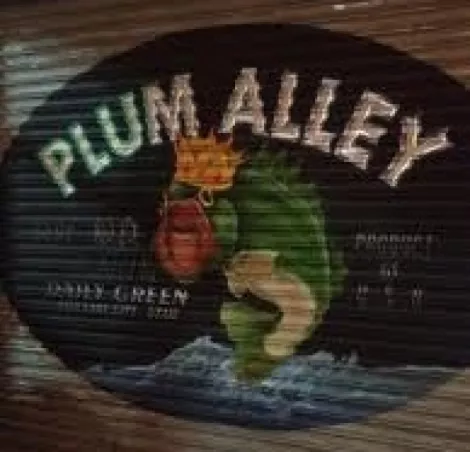 I doubt that when Colleen and Ryan Lowder opened The Copper Onion restaurant two years ago, they could've foreseen how wildly popular it would be. For many—myself included—it has become Salt Lake City's go-to eatery. It's the quintessential American bistro, with excellent food that isn't overwrought or overthought, a pleasing ambiance that isn't over-the-top, and service that's top-notch, but never too stuffy or canned. So, you might think that with this can't-miss formula there would be Copper Onion outposts popping up all over: Copper Onion II in Draper, Copper Onion III in Ogden and so on. Wrong.
Instead, the Lowders—with longtime Copper Onion sous chef Ryan Lamon (also affectionately called "Peaches"; he's from Georgia) at the helm—have turned east. Far East, in fact, with Plum Alley. It's located just a few steps east of the Copper Onion, but it's a world apart in terms of cuisine and ambiance. It's fun, funky and, by comparison, makes the Copper Onion look downright formal.
It's a relatively small space, where Sicilia Pizza used to be, with three communal tables that sit eight people each, and counter/bar seating for about another 20 or so, plus a private dining room in back. Colorful lanterns hang from the wood ceiling, and music—ranging from Hotel Costes to AC/DC—plays continually. The mood is informal and festive. It's the sort of place where it's not unusual to find yourself sharing food or wine with strangers sitting next to you. The name Plum Alley, by the way, dates back to Salt Lake City's Chinatown, which in the early 1900s thrived with bustling restaurants, laundries and Oriental shops; 1,800 Chinese lived in the area at that time.
So, it's not surprising that the food at Plum Alley is pan-Asian, with a menu that borrows from China, Thailand, Malaysia, Indonesia, Vietnam, Korea and Japan. There is a pulled-pork kimchi stew ($11), for example, on the menu next to tom ka gai ($9), a Thai-style soup made with coconut milk, poached chicken, mushrooms and more. This is food that's meant for sharing; each table is stocked with plenty of chopsticks, napkins, fish sauce, hot sauce, soy sauce and extra plates, making it easy to pass around tasty morsels of, say, the delicious pork and crab rolls ($5), which come with a tangy tamarind dipping sauce.
A must—but also messy—are the Plum Alley chicken wings ($5), coated in a simultaneously sticky, spicy and sweet palm-sugar and chili glaze. Pass the napkins! Shrimp & grits ($7) is another fun dinner starter: tail-on shrimp atop fried Anson Mills polenta fritters, bathed in a zippy red curry sauce and garnished with fresh cilantro leaves. My favorite appetizer, however, is the Chinese-style steamed buns. Lamon's crew makes the buns from scratch, and they are perfection. You get two buns for $6, with a choice of the following stuffings: pork belly with cincalok glaze (cincalok is a Malaysian condiment made with fermented shrimp); duck confit with preserved orange; or slow-cooked pork shoulder with pickled mustard greens. Pickling is done in-house, by the way, and Plum Alley also features a housemade pickle bowl ($6), the selection of which changes daily.
There is an appetizing array of soups and salads, too. I love the super-spicy larb salad ($8), with crisp greens, onions and chili-spiked ground pork. Lettuce leaves are provided, making it easy to assemble crunchy larb wraps. There is a delicious duck salad ($11), with tender, boneless strips of duck breast atop a bed of greens, herbs and sliced red onions, and garnished with red jalapeño slices and a lime wedge. Of the soup and salad portion of the menu, however, my favorite selection is the Plum Alley ramen ($11). The ramen seems to be evolving; the broth is a little different every time I visit. But, it's always good. It's a big bowl of stock that has simmered for at least 20 hours, a smidgeon of tahini, pieces of pulled pork, pork belly, exceptional housemade ramen noodles, green onions and a perfectly poached egg on top. It's a beautiful thing.
You might have noticed by now that pork shows up in a lot of Plum Alley dishes. That's simply because the Ryans—Lowder and Lamon both—dig pork. There is not a lot for vegans and vegetarians to fall in love with at Plum Alley, although there is a vegetable & tofu fry, bok choy, vegetable spring rolls, green papaya salad and curried beans on the menu. But Plum Alley flies its pork flag proudly—and I'm certainly a sucker for all things piggish.
The curries are extraordinary. They are not soupy, brothy affairs, but "drier" versions of green and red Thai-style curries, along with rendang, which is an Indonesian curry. Short ribs are braised in coconut milk and served with a delectably zippy rendang. Lowder learned to make curries from renowned chef David Thompson, who taught him the importance of "breaking" the curry—a cooking technique in which the curry's oils separate from the other ingredients. Well, Plum Alley's curries are flawless; I especially loved Mary's chicken ($13), with big chunks of tender, boneless chicken-breast meat and green beans bathed in a subtly spicy red curry sauce. It's killer curry.
Such an eclectic menu warrants an equally eclectic beverage selection, and Plum Alley has it. Options range from heat-quenching coconut water, Fentimans sodas and Vietnamese coffee to an interesting beer selection (including Deschutes, Nectar Ales, Carlsberg and Tsingtao), cocktails, whiskey, bourbon, rye, scotch, and wines like Torrontes, Negroamaro, Gruner Veltliner, Malbec and Spanish Rosé.
In short, there is just not much to dislike about Plum Alley. I'd go so far as to say it's ... plum delightful.
PLUM ALLEY
111 E. Broadway
801-355-0543
PlumAlley.com