Podcaster's Pool Tournament
On Wednesday, Aug. 19, City Weekly contributor Brian Staker—host of the Awkward Hour podcast— hosted Utah's first annual Local Podcaster's Pool Tournament at Brewvies (677 S. 200 West). A handful of Internet radio nerds, or "geeks" as they call themselves, took over the cinema pub's three pool tables with Jeff Vice and Shannon Barnson representing the Geek Show team, Adam Sherlock and Adam Palcher heading up A Damn Movie Podcast team, and Staker leading his crew of awkward pool boys. The Fanboys also fought valiantly, but ultimately Vice scored the clinch shot to win the tournament's handmade trophy, following four solid sinks against Staker's four-man Awkward Hour crew. Vice claims he mapped the victory shots in his mind.
Start Your Engines
If you missed 1. creating a podcast, and 2. using that podcast to enter a local pool tourney, fret not: Local pool tournaments abound on a weekly basis. Fats (2182 S. Highland Drive) in Sugar House hosts a tournament on its 10 billiards tables every Monday starting at 7 p.m. A $10 buy-in is required for each entrant with the whole pot going to the winner when applicable. The tables are open all week long until midnight on weekdays and 1 a.m. on weekends. A recent change-up in management means that a liquor-license request is pending—and also that Fats' occasional music night will become a regular Friday feature with Misty River on Aug. 21 and Jeff Lawrence Band Aug. 28. Plus, classic-car fans rejoice! Cruise Night car show is a new addition to Fat's Monday lineup.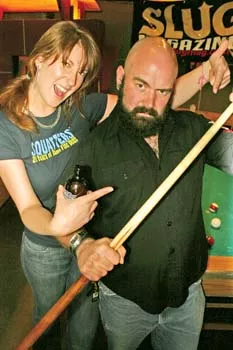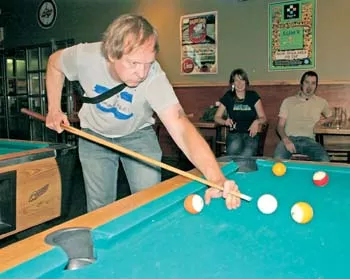 1. Abby Sherlock, Adam Sherlock
2. Brian Staker
3. Shannon Barnson, Charity Gleason