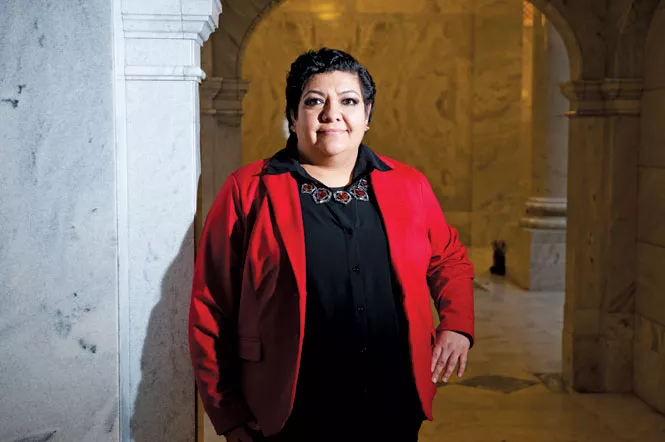 After Gloria Arredondo got divorced in April 2010, she didn't know who she was. Her abusive marriage, she says, had "killed the woman side of me. There was nothing left of it." Now, five years on, the domestic violence survivor and activist writes poetry "to the man of my dreams." She writes in Spanish about how "I want to be touched, kissed, caressed. I can see him everywhere, in the moon, in the clouds, in the sun. He is part of me."
An immigrant Latina, Arredondo is also Mormon, two factors that she says make it difficult for many women to speak out about domestic violence. Writing poetry is how she is attempting to rebuild herself, along with self-penned articles in local Spanish-language publications on abuse and domestic violence, urging survivors to strengthen their self-esteem. "I believe when we regain all our power, it is harder for the abuser to control us," she says.
One organization that attempts to raise awareness of domestic violence in Utah's Latino community is the Latino Coalition Against Domestic Violence [COLAVI]. The 25-member strong coalition was set up by South Valley Sanctuary [SVS] eight years ago to try to bridge the language gap between the Latino community and domestic violence resources, says radio and TV host Pablo Tellechea, who gives presentations on COLAVI to companies and churches.
Tellechea cites two factors that shape what he calls "the silence" that blankets domestic violence in the Latino community. One is the fear related to legal status. "Illegal people think or they feel they don't have rights to go to a police station, hospital or church to say, 'I'm a domestic-violence victim,'" he says. The second is the cultural and criminal-justice system expectations that Latinas can bring with them to the United States. For example, citing COLAVI statistics, Tellechea says seven out of 10 women in Mexico are victims of abuse, one in 10 report to the police, and 99 percent of cases "find no solution in the justice system."
Arredondo's articles and public appearances draw Latinas to her who seek help to escape from abusers. What she calls the "indignation" she feels when she learns of abused women has, at times, made her a controversial voice in Utah's Latino community. Some critics, she says, view her as a "man hater," rather than a champion of abused women.
Tellechea expresses the concern that some survivors who campaign against domestic violence opine that "there are no good men; all are bad men." COLAVI, he continues, "never says all men are bad men or abusers, because it is not true." Such a perspective is itself abusive, he adds.
As a member of The Church of Jesus Christ of Latter-day Saints, Arredondo has also found her ward culture at times challenging. "It's hard; I don't fit in," she says. "I like the gospel, but I think I understand it in a different way" from others in her ward. "If you break the rules, people judge you easily." The one-time, self-described "very Molly Mormon girl," found even during her marriage, she says, that the Latino bishopric did not listen to either her or her husband's escalating complaints about each other.
Arredondo's friend, who legallychanged her name to Terra Soma (meaning "earth body"), is herself a domestic-violence survivor and a former victim advocate at Murray Police Department. She grew up in the Mormon colonies in Mexico and speaks Spanish. Bringing together the machismo of Latino male culture and the Mormon priesthood can create its own problems, she argues. Soma identifies an "interesting overlay of machismo with patriarchy in the Mormon church. They accentuate each other."
Soma worked with Latinas at the Murray Police Department and found that "it's really, really hard for people to seek help. Most of the women I worked with, I had the sense of their needing help but feeling reserved, shy or embarrassed about taking help, almost a sense of being unworthy."
Juanita Lopez—not her real name—lives in Kaysville. The 47-year-old married a man 27 years older than her in Mexico when she was 18. She came to the United States fleeing violence in Mexico after her mother was kidnapped. When her husband became abusive after they moved to Utah eight years ago, she turned to her LDS bishop, only to be told that "marriage is for eternity," she recalls in Spanish, "and that members should try to avoid ruptures of the family."
Mormon women in some cases don't seek divorces out of fear of being discriminated against in their wards, Lopez says—a stigma Arredondo says she also struggles with. "One of my kids told me, crying, '[The church doesn't] recognize the broken family, they don't recognize the hurt.'"
Lopez still lives with her husband and sees the vestiges of his abuse in the way he insists upon her being there to serve him breakfast and lunch every day in their small, neat apartment. She's tried to introduce presentations to her ward about family violence and healthy relationships but was told, she recalls, "You can't go against church standards." There could be nothing on sex or domestic violence. "Within the church, it has to be positive."
Arredondo had a similar experience when she sought to bring a COLAVI presentation to her ward. "I was advised I shouldn't take personal matters to the church."
LDS Church public-affairs manager Doug Andersen stresses that anecdotes do not speak to the church as a whole. In a 1999 Ensign round-table discussion on spouse abuse, commentators suggest bishops who feel out of their depth dealing with domestic violence should seek professional guidance, possibly from LDS Family Services.
When Arredondo can persuade women like Lopez to seek help, domestic violence shelters like South Valley Sanctuary often prove to be full. Last year, the SVS turned away 700 people. A partial solution for filling this unmet need was to open community resource centers [CRCs] in local government offices, namely in the West Jordan City Hall and offices near Riverton City Hall. Executive director Jenn Campbell describes the set-up as a public-private partnership; the cities provide the space, and she provides the staff. In 2014, she says, the shelter served 169 women and three men, while the CRCs helped 199 women and 34 men.
Arredondo questions the effectiveness of the CRCs, however—a perspective shared by fellow COLAVI committee member and migrant worker activist Alfredo Laguna. "People can go [to their offices] but it's not easy as it's in a state building," she says. For undocumented Latinas, fear of the authorities remains a powerful factor, she says.
Arredondo's journey was finally to live a life without fear. "If you punch me, I will punch you back," she says. She finds beauty in the daily world, showing pictures of sunrises, cloud formations and the sun on her iPhone. Even though she remains alone, she has faith in her future. "I see God as very gentle and caring. If I don't find a man in this life, I will find him in the next one."
Arredondo and 15 other women will read from her poetry March 13, 2015, 5:30 p.m., at the Workers Compensation Fund, 100 W. Towne Ridge Parkway, Sandy.