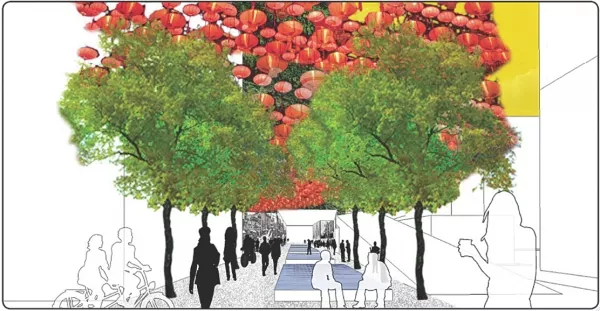 The Urban Art Lab's renditions of designs for city-owned space in downtown included a History Walk on Edison Street
In 2013, teams from across the globe conceptually bedazzled downtown Salt Lake City with bold and bizarre plans for some of the city's neglected alleys and lots. Some designs called for more trees, others for rock-climbing walls and pigeon towers. One idea, called "Upsite Town," operated on the principle that the downtown aesthetic could benefit from the feelings of a never-ending acid trip, with a replica of downtown placed on stilts and displayed upside-down above the city.

This creative brainstorm, part of the SixtyNine Seventy design competition, inundated Salt Lake City planners with a torrent of well-thought-out and whacked-out ideas. Planners are now working to sift the genius from the insanity and incorporate ideas into the Downtown Master Plan.

But because the master plan is simply a guiding vision for downtown growth, only so much of the ideas can really be utilized. "The master plan doesn't get into that fine-grain decision making," says Nick Norris, the city's planning manager.

The zany spirit of some of the ideas is still informing discussions of the Master Plan, which will be released for public comment in June. But designers from the Urban Arts Lab, one of the local winners of the SixtyNine Seventy competition, say the city didn't seriously consider adopting the ideas from the group's winning submission.

"From my experience, the city already had their minds made up on what they wanted to see happen," says Jeremy Bringard, one of the Urban Arts Lab designers. "It seems unfortunate that the city wasn't as willing to take these ideas and see what we could do with them."

JÖerg RÜegemer, another designer with the Urban Arts Lab and a professor at the University of Utah, recalls that in fall 2013, Salt Lake City planners held several workshops where different parties examined all of the entries from the SixtyNine Seventy competition for possible incorporation into the Downtown Master Plan. Though designers with the Urban Arts Lab attended some of the workshops, they never felt there was any serious discussion about implementing their ideas.

"I know it's difficult with the city's planning regulations to implement this holistic process, but we never really had a chance to talk with those people," RÃœegemer says. He says that he's been a part of at least 60 design competitions in the past and has never experienced such a lack of follow-through before.

Bringard says that when he attended one of the city's workshops, he felt as if the city was interested in only the very general competition ideas that were already on the city's radar, like more bicycle access and walkable communities, and ignored the unique ideas the competition brought forth.

"As far as I know, it sounds like the city doesn't have any interest in any of these ideas moving forward," Bringard says.

RÃœegemer has sought to keep the winning ideas in the public's mind by placing posters around downtown that invite passersby to imagine the possibilities of attractions like a Zion's beer garden at the corner of 100 South and Main or an urban climbing wall at the north end of Regent Street.
Norris says the city's role is to figure out how to help private businesses creatively use downtown spaces for events, festivals and retail. The trick, he says, is allowing creativity while not compromising too much on health and safety regulations.

But Bringard says the SixtyNine Seventy competition was supposed to be about designs the city could implement on property it owns. He points to the Urban Arts Lab's vision for a History Walk on the segment of Edison Street (150 East) that runs between 200 and 300 South. As the area was formerly known as Plum Alley, Bringard says, the Urban Arts Lab imagined the city could create a Chinese garden and provide information about the area's history as part of Salt Lake City's Chinatown.

"The History Walk was a simple way of trying to bring back a certain part of the city's history that was lost, and the idea of the Chinese garden was just really a simple way of accentuating a blighted part of the block," Bringard says. "But with the city it seems like they were more focused on how to get dollars down there, rather than creating a location unique to Salt Lake City."

Norris says that he and other planners have been weighing the various ideas introduced by the SixtyNine Seventy competition with the ultimate goal, he says, of creating "a regulatory framework that allows those things to pop up in a spontaneous way without having to control every single detail of it through regulation."

He points to Granary Row, a summertime "pop-up" market and festival space, as an example of these theories in action. Granary Row, which launched in 2013 at 300 West and 700 South, uses the area's wide streets for weekend concerts and beer gardens, and has converted shipping containers into storefronts for up-and-coming local businesses. The row has helped businesses like Diabolical Records garner enough interest to move to a larger, permanent location at 238 S. Edison St.

Christian Harrison, one of the founders of the nonprofit Kentland Intitiative that established Granary Row, credits much of that area's success to the support of the Salt Lake City Mayor's Office, but says he's learned firsthand that ordinances could be relaxed to help other "pop-up" businesses flourish.

Requiring temporary installations that are open just three to six months to jump through the same hoops as permanent brick & mortar businesses, he says, stifles prospective business owners who have big dreams but not big bank accounts.

He says that even though the shipping-container businesses in Granary Row are open only during the summer months, there was at one time a request that they prove to the city how much snow the structures' roofs could bear. Harrison says that one-size-fits all standards can often stifle the start-up spirit when it comes to temporary installations.

"If all of our permitting bodies use this pass/fail system, then that means a lot of great ideas don't see the light of day," Harrison says.

Harrison says he believes that relaxing standards for these kinds of installations, including for food vendors, would go a long way to clear a space for Salt Lake City's best and boldest ideas to survive and thrive.

"In a real sense, retail and small businesses are the laboratories of the urban experience," he says.
"Allowing as much vitality and leeway to our pioneering small-business owners is the best way to really make sure that your street life is vibrant and sustainable."
Twitter: @EricSPeterson