Sweet Jebus: Poplar Street Pub
Jesus or Genome, the solo project of Loom's lead guitarist, Mike Cundick, is one of the better acoustic residencies around, and it's at Poplar Street Pub (242 S. 200 West). Listen to a few covers or some originals, and hear guest artists from bands like God's Revolver sitting in every Wednesday starting at 9 p.m. You can even make a pub-crawl night by strolling down Pierpont Avenue, starting at Inferno (122 W. Pierpont Ave.), then moving to Lumpy's (145 W. Pierpont Ave.) and finishing at Poplar for music, pool, darts or foosball in the game room.
Bull's Eye: Club DJ's
It's time for Fire in the Hole at Club DJ's (3849 W. 5400 South) in Taylorsville, from Jan. 27 through 29. No, it's not a military reference; it's the name of the first-annual state championship dart tourney. It begins Friday at 7 p.m. with a Chicago Full Blind Draw event and continues on with other formats, with a $5,000 purse. Call Eddie at 801-597-5492 for further info.
The Dawning of the Night of Aquarius: The Hotel
Zodiac signs are fun. And if you haven't yet dated someone who bases their life choices around horoscopes, then you're missing out. Now is a great time for zodiac fans—not only is it the dawning of the Age of Aquarius, but we're in that star sign's glow right now. Aquarians—most renowned of all the signs for being "thinkers"—don't you think you should go show solidarity with your brothers and sisters if offered the chance? The Hotel (155 W. 200 South) hosts theme parties each month for different zodiac signs. Friday, Jan. 27, is no exception. The party starts at 9 p.m. with music by DJ Juggy and DJ Sayo. Club Matters Pickup Tip: This is probably the only time when it's socially acceptable to use the line "What's your sign?" within the first two minutes of meeting someone.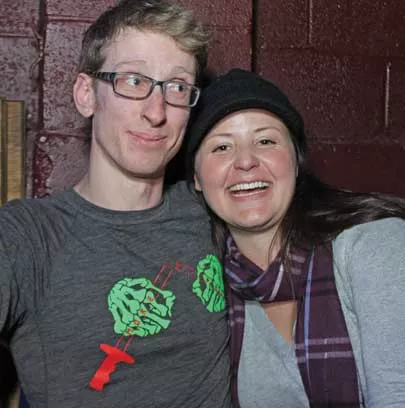 Pics from Poplar Pub:
1. Tim Cord, Dan Cord, Ben Porterfield
2. Jesus or Genome, aka Mike Cundick
3. Andrew Campbell, Melissa Aoki
We want to keep Utah up to speed on local nightlife. Submit tips about club openings, closures, remodels, special events, drink recipes and noteworthy changes to comments@cityweekly.net.
Twitter: @JonPaxton