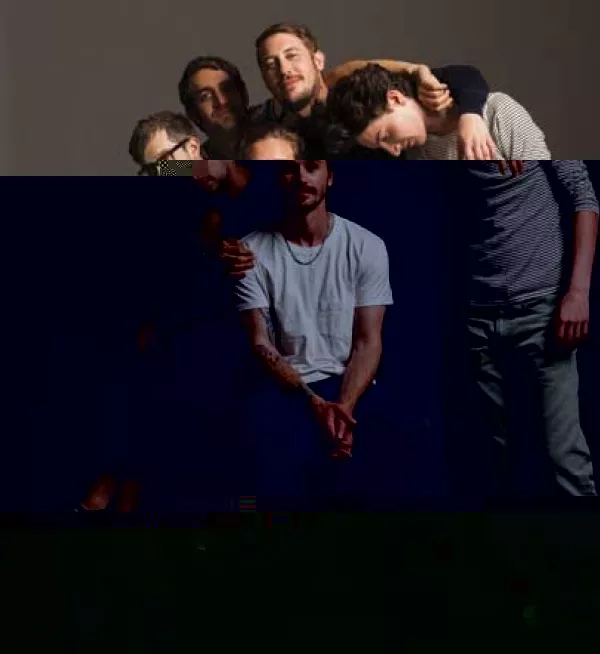 "So, how was it to have Weird Al Yankovic sit in with you?"—the question I never knew that I had always wanted to begin an interview with.
"That's pretty nuts, right? Serious shit. We are huge, huge Weird Al fans," says John Gourley, singer, rhythm guitarist and chief songwriter for Portugal. The Man. Just days before City Weekly spoke with the five-piece rock band—originally from Wasilla, Alaska, but relocated to Portland, Ore.—they performed at the 12th-annual Bonnaroo Music & Arts Festival, where they played two songs with The Weird One. "He's someone everyone in the band looks up to," Gourley says.
During Weird Al's set, PTM played backing band on "Canadian Idiot," and he returned the favor and rocked the accordion on PTM's 2011 single "So American." It's an interesting combination of tunes, conducive to a little compare/contrast.
In "Canadian Idiot," Yankovic sings, "Always hear the same kind of story/ Break their nose and they'll just say 'sorry'/ Tell me what kind of freaks are that polite?/ It's gotta mean they're all up to somethin'/ So quick, before they see it comin'/ Time for a pre-emptive strike!" In "So American," Gourley sings, "You are the one they call Jesus Christ/ Who didn't know no rock & roll/ Just a mission made of guns that they give boys in Vietnam/ In a heart that always told you/ There's a madness in us all."
Both earworms wag a finger and delve into the subject of war—kind of. Both Weird Al and Gourley are cynical lampooners who hold a mirror up to society and themselves to call attention to something possibly profound in such a way that makes you simultaneously smile and raise an eyebrow in intrigue.
"Everything I do is born of Weird Al. That's where it all comes from," Gourley says with a laugh. "Actually, seriously, he's really influenced us. We're Alaskan, and he introduced us to Nirvana. It sounds nerdy, but he gave us music." Gourley recently cited Nevermind as his most influential album during a promotional video for Google Play.
"The way [Weird Al and PTM] write is probably pretty similar," Gourley says. "We both probably go into the studio and just riff off of shit. I think there's always a tongue-in-cheek element to everything that we do. You can't take yourself too seriously."
Weird Al is overt. Gourley lets it flow—"We don't really plan the shit that we do"—as when PTM recorded the 2013 release Evil Friends, produced by Brian Burton, aka Danger Mouse.
Evil Friends is PTM's second Atlantic Records release, and it runs into poppier, more glammed-up terrain ("Purple Yellow Red & Blue") with clean lines à  la Danger Mouse ("Modern Jesus"). Gourley maintains a higher octave range more consistently than on PTM's previous seven LPs as he continues to sing with a wry ambivalence—a jokester's guffaw at modernity and its religious ridiculousness and political poppycock. In general, Gourley doesn't write lyrics before entering the studio, nor is he inspired by literature or political writings (he adamantly doesn't read); rather, it's the folks he meets on the road. "It gets overlooked by so many bands," Gourley says. "Get the fuck out, see the city, meet people, hang out, go to house parties. That's what you do. I think if anything comes off as political, it's from meeting people on the street."
And on the subject of "evil friends" and the cynical nature of Gourley's lyrics on this album, he says it comes from the period when he moved from Alaska to Portland amid dissolving friendships. PTM's keyboardist also broke away before the recording, and it left Gourley spinning. "It caused a lot of stress for me, because I was in my own head, worrying about everyone," Gourley says. "It got heavy these past couple of years. And it really did push me over the edge … I'm fine now. I'm cool. I'm sane. I'm able," he finishes with a timid laugh. Evil Friends is about "becoming who we are," he continues, to which he gives credit to Burton, who helped him vocalize what was going on at the time.
"I like the idea of keeping things honest and just running with it," Gourley says. "Sure, you have to think about [lyrics] as you do it, because, with songs, it's difficult to tell a story in three minutes. At the same time, you have to let shit go and let them be what they are. That's always how I've worked."
PORTUGAL. THE MAN
w/Guards
Park City Live
427 Main, Park City
Saturday, July 6, 8 p.m.
$20 general admission, $30 VIP
ParkCityLive.net
Twitter: @AustenDiamond