Page 2 of 3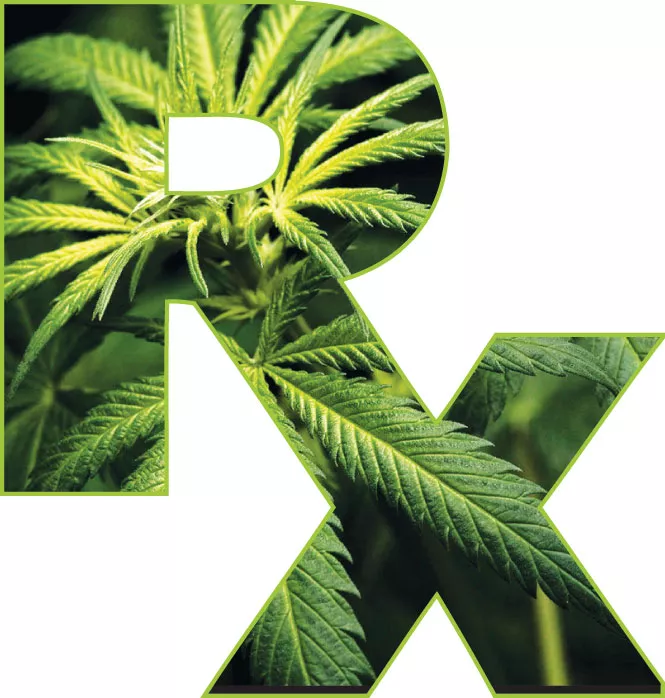 A Scheduling Conflict
Pat Bird doesn't mind that the feds have maintained their stance on marijuana. Bird works for the Utah County Department of Health's Drug & Alcohol Prevention & Treatment team, and in 2014, he helped contribute to a document originally dubbed the Utah Marijuana Compact, which seeks to keep policy leaders from legalizing marijuana in the Beehive State. The compact urges elected officials to proceed cautiously with medical marijuana, basing decisions on rigorous studies and to prohibit smoking medicinal marijuana or using the whole plant.
"We don't smoke opium to get its medical benefits. The tree bark that aspirin is from—we don't smoke [it] to get the medical benefit," Bird says. "We pull those things out, control them and have a standard dose so we know what we're dealing with."
Madsen's bill, however, would allow for whole-plant consumption of marijuana: the vaporizing of marijuana buds and the juicing of marijuana leaves. Otherwise, he says, medical-marijuana treatments would be too costly for patients.
Bird acknowledges that classification of marijuana as a Schedule 1 drug has held back research into the whole plant but points out that there have been hundreds of recent clinical trials looking into into marijuana's different components. Bird has been in the prevention game for a long time and can appreciate the shortcomings of the War on Drugs, especially in treatment support for addicts. Even still, he doesn't see the need to rush to implement a medical-marijuana system in Utah without the research to support it.
Jason Plume, a visiting professor at Augustana College in Rock Island, Ill., studies the politics behind federal and state marijuana laws. He agrees that medicinal marijuana is gaining traction in certain clinical trials, but also points out that the U.S. Food & Drug Administration and the Drug Enforcement Administration have resisted re-scheduling the drug into a class that would allow for more federal research dollars. "They hold the key to research in America for the most part," Plume says.
In 1972, Plume notes, two years after marijuana was lumped as Schedule 1 with drugs like heroin, the National Organization for the Reform of Marijuana Laws (NORML) petitioned the federal government to reconsider its decision. The FDA and the DEA, in turn, stalled the petition process for 24 years, before denying the petition in 1996. At the federal level, marijuana is still considered to have no medicinal value.
It's a position that the Utah Medical Association, the lobby group for the state's doctors, stands by in concert with the American Medical Association, which also refuses to recognize marijuana's medicinal benefits.
Dr. Seth Ammerman, a California-based author of the American Academy of Pediatrics' Jan. 26, 2015, statement against medical marijuana, says that while evidence has shown medical marijuana's beneficial outcomes for adult patients with neuropathic pain, HIV/AIDS, post-chemo nausea and spasticity in multiple sclerosis, there still is little known about the use of the whole cannabis plant.
"Medical marijuana is really a misnomer because what we're really talking about is not marijuana per se, but the active ingredient in the cannabis plant called cannabinoids," Ammerman says. "There will be at least 200 different cannabinoids in any given plant, and we know very little about most of the cannabinoids." The AAP did, however, call on marijuana to be placed on a less restrictive federal schedule to allow for more research.
If people are frustrated by the FDA approval process, Bird says, then that should be the focus of the debate. He disputes the idea that public health is something that should be determined by a popular vote—especially with lawmakers not having all the facts. For example, Madsen says his bill would allow medical marijuana to be prescribed to patients suffering from post-traumatic stress disorder, but Bird referenced a recent study of 2,000 Veterans Administration patients being treated for PTSD that found medical marijuana worsened their symptoms and even increased violence among some patients.
"This isn't about prohibition," Bird says. "It's about protection." Bird simply wants the state to proceed cautiously and at its own pace.
Plume sees how legislative health initiatives can be problematic, but that doesn't mean they don't eventually become law, if federal and state tobacco laws that regulate where people may smoke are any example. "For a legislator, that's their job, with all kinds of laws," he says.
Overdose Options
Madsen isn't an advocate for marijuana replacing existing pain medications, but rather complementing them. At one point, he says, his back pain was so severe, it caused him to have a sedentary life, but once he started taking pain meds, he was able to shed 80 pounds and could be active once again.
Madsen brushes off the severity of his pain, especially when compared to the suffering of his mother-in-law or constituents who have talked to him about their trials. Even still, he readily admits there were times during the 2010 legislative session when a pinched nerve caused severe pain and nearly 80 percent of his right arm and shoulder to be paralyzed.
One summer, after his surgeries and subsequently prescriptions for pain medicine, Madsen was working in his yard unaware that a fentanyl patch on his shoulder—meant to slowly release opioid pain relief—had ruptured. He suddenly felt incredibly tired and told his kids he was just going to lie down for a nap and to wake him up later.
Madsen lay down and soon stopped breathing. Luckily, his family was right there and his panicked wife yanked him from the couch to resuscitate him. Ultimately, an ambulance had to be called. Since then, Madsen has learned the difference between too much opiate and too much marijuana, and the difference can be deadly.
If you take too much marijuana, there's likely to be adverse effects, Madsen says, "But you know what? It's not going to stop your breathing. It's not going to stop your heart."
It's a point bolstered by an August 2014 study by the Perelman School of Medicine at the University of Pennsylvania that examined the rate of opioid-overdose deaths between 1999 and 2010 and found that, on average, the 13 states legalizing medical marijuana had a 24.8 percent lower annual opioid-overdose mortality rate.
According to Anna Fondario of the Utah Department of Health, in 2013, Utah ranked seventh nationwide for unintentional and undetermined drug poisoning deaths. That year—the most recent for which data is available—saw 353 Utahns lose their lives related to prescription-drug overdoses, with 270 of those deaths related to opioid prescriptions.
A Utah Blend
Compared to the rest of the nation, Utah is a latecomer when it comes to trailblazing medical-marijuana legislation. That means Utah can take advantage of the experiences of other states. Political-science professor Plume says that most states watched how California implemented its vague medical-pot regulation in 1996 and corrected theirs accordingly. Arizona passed a bill that same year and quickly repealed it to enhance regulations and oversight. In 2012, Plume says Montana repealed its existing medical-marijuana program by a single vote in the state assembly and replaced it with a more detailed program with limited conditions for which medical marijuana could be prescribed.
"They're closing the gap between the vague, Wild West of California's medical-marijuana laws and becoming more honed and fact-based," Plume says.
As for the slippery-slope argument that says legalizing medical marijuana will lead to full legalization of marijuana, Plume points out that advocacy organizations are in distinct camps when it comes to medical marijuana versus recreational use of marijuana. While the groups may be supportive, their advocacy work doesn't overlap. Medical-marijuana advocates take great pains to distance themselves from the work of the recreational-use crowd. Utah can also benefit from other studies Plume points out that have shown that crime has not increased with legalized medical marijuana.
While Madsen says his bill borrows much of the language from Nevada and other nearby states, it is a Utah solution, with unique components. Madsen wants to encourage a business in Utah, similar to dispensaries he visited in Colorado, where "you step in, and it's not like Purple Haze—it's just a pharmacy."
Creating a custom Utah model will require more bureaucracy, which only adds to the myriad challenges the idea faces on Capitol Hill. It's all par for the course for a bill with the objective, according to Madsen, to introduce "a small degree of highly regulated freedom." The custom approach would put a Utah spin on the process, especially when it comes to branding. Hopefully that would mean that a new generation of local weed entrepreneurs would be able to give their products Utah-friendly names instead of peddling out-of-state brands like "Charlotte's Web" or "Hells Angels OG."
Maybe something like "Highly Regulated Freedom" perhaps?—since Life Elevated is already taken.