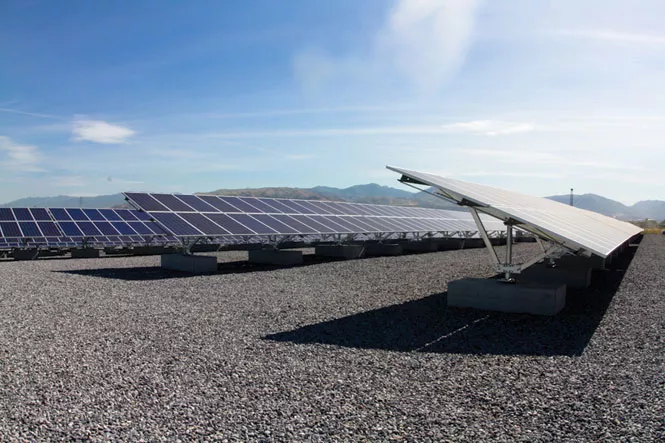 In August 2014, the Utah Public Service Commission (PSC) denied a request by Rocky Mountain Power (RMP) to charge a $4.25 net-metering fee on roughly 2,000-plus Utahns proudly powering their homes with rooftop solar panels. But this sun-powered enthusiasm may yet be eclipsed—the fee was only delayed until the commission finished investigating the costs vs. benefits of solar-power distribution. Currently, renewable-energy advocates are sparring with the energy giant over a key issue: Should the benefits of solar-energy production to public health and the environment help offset the costs of accessing the power grid?
This question seems a no-brainer to groups sickened—quite literally—by the abysmal air quality along the Wasatch Front due to the burning of fossil fuels. In a Feb. 20 filing to the PSC, however, RMP was adamant that environmental and health "values" had no place in the official debate.
"Speculative values do not pass rigorous scrutiny because they are based on assumptions, best guessing and judgment calls," RMP's statement reads. "While the Company knows with a degree of certainty what its fuel costs are, the same cannot be said for avoided health or environmental impacts from displacement of fossil fuels-based resources."
RMP exists as a "regulated monopoly," meaning it is, for the most part, the only energy utility for Utahns. And, as the only game in town, it can't just hike customers' rates without first justifying the rate change to the PSC. The current debate stems from a bill passed in the 2014 legislative session that requires the PSC to investigate the costs and benefits of solar power to see if RMP needs to increase, or potentially decrease, rates for solar-generating customers. Consumers with rooftop solar panels represent a small but growing segment of the company's customers committed to clean energy. More than 70 percent of the energy that RMP sells is generated by burning fossil fuels.
RMP doesn't want "to step out of the coalbox and see other options," says Stan Holmes of Utah Citizens Advocating Renewable Energy. "We're saying they could take the lead, but they're not willing to do that yet."
Holmes says that, while the lawmakers in 2014 did not set a scope for the cost/benefit analysis, RMP has fought tooth and nail to limit the study to look only at residential solar contributions to the grid, and that the PSC not factor in any potential health or environmental impacts.
Holmes says if the investigation excludes large commercial solar projects and focuses only on residential solar, then the benefits solar provides in returning excess energy to the grid and displacing carbon costs will be underestimated. "If you're going to be in sync with the intent of the legislation, you need to include the entire program," Holmes says.
David Eskelsen, spokesman for RMP, disagrees, saying that solar-energy production from commercial and residential sources represent two different types of energy production, and they cannot be lumped together. The issue, he says, comes down to fairness and not forcing regular customers to cover the costs of solar-generating customers. RMP's filing states that its traditional grid is not accustomed to a two-way flow of power, and that brings extra costs to bear on the utility's infrastructure.
"While it's not a significant problem now—because there are not that many net-metering solar customers—to the extent that the program continues to be popular, the subsidy flowing from customers that don't self-generate energy to those who do will continue to grow," Eskelsen says. As to the health and environmental costs that accrue to the public from burning fossil fuels, he says that the Utah Division of Public Utilities and the Utah Office of Consumer Services—agencies that advise the PSC—generally agree these values are too "speculative" to quantify. He also points out that, in previous rate-schedule hearings, the PSC has agreed not to attempt to quantify these costs in dollars and cents.
Tyler Poulson, the program manager for Salt Lake City's Office of Sustainability challenges the idea that research hasn't monetized the harms of fossil fuels in a meaningful way. He cites as one example—a 2013 review by the nonprofit Rocky Mountain Institute—that referenced a 2013 Arizona study showing a utility that saved 0.365 cents per megawatt-hour by displacing air-contaminant compliance costs with cleaner renewable energy.
"There has been a substantial amount of research nationally and on a global level on what the value of those impacts are and how to put them in dollar terms," Poulson says. "While it's a more complicated endeavor, it's certainly one that is worthwhile."
Comments may still be filed to the PSC on this matter by e-mailing psc@utah.gov with the subject "Docket 14-035-114."