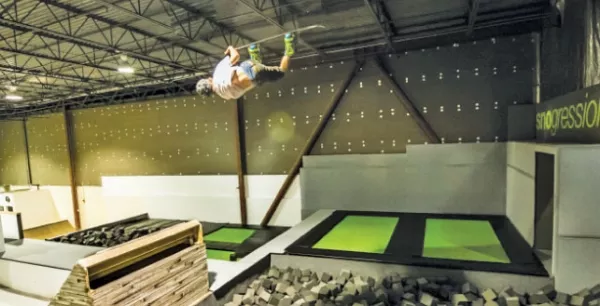 The Wasatch Mountains may have some competition for the title of the ultimate ski and snowboard playground. This playground doesn't need to accumulate 500-plus inches a season, and it doesn't close with the onset of spring—it thrives year-round inside a Salt Lake City warehouse.
Snogression is Utah's only indoor trampoline and training facility dedicated solely to freestyle skiers and snowboarders. Snogression caters to the core crowd and those who are seeking to advance their freestyle skills and air awareness. You don't need a personal coach to get access, but unlike at trampoline fun centers, you won't be thrown off by flocks of unattended kids flying around haphazardly. And with four Olympic-size FlyBeds and two Super Tramps, the progression of your riding doesn't have to stop when the snow melts.
The high-quality trampolines have more bounce than your average backyard trampoline and are designed to give you more airtime to practice flips, spins and other tricks. Two foam pits border the line of trampolines so you can learn without fear, and there's a three-tier wallride for the more advanced to get creative on.
Snogression also has an indoor jump and a rail feature. The ramp uses an artificial snow surface that allows skiers and snowboarders to practice with their own gear. The jump launches into the larger foam pit with help from the Hyperdrive tow-in, designed by owner and mastermind Kevin Brower. You can practice your front swaps and 270-ons all summer on the height-adjustable flat box, or take a new trick straight from the trampoline to the jump before the first snow falls.
First-timers need to attend a mandatory basics class ($35) to learn how to use each feature safely. The class is two hours long and allows ample time for personal practice. Once you've finished the basics, you can attend any Freeride session Monday through Saturday for $20. Open trampoline sessions happen every Friday and Saturday night from 8 to 10 p.m. Snogression also offers coaching sessions, season passes and camps taught by local pros.
On any given night, there's a good chance you could be sharing a trampoline with members of the Snogression team—a veritable who's-who of Salt Lake City-based ski and snowboard pros. They come to Snogression for the same reasons as anyone—to learn new tricks, hang out with friends and get stoked for the snow.
No matter what level you're at with your freestyle skiing or snowboarding, a desire to learn and a motivation to try something new is all that's needed to fit in at this ultimate progression playground.

SNOGRESSION
2855 S. 1030 West, Salt Lake City
Monday-Saturday 4-10 p.m.
Snogression.com
---
WINTER CALENDAR